Unspoilt Puglia in "the boot" of Italy is fast becoming the new Tuscany. Hip & Healthy contributor, Justine Board, recalls her visit to Borgo Egnazia where serenity, warm hospitality and style are in abundance.
I knew we had arrived somewhere special when the couple in the local shop let me buy supplies (mainly wine and crisps, we have children) on credit. I hadn't met them before and had no cash on me. "Are you staying at the Borgo?" I was. "No problem, just come back when you can." I backed out of the shop unsure if I had understood correctly.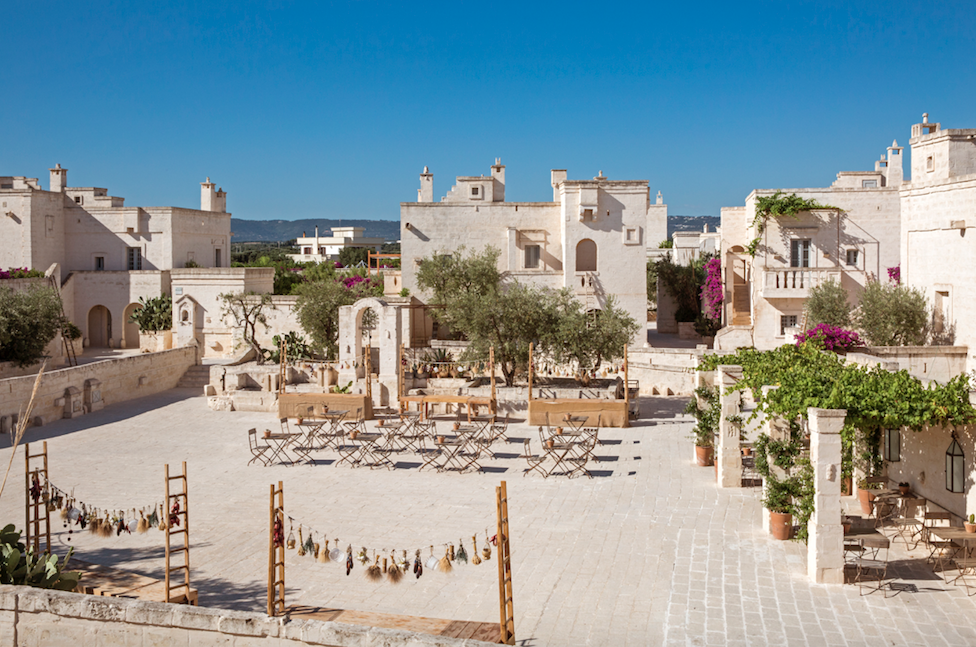 Puglia has long been popular with British Italophiles tired of Tuscany, but has remained unspoilt and beautifully uncomplicated. Farming and fishing are still the main industries here, and the famous Trulli houses with their fairytale witches-hat roofs lend a magical "we're not in Kansas anymore" feel to the landscape. Nestled in the midst of this, between Bari and Brindisi, is Borgo Egnazia – not so much a hotel as a dreamy, dazzling, sun-drenched village. Thousand year old olive trees line the approach like ancient, twisted sentries. Dry stone walls bake in the heat and the cerulean Adriatic twinkles just beyond. Built with the local tufa limestone, a stately courtyard leads to La Corte, an imposing fortified masseria, and beyond that a labyrinth of paved alleyways meander through weathered stone archways, between creamy townhouses covered with grape vines and clouds of bougainvillea. You emerge, blinking, onto the main Piazza complete with church, market stalls and tinkling fountains. It feels centuries old and yet was conceived and built from scratch, opening in 2010. Traditional exteriors belie coolly modern interiors, an exercise in pared-back luxury. The townhouses, or casette, built to emulate old workers' cottages, have ancient farm tools and sprigs of dried herbs hanging from the walls. Rooms in the masseria are more contemporary, high ceilinged and airy with billowing curtains filtering a light of such searing clarity you have to shield your eyes. Beyond the narrow village streets are large 3 and 4-bedroomed Villas with their own pools and gardens for the ultimate discreet retreat.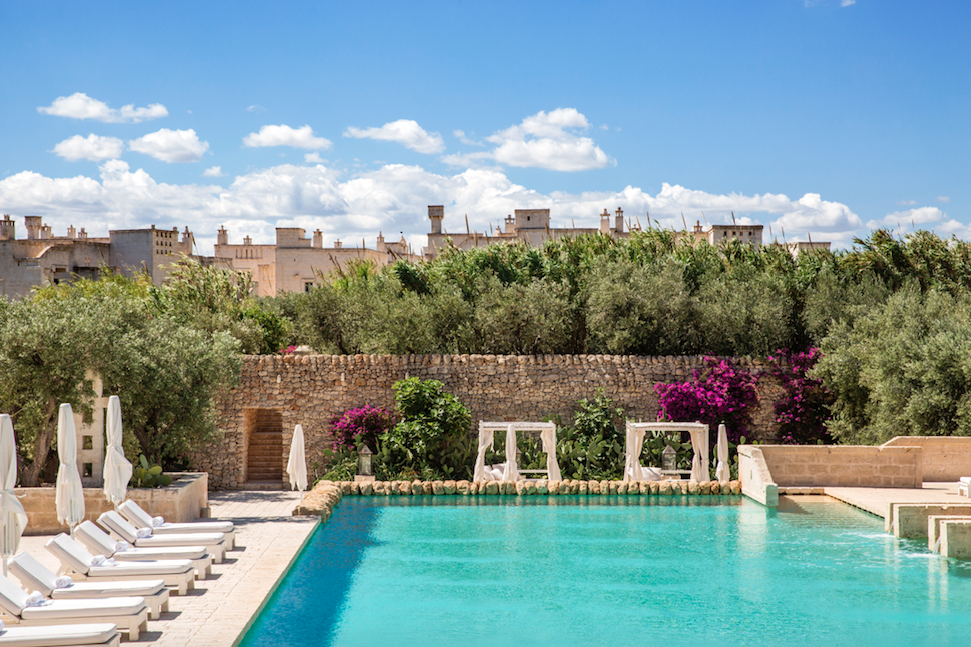 Borgo Egnazia is like a love letter to Puglia, its land, culture, people and its history. Owned and built by a family from Fasano, five kilometres down the road, with the help of a local architect who still visits almost daily to oversee everything from building work to table settings. 80% of all food is grown, organically, on site. Staff are local and both passionate and encyclopaedic about the region. Not to say you can't stay here and just switch off, but guests who seek out more authentic experiences are richly rewarded. One evening we were whisked away to dinner at a secret location. It turned out to be a pop-up kitchen in the bosky, candlelit Lama del Trappeto caves. Domingo Schingaro, Michelin starred chef from Borgo's Due Camini restaurant and guest chef, Diego Rossi from hip Milan joint, Trippa, cooked a four-handed supper for just a handful of diners. It felt medieval. It felt like a moment. If to travel is to make memories, then this was it.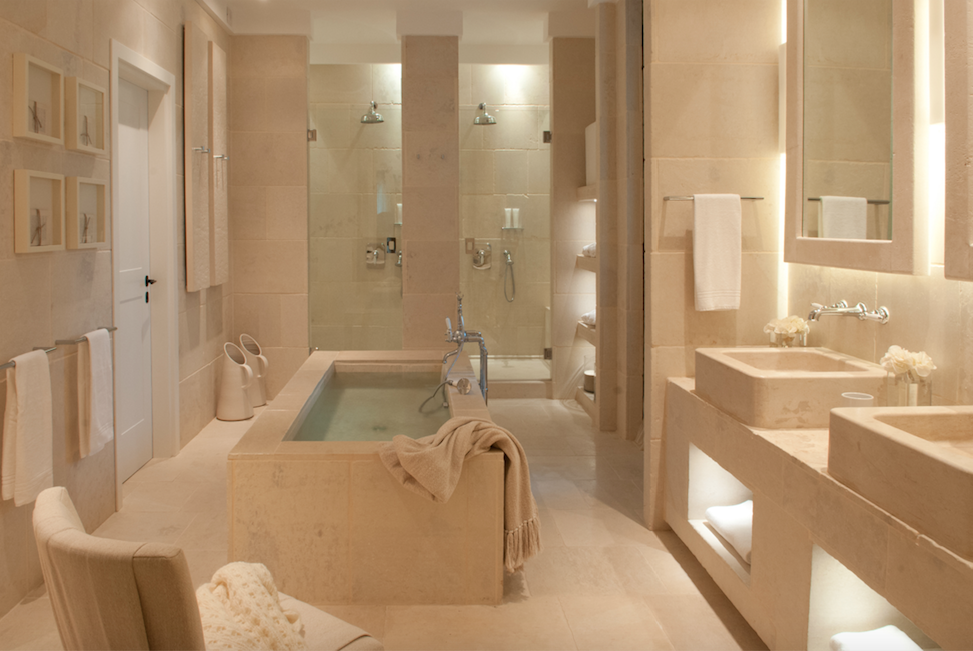 And then there is the Vair Spa, a world-class, limestone-clad church to serenity and relaxation; lantern lit and heady with incense, it feels sacred. Therapists glide barefoot through the corridors in covetable floor-length gowns, like Roman goddesses. I had the best massage of my life here, melting the tension in my shoulders and back so that I left taller than I arrived. Treatments use local ingredients and centuries-old techniques. Launching this year is a pioneering wellness programme focusing on happiness, using aromatherapy to help develop a bespoke experience including tailored spa treatments, nutrition and activities with a strong focus on mindfulness and yes, getting happy. An ancient cure for a modern malaise.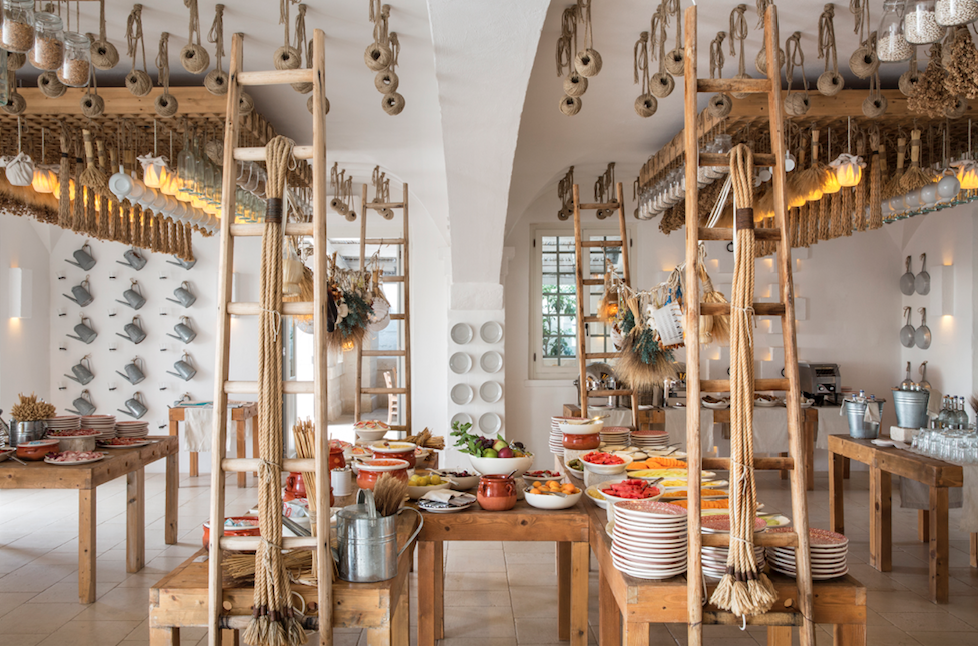 All the restaurants at Borgo are smart, including the Michelin starred Due Camini, Trattoria Mia Cucina where the wonderful Mimina will teach you to cook local dishes with home-grown ingredients, and Da Frisella, a super-cute space especially for kids. There's a fabulous drop-in kids club with wonderfully warm staff full of ideas to keep your brood entertained, maybe a cooking class, puppet making or trip to the on-site farm. The kids club is right next to the family pool and a sweet, shady play area, leaving an adults only pool for those in search of tranquillity.
Hire bikes to explore the area or a short ride takes you over the lush San Domenico golf course to the private beach club at Cala Masciola, both owned by the hotel.
Borgo Egnazia a truly special place. It's a destination for gourmets, for families, for those seeking culture or pure relaxation. Managing to be at once beautifully romantic, smartly serene and still kid friendly is no mean feat, but at Borgo it all feels effortless.
www.borgoegnazia.com
#NowhereElse