Finally, a truly fabulous country bolt-hole that isn't a million miles away from London! While further afield Somerset and Oxfordshire certainly have their rightful place in the world of weekend escapes, sometimes you just need a little getaway to refresh the mind, body and soul that doesn't involve hours sat on the motorway. Nestled in the Surrey Hills with magnificent views of the North Downs, Beaverbrook Hotel & Spa is less than an hour away from London (even less if you're coming from South London – we did it in 40 mins). Being so close to the city yet feeling so far removed from traffic noise and busy roads is what makes the hotel's location a real (green) sweet spot. 
Formally belonging to Lord Beaverbrook, a cabinet minister to good pal, Winston Churchill during the war, this grand house was his escape from the frazzling world of politics and conflict. With many a high profile guest (Churchill was a regular visitor) the wonderful history of the house is clear to see through old newspaper cuttings framed on gallery walls and original black and white photographs displayed on the mahogany grand piano in the foyer. 
With opulent Main House rooms and more country chic Coach House and Garden House rooms, there's a cosy place for everyone to rest their heads. Main House rooms provide an insight into the history of the house with each of the 18 rooms named after a famous guest. They've got gorgeous rooms named after James Bond's Ian Flemming and Elizabeth Taylor to name a few but we were lucky enough to spend 24 hours in Winston's old room, adorned with photos and books about him as well as the very bathtub that he used to bathe in (re-enamelled, of course!). There's no denying he was a big fella but this tub was absolutely ginormous! Such a unique and wonderful feature of the room and I did indeed enjoy a good soak in it.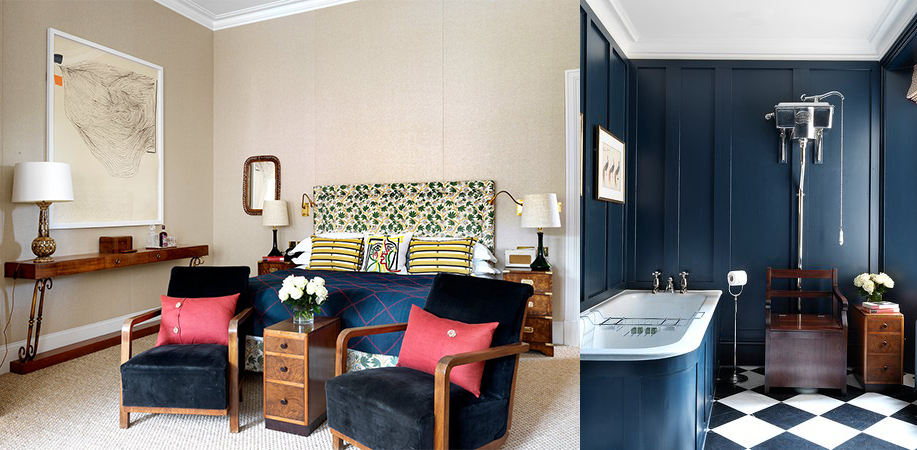 The Winston Churchill Suite
You can choose to have dinner at The Garden House restaurant, which features some of the kitchen garden's fresh produce or in The Dining Room, which offers the most superb Japanese food thanks to ex-Nobu chef, Taiji Maruyama. Other foodie highlights are the complimentary afternoon tea in the Morning Room and a seriously delicious breakfast menu that will gear you up perfectly for the day ahead.
One element I was really eager to explore was The Coach House Spa. There's a state-of-the-art gym that you can tell was by no means an after-thought during the refurb. Cleverly thought out with a huge variety of gym equipment, this is a fitness lover's dream. Downstairs there's a deli and a spa shop stocked to the brim with beautiful things like Bamford candles and beauty products, there are two huge pools, one indoor and one outdoor and there's also a thermal spa and relaxation area fitted with a sauna, steam room and jacuzzi. One 60-minute massage later and my mind is settled and body nourished from top to toe. Complete, utter bliss.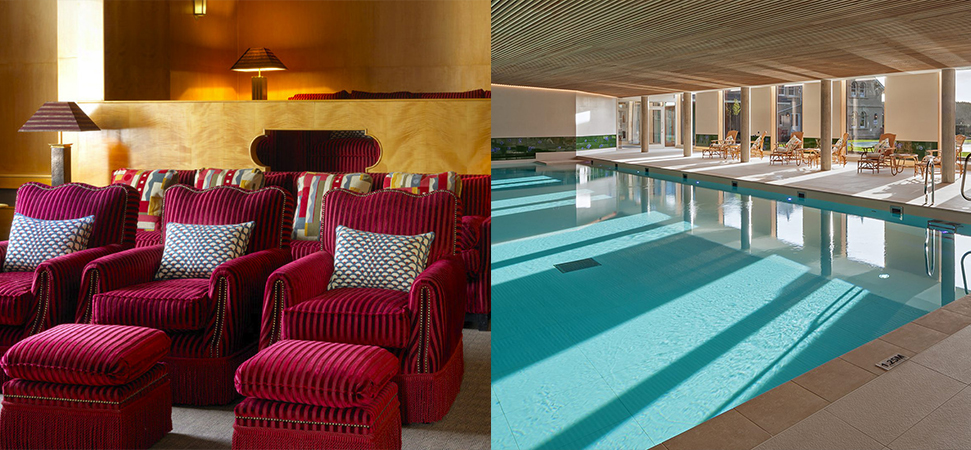 Cinema Room and Indoor Swimming Pool
The list of activities is endless at Beaverbrook, come rain or shine there's always going to be something fun to do or explore. There's a tennis court, a cookery school, a cosy cinema fit with popcorn machines, cocktail making classes, croquet lawns, cycling and even a secret treehouse in the grounds for the kiddies to get lost in.
I can safely say I've been converted from a Somerset-fan to a Surrey Hills lover in the space of one blissful weekend. Farewell long car journeys, I'm already mentally planning my next trip to Beaverbrook, which I know will be just as perfect as this one.
Room-only rates start at £385 + VAT. To book visit beaverbrook.co.uk
words by Molly Jennings