Ever considered what an at-home health test could reveal about your wellbeing? With the increasing need for convenience, this relatively new category of wellness is booming. There are many companies now offering at-home health test kits but we've narrowed down our favourites that we've tried and tested ourselves. From fertility and gut health to all-around wellbeing, these are the companies we feel offer a great service and help educate you on the steps you need to take to feel the best version of yourself.
Best for – fertility
When it comes to fertility and fertility planning, women need to understand their options. The new Plan Ahead programme from Zita West isn't just a fertility test kit; it takes a comprehensive look at an individual fertility status to help them better understand how to optimise their chances of getting pregnant and how best to prepare. It can also be used by those who are looking ahead to their options when it comes to fertility preservation. Plan Ahead works by checking a woman's egg reserves via an Anti-Mullerian Hormone (AMH) blood test in an at-home pin-prick test. AMH is produced by cells within the ovaries and the test helps to assess a woman's ovarian reserve and provides an indication of their fertility potential. Combined with the consultation that follows, Plan Ahead has been designed to help the woman get a better understanding of where they are now and the next steps they should take. Based on their answers to a detailed questionnaire the consultation will cover the factors most important to their individual status, as well as helping them to better understand cycles and ovulation and how to think strategically about their fertility.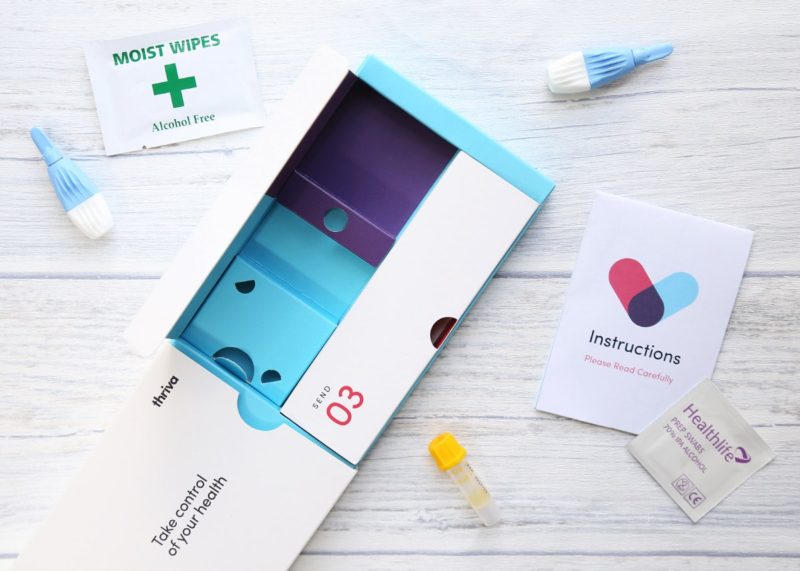 Best for – all-round health
If a general overview of your health is what you're looking for then Thriva is the test kit for you. Whether you think you're healthy but want to gain a better insight to see if there is anything you can do to further improve your wellbeing or you suspect you might have some nutritional or hormonal imbalances that need addressing, this very simple finger prick blood test is analysed by their in-house doctors and your results and personal recommendations will be online within 48 hours. It couldn't be simpler to take control of your health! Their subscription-based packages let you build up an accurate picture of your health and track how it changes over time. Discover what's happening inside your body, learn what lifestyle really works for you and improve everything from your sleep and energy levels to your heart health. You've got total control of your subscription – pick what you want to test and how often you want to test it. Change your package or cancel for free at any time. It's that easy!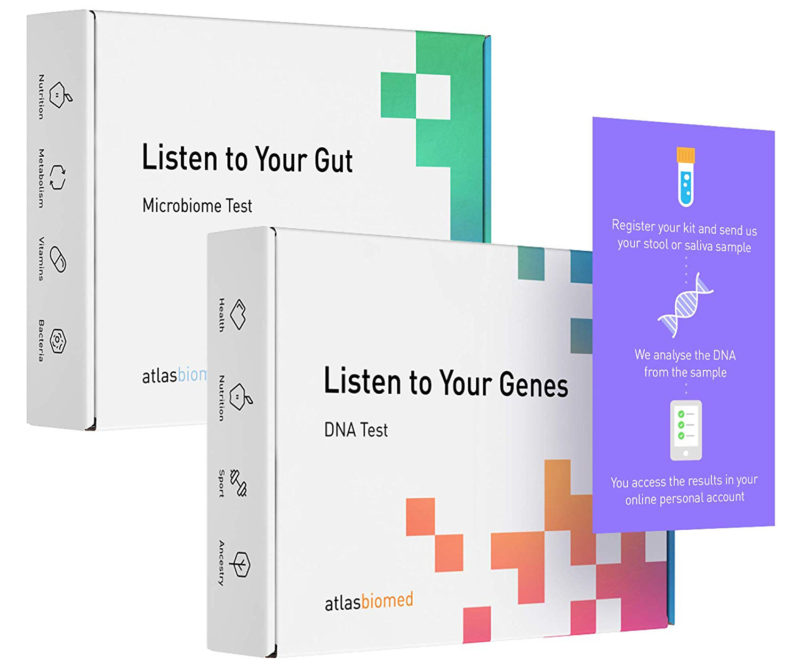 Best for – gut health
Breaking the taboo around poo is Atlas Biomed, the leading company providing at-home microbiome and health DNA testing. They say your gut holds the key to your health so by improving its function and allowing it to work optimally, your skin, energy levels and ability to absorb nutrients will be greatly improved. Atlas Biomed's mission is to drive the movement towards preventive healthcare with evidence-based technology and empower people to make positive lifestyle changes before they get sick. To achieve this, Atlas has two tests available in the UK: the Atlas DNA Test and the Atlas Microbiome Test. Your DNA and gut bacteria are totally unique and Atlas Biomed's home test kits provide ground-breaking insights into your personal health, wellbeing and nutrition that can't be discovered in any other way. The Atlas DNA Test will provide you with a detailed genetic profile of your health, nutrition, physical activity and geographical ancestry and includes over 400 traits and indicators. The Atlas Microbiome Test not only qualitatively determines the composition of your gut bacteria, but also calculates the proportion of the different types of bacteria in the microbiome. All you have to do is send your poo sample (just to clarify, it's much easier than it sounds!) in the post and wait for your results!
---
Read more: Social Prescribing – An NHS Initiative Wellness Advocates Are Rejoicing Over