We're always searching for new ways to improve our health and wellbeing and we think we've found some great apps to help support that goal. From digital journalling to women's health, here are 6 health apps that will help improve your wellbeing.
Reflectly 
Reflectly is the digital journal that is designed to be your personal mental health companion! The purpose of this app is for you to reflect on how you feel at the end of each day and find out what caused you to feel this way…you can choose whether you would like to go into more detail about why you are feeling a certain way, giving you the option to make it a quick daily reflection or a more detailed journal. Reflectly also asks you a 'question of the day' which is then saved along with your daily journal input for you to look back on. All the stories you record are stored so that you are able to review your daily feelings and compare your stats! This app enables you to deal with negative thoughts and focus on positivity. If you've always thought about journaling but don't know where to start, Reflectly is a great introduction to guide you through your daily thoughts to promote self-care and self-help and overcome negative thoughts!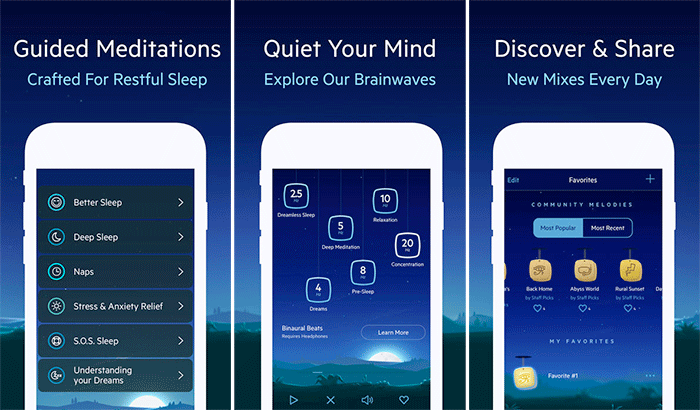 RelaxMelodies 
RelaxMelodies is the musical app designed to help you fall asleep. If you are somebody whose brain runs wild when it's time for bed and have a problem switching off, then this is the app for you! The app allows you to create your own peaceful melodies using a combination of sounds from nature, animals, water, cities, instruments and pretty much any sound you can think of! So if it's a flowing river, a purring cat or a grandfather clock that sends you off to sleep, this could really help you zone out and fall into a deeper sleep. Other features of the app include the 'Sleep Moves' section, which suggests neuropsychologist approved mind-body exercises using a pillow to help you sleep better! There is also a section dedicated to guided meditations that are specific to different areas such as de-stressing, re-charging and dreaming. As well as all this, Relax Melodies also covers one of the hot topics in health at the moment, breath work! The short guided breathing exercises will help you relax during the day and fall asleep at night. RelaxMelodies also works on Apple watches and can be integrated with your Health Kit!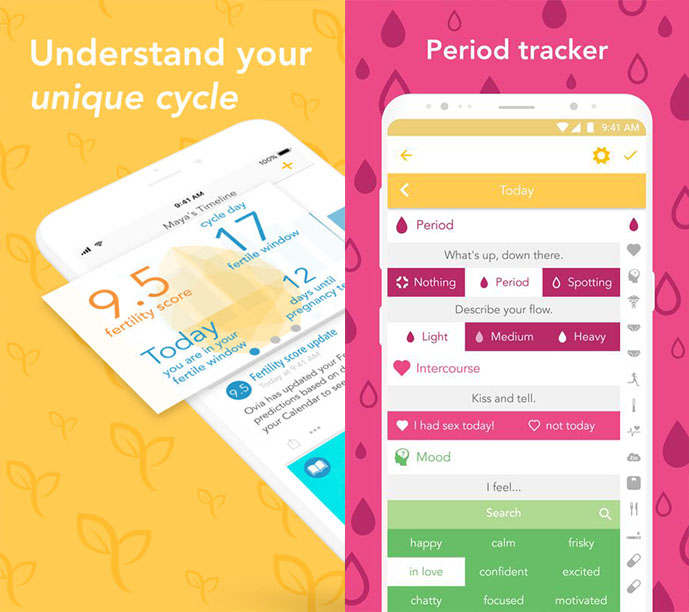 Ovia
Ovia is the app that helps you track your period, ovulation, symptoms and moods. Forget the days of trying to work out whether you are overdue with a calendar, this app records all your data so you know when to be expecting your period and when you are most fertile. If you're thinking this wouldn't work for you as your periods are quite irregular then think again…the algorithm makes accurate period and fertile window predictions for both regular and irregular cycles. By entering as much data as you can about your health, sleep, nutrition, moods, cervical fluids, exercise and sleep, the app can help you predict your periods. Many women have found this app really helpful when trying to conceive as you can see when you are most fertile to increase your chances of getting pregnant. If you are using the app and are not trying to get pregnant there is a setting you can alter it to, containing more suitable advice and information about your cycle. Ovia contains tons of articles and tips on all things fertility, sexual health and ovulation. In the years the app has existed, it has generated a community of women who chat about their experiences and are able to ask their burning questions anonymously if needs be. Ovia is definitely one to try to get in sync with your bodies cycle.
Bellabeat
Bellabeat is a tech-driven wellness app that collects data from your daily routine to help you improve your overall wellbeing. The app focuses on your daily activity, sleep, hydration, meditation, stress and your reproductive health. You can tailor your goals to suit you and track your progress each day to ensure you are on target to reach your full potential! We love the fact that this app highlights the importance of keeping track of both your physical and mental health equally through guided meditations and learning what triggers your stress levels. The Bellabeat app can optionally be used with beautiful tracking wearables that combine fashion with function. The wellness trackers come in different dainty styles such as necklaces or bracelets so you can wear them discreetly every day to track your activity, sleep, stress, meditation and reproductive health. Another optional feature we are loving is their 'Spring' water bottle that tracks your intake of water which then wirelessly syncs to the app. The app gives you tailored hydration goals taking into account your age, weight and lifestyle, and the app will notify you with drinking reminders!
Sweat
Kayla Itsines' 'Sweat' app is one of the most popular fitness amongst women all over the world! Why? Because it can be done anywhere with minimal equipment and most importantly, you will see results! The app consists of workout guides and nutritionally balanced recipes along with motivational support through weekly challenges, progress reviews, educational content on fitness and the option to compete with other women in fitness challenges. Another reason so many women love the Sweat app is that the workouts are only 28 minutes long, which is totally doable! Along with Kayla's guides, there are a variety of other trainers featured on the app allowing you to mix up your training style. The app covers high-intensity interval training, low-intensity steady state training, weight training, post-pregnancy training, body and mind training and powerlifting. Our favourite features of the app is the planner where you can schedule your workouts for the week so you know exactly what you are supposed to be doing… no excuses!
Mindbody
The 'Mindbody' app is super useful to have on your phone to book fitness classes, wellness and beauty services wherever you are! The app picks up your location to let you know what is in the local area for you to book. There is a ton of different workout classes so whether it's yoga, boxing or pole dancing that you're into, Mindbody lists them all. The app gives you all the information you need to know about the studio, for example, whether they have showers or locker facilities. The same applies to the wellness services, the app categorises the type of treatment you are looking for from massages to acupuncture, meditation, chiropractor and much more. If your lifestyle is hectic and you are constantly on the go, this app is perfect to squeeze in a class in between meetings or whenever you have a spare hour in your day! It is also handy to discover new studios and salons in your local area that you might not have known were there before. If you are looking to try something completely new to you such as CrossFit or kickboxing, this app will help you find where you can do so.
words by Isabelle Shury
---