Positioned in Bermondsey at Bermonds Locke, Shaman is the brand new cafe come co-working space. With many of us still not back in the office, itching to get out of the house, Shaman provides the perfect co-working environment. With a Cali-Scandi inspired design, the space creates a serene atmosphere, adopting a laid back vibe. Serving up locally-sourced ingredients, Shaman's menu puts a fancy twist on your everyday lunchtime meals. Shaman offers a seasonal menu designed by Chef Daniel Ferreira, which can be enjoyed at any pace, seated in the co-working area, or on the go. Whether you fancy a quick coffee, light breakfast, swift sandwich, energising brunch or a platter shared in the company of cocktails, Shaman has you covered. If Whipped Ricotta & Smashed Avocado on Sourdough, Marinated Aubergine, Peppers & Goat's Curd Sandwich or a  Sushi Rice Poke Bowl sound up your street, this is the place to spend your lunch break!
Challenging the norm of Indian food, Atcha is shaking things up with their healthy menu of Indian inspired club sandwiches and salad bowls. Presenting real authentic flavour with a flair, the Hackney-based kitchen is a lunchtime hub for grab-and-go or eating in. From their no-butter chicken bowl with Kerelan red rice to the paneer with mint and pomegranate sourdough sarnie, each and every option is undeniably delicious. Boasting delicious vegan choices such as their gobhi sabzi (curried cauliflower) with masala cashew mayo sourdough sarnie and the Southern bowel with mixed vegetable avail, black chickpeas and coconut yoghurt, Atcha is well equipped for plant-based eaters. With traditional Indian extras and sides such as the dairy-free mango lassi, chickpea chaat pot and Atcha chai, you can tickle your taste buds with these flavourful yet nutritious delicacies.
Urban Greens is the nature-inspired eatery in St. James's Park serving up great tasting, fresh, healthy salads. Their menu consists of just ten chef-inspired delicious, nutrient-dense recipes taking inspiration from cafes and restaurants around the world. Using premium ingredients, locally sourced where possible, the menu includes a range of nutritious bowls that pack a flavoursome punch. From the Gogosan, containing sesame marinated glass noodles, Chinese kimchi, toasted cashews and a ton of veggies to the Minty Chick, served with chicken, quinoa, cantaloupe melon, lemon feta crème and again lots of greenery, Urban Greens take classic salads and turn them into quirky bowls that are not only tasty but also super healthy. The Scandi-style eatery takes pride in the freshness of their food and also the speed at which they can create it for you, perfect for those with little time to space.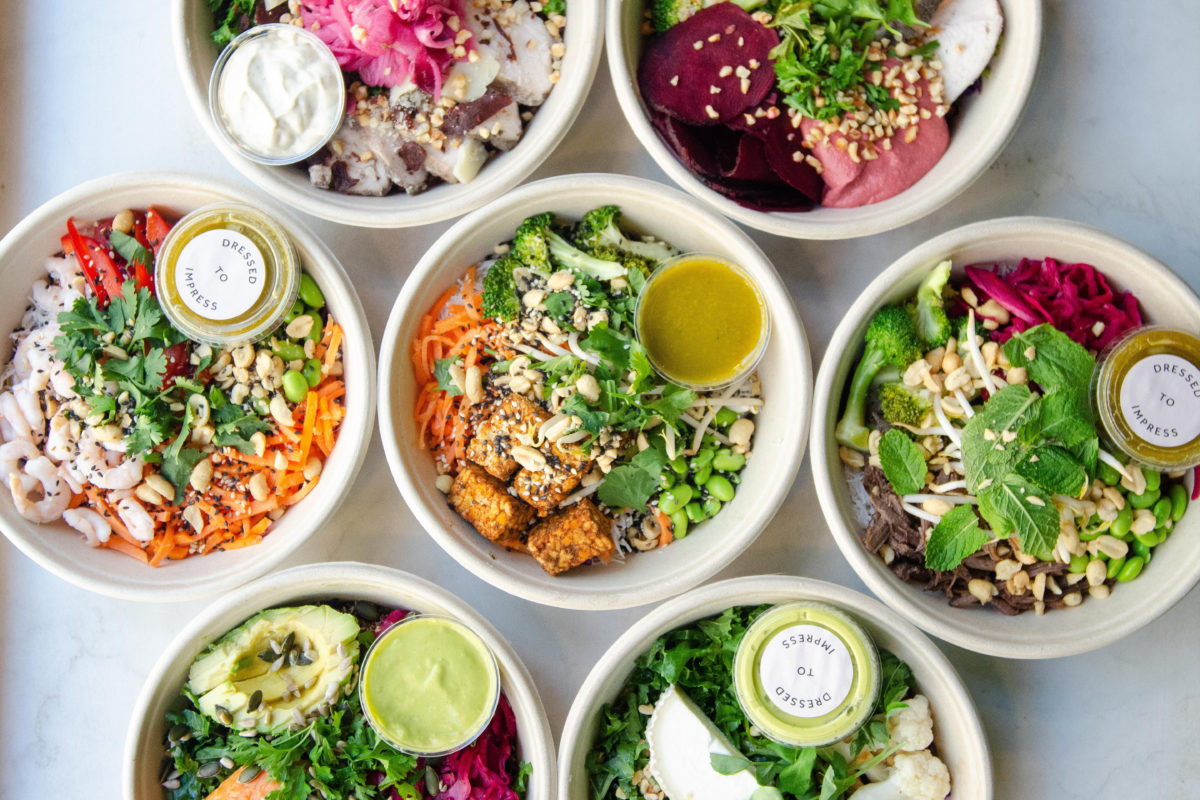 Delivering mouth-watering, sustainable and healthy Hawaiian Poké bowls to your door, Poké the Bear, are the new food delivery kitchen opening in the heart of Chelsea. The menu has been exclusively designed by co-founder and executive chef, Georgia Salamat. The Le Corden Bleu graduate caught the nation's attention earlier this year, reaching the final of BBC's 'Best Home Cook'! Set up by a trio of like-minded founders, the menu features nutritious bowls, including their Ahi Tuna served with wakame salad and fresh mango, Keto Bowl made with salmon, sesame greens, avocado and edamame and Vegan Bowl with satay jackfruit and edamame, all packed with veggies and protein. Not only is Poké The Bear committed to sustainability when it comes to the ingredients used but the packaging is 100% compostable and environmentally friendly.