Want to book a little wellness staycation to help ease the long dark winter? The Swan in The Chiltern Hills is the place to stay for the ultimate self-care weekend (that doesn't cost an arm and a leg).
Coppa Club has been gaining momentum over the years, with clubhouses, restaurants and hotels opening around the UK. Establishing itself as a members' club, Coppa Club has a pleasantly surprising twist, there's no membership fee attached. They invite everyone to use their beautiful spaces to dine, work, socialise, stay and enjoy!
Coppa Club secured The Swan at Streatley, a riverside hotel just an hour and a half drive from London. After six years in the making, putting their signature touch on the 17th-century inn, Coppa Club opened the doors at The Swan to diners, members and hotel guests. Nestled in the Chiltern hills, The Swan is lucky to have such beautiful countryside and wildlife on its doorstep with rafts of ducks waddling around and views of the river Thames, draped by weeping willows. Filled with nooks and crannies, the space adopts clubhouse characteristics with a sung, summerhouse and library to explore. 
Stay
Broadly sticking with a modern take on interiors, a light neutral palette and a scattering of vintage furnishing, the rooms are cosy and full of home comforts from plush pillows and a rain shower that you'll reluctantly have to retrieve yourself from. Sizing varies with rooms boasting riverside views and outdoor terraces, fit for families and suitable for your furry friends too. Great value for money, you can book a room for as little as £80, which is a steal for the standard you get.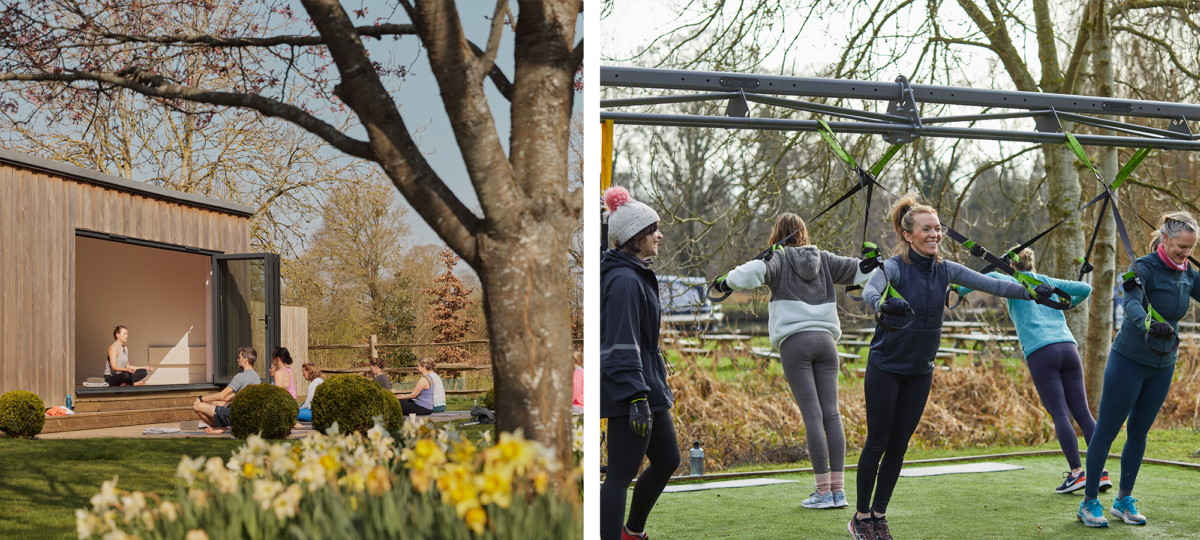 Wellbeing
The extensive health and wellness offerings at The Swan make it the idyllic getaway destination for wellness lovers. Open to members and hotel guests, the Gym at Streatley has everything you need in terms of cardio machines and strength equipment, plus they operate a full timetable of indoor and outdoor classes, with spin, HIIT, boxercise and strength and conditioning classes to choose from. For a bit of R&R, guests can enjoy the sauna and steam room or book a treatment! The onsite yoga studio, run by Grace and Gravity, looks over the riverside providing you with tranquillity whilst you flow. Covering various disciplines from Hatha, Vinyasa, restorative and barre and yoga fusion, the yoga offerings are a delightful addition to your stay and you'll receive a discount as a hotel guest.
Making practical use of the prime spot on the river, The Swan runs seasonal series of activities including paddle boarding, wild swimming and running clinics. Peppering wellness-enhancing workshops and activities into the clubhouse events throughout the year, you'll spot Sacred Cacao Sound Baths, Personal Growth Talks and Cold Water Immersions in the everchanging 'What's On' section.
Eat
Coppa Club quickly cemented itself as a cult dining spot in London with its iconic igloo dining experience at Tower Bridge accompanied by deliciously good food! The Swan follows suit, featuring a crowd-pleasing menu with something for everyone. Attached to the hotel, the restaurant serves diners and guests from breakfast to dinner, with weekend brunch being a firm-favourites amongst locals. Our top pick from the breakie menu is the buckwheat and rye pancakes topped with coconut yoghurt and fresh berries…what better way to start the day! From the all-day menu the Roasted Halibut Fillet with Chickpea and Green Harrisa Stew topped with Mint Yoghurt and the Spice Roasted Cauliflower with Rice, Pomegranate and Tahini Sauce will not disappoint! Make sure you save room for pudding, the miso and chocolate mousse are utterly divine.
Coppa Club has nailed the look and feel of the restaurant, with an eclectic mix of colours, textures, patterns and furnishing. Honey-hued wooden floors meet colour-popping tiles, striped sofa booths blend with the dark oak tables and ambient lighting lends itself well to the pastel-painted walls. The modern conservatory is a glorious spot on a beautiful day, flooded with sunlight at river level, it makes you feel as if you're floating on the water.
Greeted by friendly faces, this picturesque hub on the riverside exceeded expectations, especially when it comes to wellness offerings.  If you're looking to hit the reset button, what better place to embark on a mini break than The Swan, from the great food, chilled atmosphere and snug rooms, we can't wait to check out more of what the Coppa Club has to offer!
Click here to learn more about The Swan at Streatley
words by Isabelle Shury
---
READ MORE: H&H Guide To The Best Ski Destinations