With days at their darkest and nights at their coldest, we're reaching for our chunky knits, woolly hats… and for a new scent. Just like you change up your wardrobe in the winter, so too should you be swapping out those fresh summer fragrances for richer, warmer, more comforting creations that are bound to turn heads and get you in the Christmas spirit. Win-win.
So, 'tis the season to switch up your scent with Hip & Healthy's round-up of the best winter scents, perfect for a cosy night in, snow-covered date night, and everything in between.
Jo Malone London 'White Moss & Snowdrop Cologne' – £115
Year after year we eagerly await the arrival of Jo Malone London's limited-edition Christmas-inspired cologne, and it's safe to say 2022's offering does not disappoint. Taking you on an olfactory journey across a winter landscape strewn with fresh snow, it blends notes of forest-fresh moss, delicate snowdrop flowers, warming amber, and spicy cardamom to make for a light and luminous scent. All with a snowdrop-inspired bottle and iconic cream and black bow-topped box. Even better? You can get a customised charm to adorn your bottle, making it the perfect personalized perfume pick.
Maison Margiela Replica 'By the Fireplace' – £98
Let us set the scene. Outside, the cold, winter air whips through the trees as snow starts to settle on the frosty ground. Inside, warming, comforting flames flicker from the crackling fire that fills the room with warmth and a soothing smoky, scent. As you snuggle up with a hot chocolate in the glow of the fire, you can't help but close your eyes and get lost in the fragrance of the flames. And it's exactly that feeling that 'By the Fireplace' evokes, thanks to notes of grilled chestnuts, smoky woods, spicy clove oil, and a hint of pink pepper. Pass the blanket, please.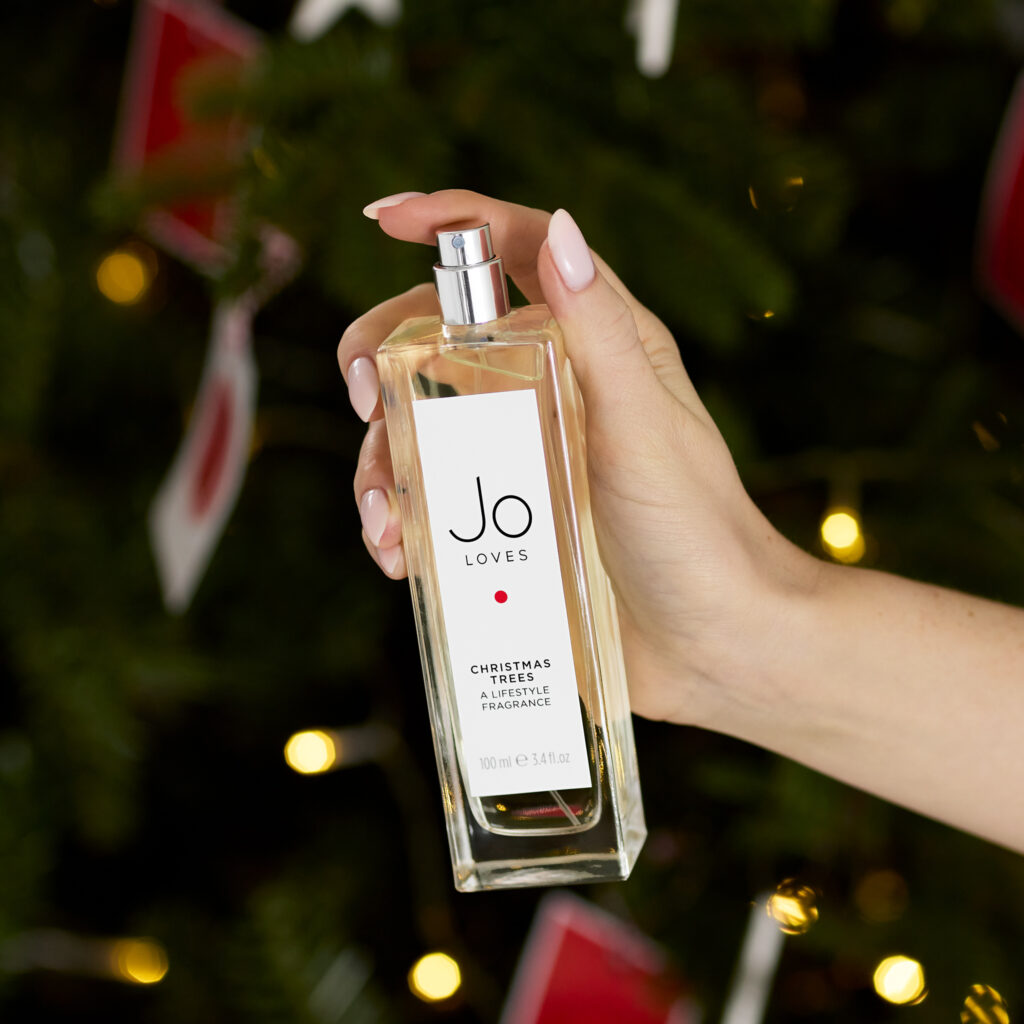 Jo Loves 'Christmas Trees' – £40
Name something more festively fragranced than a Christmas tree. Nope? Thought not. The epitome of the holiday season in a scent, that crisp pine smell brings the Christmas spirit with just a spritz. "To me there is nothing more special at Christmas than the scent of a real pine tree floating in the air", agrees Jo Malone. "It instantly evokes a feeling of familiarity and excitement and sets the scene for special moments shared with family and friends". That's why she went and created her lifestyle fragrance 'Christmas Trees', with notes of fresh pine, smoky incense, aromatic lavender, and warm amber. Spray on yourself or around your home for a true festive treat. 
Kilian 'Angels' Share' – £175
If you're looking for a fragrance even Christmas angels would approve of, then look no further than Kilian's aptly named 'Angels Share'. Paying homage to his family's cognac heritage, Hennessy – in partnership with perfumer Benoit Lapouza – has created a boozy, mouth-watering treat that's just as delicious as a festive tipple. Warm, strong, and perfect for a cold winter's evening, it blends cognac oil, praline, sandalwood, vanilla, and a touch of cinnamon to make it both sweet but sultry and seductive. Now that's what we call heaven s(c)ent.
Serge Lutens 'Fille en Aiguilles' – £260
Step into Serge Lutens' enchanted forest full of spices, candied fruits, earthy pine needles, and smoky incense. Capturing the warming scent of winter in each towering bottle, this pine-forest-inspired fragrance is as magical as the Christmas season itself – with a rich sweetness and a dark twist to entice all of your senses.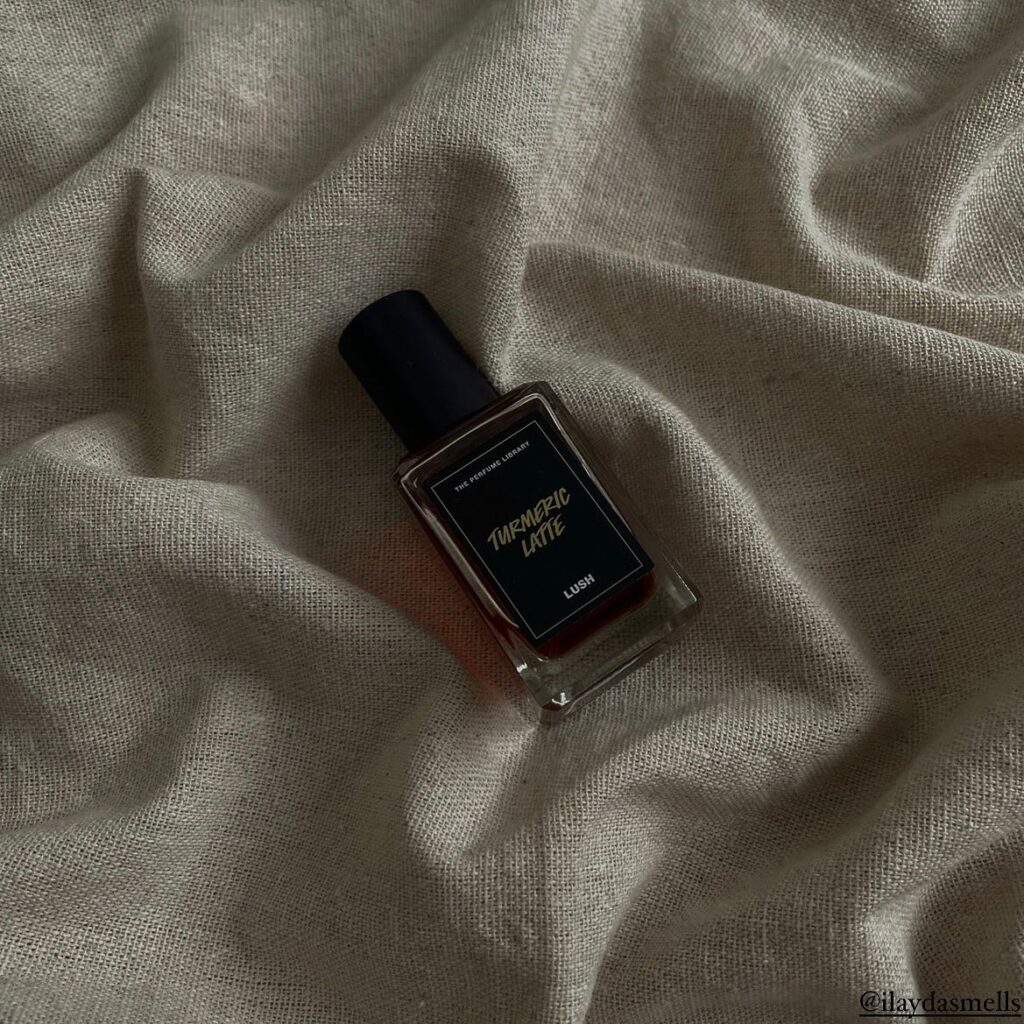 Lush 'Turmeric Latte' – £60 Image by @i_laydasmells
You know Christmas is around the corner when those infamous red cups appear, but thanks to Lush, you don't need to sip on a hot sugary beverage to enjoy its delicious aroma. Sweet, spicy, and oh-so-moreish, their 'Turmeric Latte' perfume will leave you smelling good enough to eat. Literally. Rich vanilla, hints of milky praline, and heady tonka bean blend together for an addictive, warm scent that will have you sipping on a creamy spiced latte in no time.
words by Frankie Rozwadowska