When shopping for high-quality supplements it can be hard to know exactly what will work and what won't. Trial and error is expensive so it certainly pays to know what to look for as well as also investing in supplements that you are going to actually take. Enter Nutriburst… the brand that is doing vitamins differently. Each of their supplements is a tasty gummy meaning that not only will you enjoy taking it each day, you'll look forward to it so much that you'll actually remember. Each of the products has their own individual flavour and is easy on the tummy too, and work for everyone -Nutriburst have gone above and beyond to make sure their gummies are Halal and Kosher friendly, gluten-free, vegan and sugar-free friendly, and don't include any artificial colours or flavours.
Cutting-Edge Formulas = Results-Led Supplements
Formulated by a team of experts, you can also rest assured that Nutriburst's gummies will be not only helping you feel better on the inside, which will be showing on the outside too! For any athletes out there, you'll be pleased to hear that Nutriburst has achieved the Informed Sport certification meaning that their products meet the highest quality standards of even the world's most elite athletes. And because the people at Nutriburst believe the best ingredients achieve the best results, they have scoured the globe to find fully-traceable vitamins and minerals that will deliver excellent results – whether you are wanting stronger immunity or healthier hair.
Who's Behind Them…
Founded by a busy working mum, Simran believed that supplements could be made better using only plant-based ingredients and leaving out junk fillers and additives. Working with a nutritionist to help men and women of all ages feel and look their best, Nutriburst draws upon the experience and expertise of formulators to bring you gummies that contain the most cutting-edge research and the most advanced and unadulterated ingredients available.
Sustainability-Led
A big part of their mission statement is to work in harmony with the planet as Nutriburst recognise that whilst we need to keep ourselves healthy we need to also look after the world we live in too. In 2022, Nutriburst became the first supplement brand to be certified as 'Net Zero plastic to nature'. From off-setting their carbon footprint with an afforestation project in the UK to supporting a plastic removal project in India, the brand is making strides into establishing a positive impact on the planet.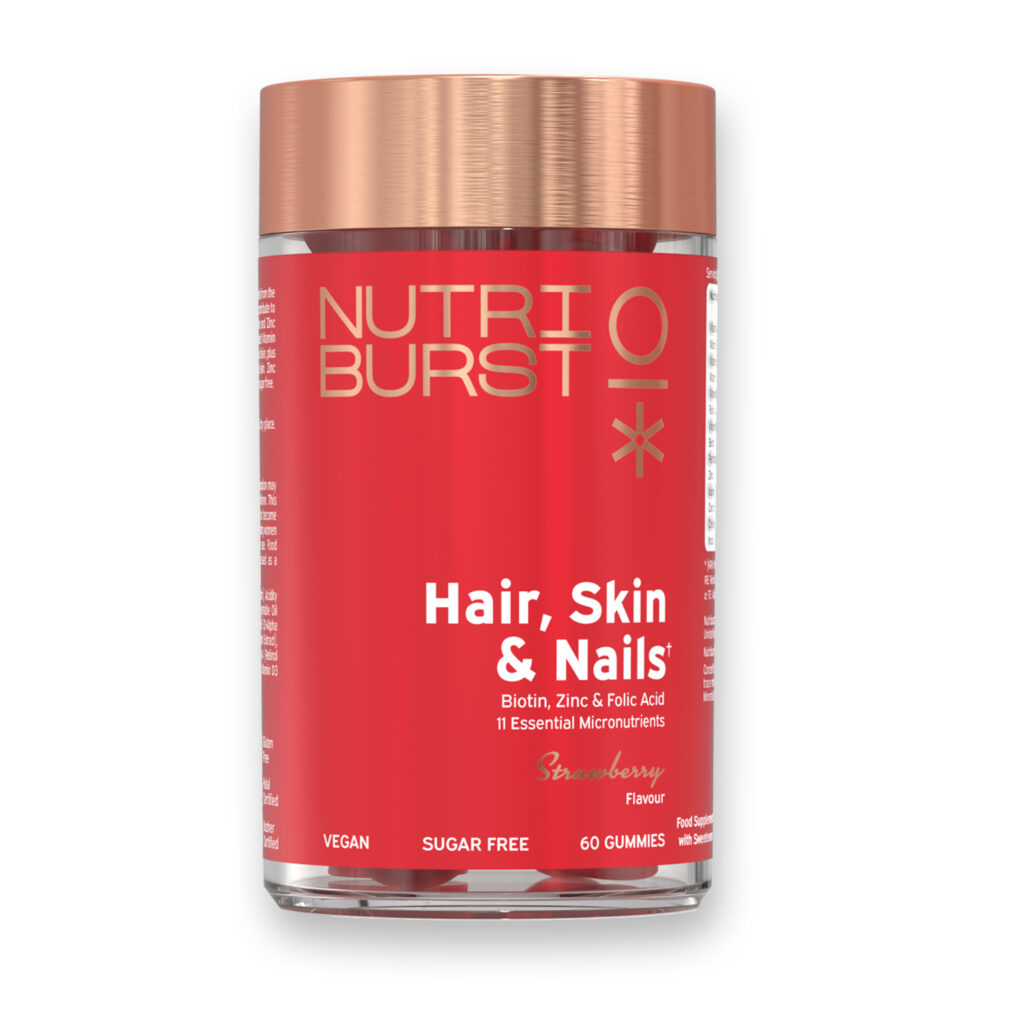 Hair, Skin & Nails, £21.99
Delivering 11 essential vitamins and minerals to give you your daily glow, all wrapped up in a delicious strawberry flavour, this product is worth its weight in gold. Just two delicious daily gummies will support your natural collagen production as well as making sure that hair and nails grow strong too. It's amazing just how quickly you'll feel and see the effects, with reports of customers noticing differences in just a few weeks. The gummies also include powerful antioxidants Vitamins A, C and E alongside Zinc to help protect your cells from oxidative stress – a main component of aging skin.
Ashwagandha – KSM66, £21.99
Ashwagandha is in itself a fave amongst the Hip & Healthy team as it is just so good at keeping us calm – this supplement also includes Vitamin B5 and Iodine to help reduce any feelings of anxiety and also enhance memory and brain function. Using the gold standard in ingredients, this supplement also contributes to a healthy thyroid and increased energy, plus it's tropical flavour is totally scrummy!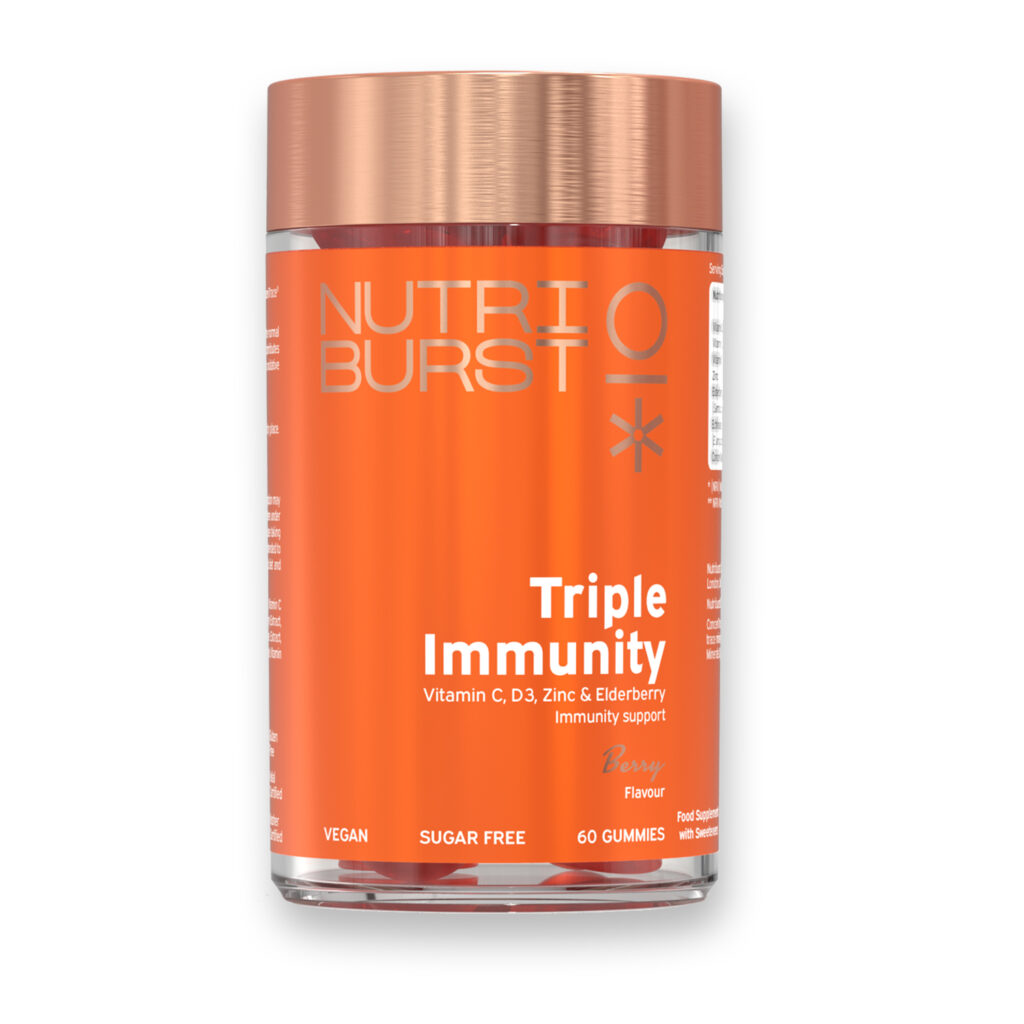 Triple Immunity, £14.99
Powered by Vitamin C, D3 (the best most bioavailable form of Vitamin D), Zinc and Elderberry, this gummy packs a punch when it comes to supporting our immune systems. Using Liposomal Vitamin C (also regarded as the best type of Vitamin C) you'll also likely notice a change in your energy levels. Plus, the Vitamin D and K contribute to healthy bone and muscle maintenance. And with its tasty berry flavour this gummy is becoming a firm favourite.
READER OFFER
Hip & Healthy readers can get 30% off using code "H&H-30" at the checkout
T&C's: One use per user. Cannot be used in conjunction with any other discount or product/bundle on offer. Cannot be used on subscribe & save products.  Valid till 30th September 2023.