From nutritious-packed ready meals to self-care essentials and CBD must-haves, here's what's new in the world of wellness this March.
Wynter Rain
Born out of a new Mama's need for self-care, Wynter Rain provides high vibe items for your home, body and soul. A one-stop-shop for all your wellness and healing needs, Wynter Rain offers the most beautiful cleansing sets featuring sage and palo santo smudge sticks paired with dried flowers, a divine manifestation bath soak infused with rose oil and petals, personalized crystal bracelets, rose quartz skincare tools, luxury incense and, of course, what healing shop would be complete without a wide range of crystals. Founder Annabelle is a world of knowledge when it comes to crystal healing, so if you're a newbie you will easily be able to find a set that is right for you with the intentions of each set explained, whether you're seeking confidence, strength, grounding love or manifesting wealth and success! Aiming to bring positivity to your life, we love Wynter Rain's initiative of promoting self-care at a reasonable price that is accessible to all.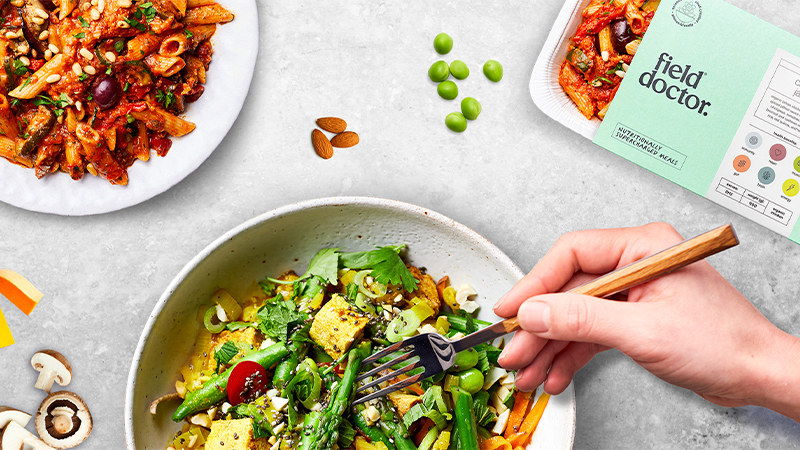 Field Doctor
Ready meals get a bad wrap for their lack of nutrition and most of the time they rank pretty unsatisfying, but in terms of convenience, they are super handy. Wouldn't it be brilliant to get your hands on a nutritious ready meal that has all the benefits ready meals bring and none of the 'unhealthy' factors…Enter Field Doctor. Pioneering a new approach to food by reinventing the ready meal, these guys are switching up our view on ready meals with their nutritionally-supercharged meals. In the range, you'll find meals that boost immunity, support heart health, cognitive health as well as delivering a real solution for people with digestive issues such as gluten intolerance, coeliac disease, IBS, and general bloating. Field Doctor even has 8 extra dishes which strictly comply with the low FODMAP diet, which is a huge step forward for IBS sufferers who usually have very limited options when it comes to convenience food. From Mediterranean hake and butterbean stew, red pepper and chickpea curry, British fish pie and Persian pomegranate chicken, the menu features a real range of meals that share one thing in common, zero nasties! Once made the dishes are flash-frozen to lock in goodness and are delivered in recyclable packaging to people's doors, which you can then choose to microwave in just eight minutes or cook in the oven. Crammed full of colourful veg and pulses, it's just like a home-cooked meal but without any of the hassle.
OTO Ritual Skincare
It's a rarity that a brand from outside the beauty industry swoops in and creates a skincare range quite so amazing, but OTO has managed to absolutely nail it. Known originally for dominating the oral CBD market, OTO has used their expert knowledge of CBD to formulate the most potent CBD skincare ranges. By combining high levels of organically grown CBD isolate with powerful ayurvedic Himalayan botanicals and essential oils, RITUAL and BALANCE offer the ultimate skincare solution with a selection of serum, cream, balm and oil products that work to protect, hydrate and repair the skin, delivering optimum results. The RITUAL range supports you through the day with protective antioxidant ingredients that prevent the harmful effects of pollution and free radicals, whereas BALANCE is designed to work whilst you sleep by supporting the skin's cellular repair process throughout the night. So, why should we incorporate CBD into our skincare routine? OTO has proven that CBD encourages repair and rejuvenation as well as bonding with free radicals, plus it works to balance the skin and alleviate inflammation, helping problem-skin conditions such as acne and eczema, whilst protecting the skin from UV damage and reducing the signs of ageing.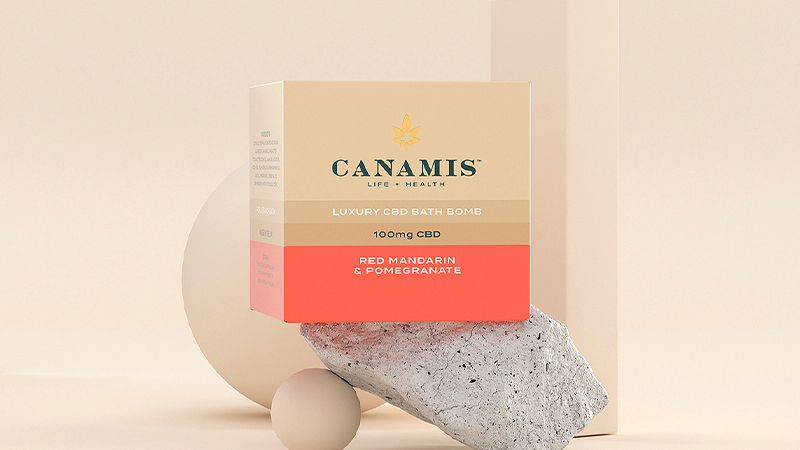 Canamis
Taking self-care to the next level, Canamis are creating some of the coolest CBD renditions we've seen and they do not disappoint. From flavoured oils featuring cherry and lychee, edibles including gummies and chewing gum, to skincare targeting specific needs such as eczema and pain relief, Canamis really do add something new to the CBD scene which is refreshing and exciting. We also have to mention our favourite Canamis product, the heavenly Red Mandarin & Pomegranate CBD Bath Bomb which makes for the most indulgent self-care moment. Enriched with Epsom salts for deep muscle relaxation and essential oils for a sensory treat, this bath bomb will leave your skin feeling soft and supple. Coming in at a very close 2nd, their Strawberry CBD Gummies make us look forward to taking our supplements, they truly are the best tasting CBD product we've tried!
Better You In Partnership with Madeleine Shaw
Wellness Guru, Madeleine Shaw and BetterYou have joined forces to create a family-focused range of nutritional oral sprays. Help you 'get your glow back', nutritional therapist, best-selling cookery writer, chef and mother, Madeleine Shaw is all for making sure you prioritise your health and this range does just that! Offering an effective alternative to tablets, the range includes a Conception Oral Spray, Pregnancy Oral Spray, Children's Health Oral Spray and Hair, Skin and Nails Oral Spray. Designed to support you through the journey of parenthood, these great-tasting oral sprays will optimise your health, pill-free! We love that even your little ones are catered for, ensuring they get the key vitamins they require to support their development. This range ticks all the boxes for us…convenient, great-tasting and effective!
Pantys
On a mission to improve the quality of life for women through sustainability and innovation, whilst creating a positive impact on the planet, Pantys is the new absorbent underwear brand set to shake up the menstrual market with its carbon-neutral products. From the first menstruation kit for teens, period pants for all different types of flows to postpartum underwear, including the first absorbent nursing bra in the world, Pantys diverse collection supports you through all stages of womanhood. Giving a much-needed spruce up to female health care, Pantys beautiful underwear will make you feel great with their chic designs. If you're sceptical about 'period pants', Pantys are here to reassure you that it's time to ditch your disposable pads and tampons. The underwear features quick-drying, leak-proof, breathable, and antibacterial fabrics that are designed to absorb anything from menstrual blood and vaginal discharge to sweat and bladder leaks. Switching to Pantys is not only better for the planet but also much better for you, as they are the first to be clinically, gynecologically, and dermatologically tested and support the 5 pillars of intimate health: vaginal pH, vaginal temperature, microflora, comfort, safety, plus their technology is proven to kill 99% of bacteria.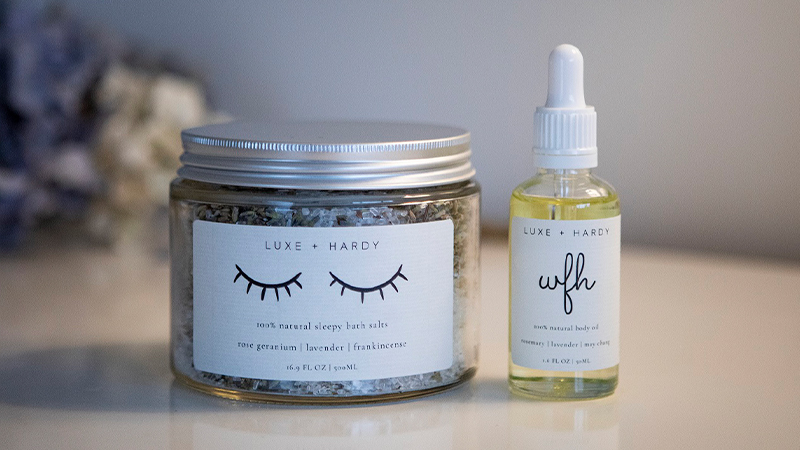 Luxe + Hardy Bath & Body
Helping create equilibrium in your work-life balance, Luxe + Hardy have launched two all-natural bath and body products to add to your self-care routine. Signifying the start and the end of the working day, these products are designed to help you switch on and off, which doesn't always come easy. The WFH Body Oil sets you up for the working day with a gorgeous blend of 100% natural essential oils and a sweet almond oil and vitamin E base. The unique formula of French lavender, may chang and rosemary clears the mind, reduces anxiety, fights fatigue and promotes concentration and memory function. The Sleepy Bath Salts aid recovery and help you unwind at the end of the day. Containing Epsom salts which will soothe away your aches and pains, plus French lavender helps prepare the body and mind to sleep, the dreamy scent will fill your bathroom, sending you into deep relaxation.
Nêô Sephiri
Drawing its inspiration from the Tswana meaning of 'a secret gift', Nêô Sephiri have created an intense facial oil that harnesses the 'secret' skincare ingredient, Pure Kalahari Melon Oil. Set to be the next 'holy grail ingredient' in the beauty and skincare industry, it contains more vitamin E than any other plant oil in the world. The Pure Kalahari Melon facial oil blend targets skin cell recovery and improves moisture balance through its high levels of linoleic acid, an omega-6, essential fatty acid that gives the skin a deep glow. Unlike other oils, it is lightweight and fast-absorbing. Indigenous to this particular region of South Africa, pure Kalahari Melon Oil is able to withstand the climate changes to survive in these extreme, arid conditions, making it a uniquely sustainable source.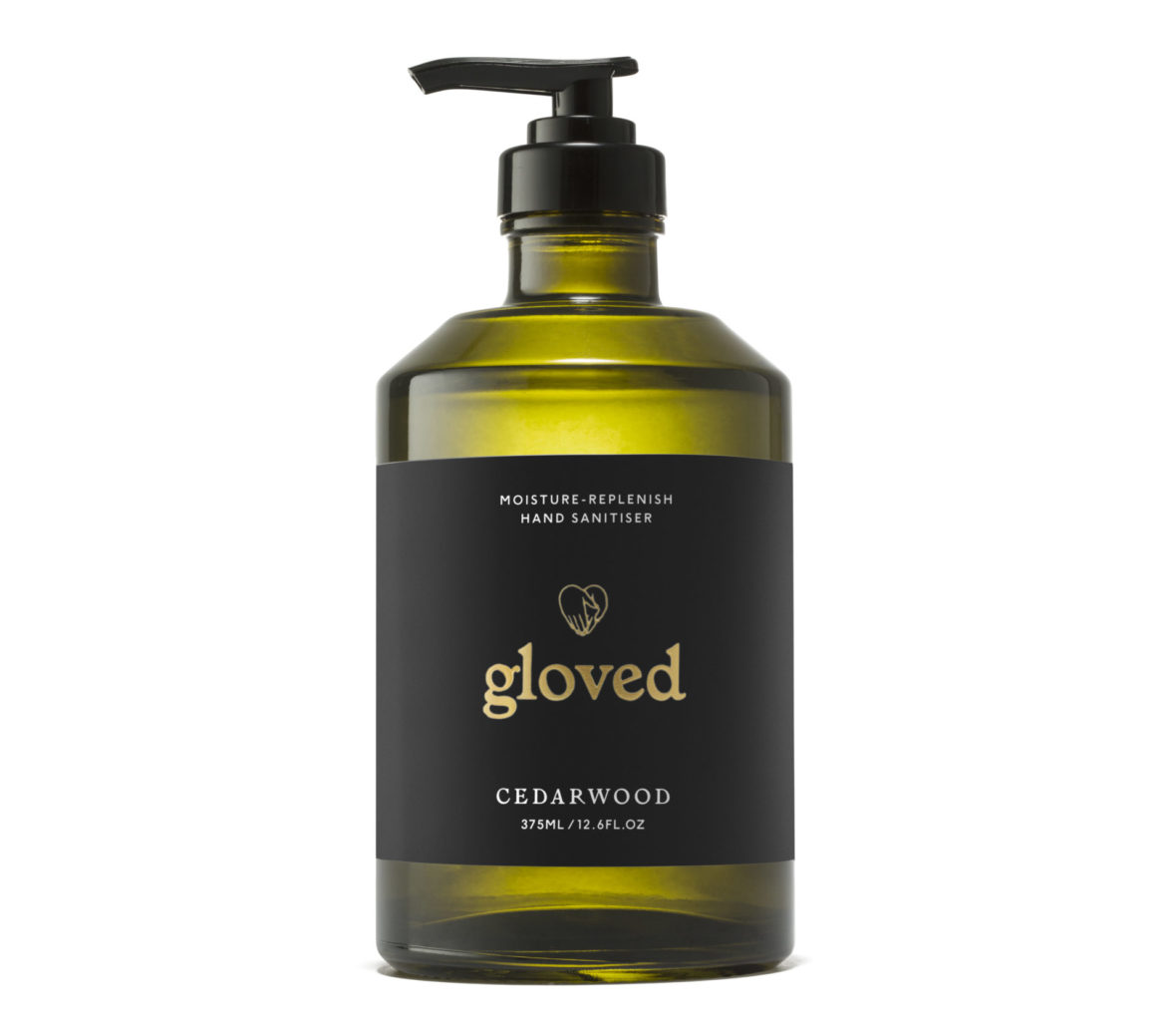 Gloved Moisture-Replenish Hand Sanitiser
Hand sanitiser just got boujie with Gloved which will sit beautifully on your kitchen sink! Unlike others, the anti-bacterial Moisture-Replenish Hand Sanitiser doesn't strip the skin and leave hands dry but locks in hydration. Made using 99% natural ingredients, the sanitiser is enriched with notes of lime, juniper, angelica, iris and Virginian cedarwood which creates a deep restorative scent. A highly concentrated blend of hydrators like squalane and hyaluronic acid nourishes and protects the hands, whilst also providing anti-inflammatory and anti-microbial benefits. Bottled in glass, Gloved don't use single-use plastics by offering refills to minimise waste.
KX Dermalux
As doors to spas remain closed, we're in desperate need of a complexion boost and KX Life has just want we need! Giving you the opportunity to rent the world's most powerful home use LED device, the award-winning Dermalux Flex harnesses clinically proven Blue, Red and Near-Infrared LED wavelengths to rejuvenate your skin. Targeting a wide range of skin concerns including redness, pigmentation and signs of ageing, the Dermalux Flex can be programmed to address your bespoke needs. Encouraging collagen production, increasing hydration and blitzing bacteria that causes blemishes, this non-invasive treatment delivers noticeable results from the first treatment. Simply lay your head in the LED pod and relax for up to 30 minutes to soak up the therapeutic light energy for an instantly more radiant, energised appearance.
words by Isabelle Shury