With Spring just around the corner, the wellness industry is gearing up for many new and exciting launches. From facials that give instant results, a nightclub-come-spin studio and an innovative water bottle that tracks your hydration, this is what's new in the world of wellness this March.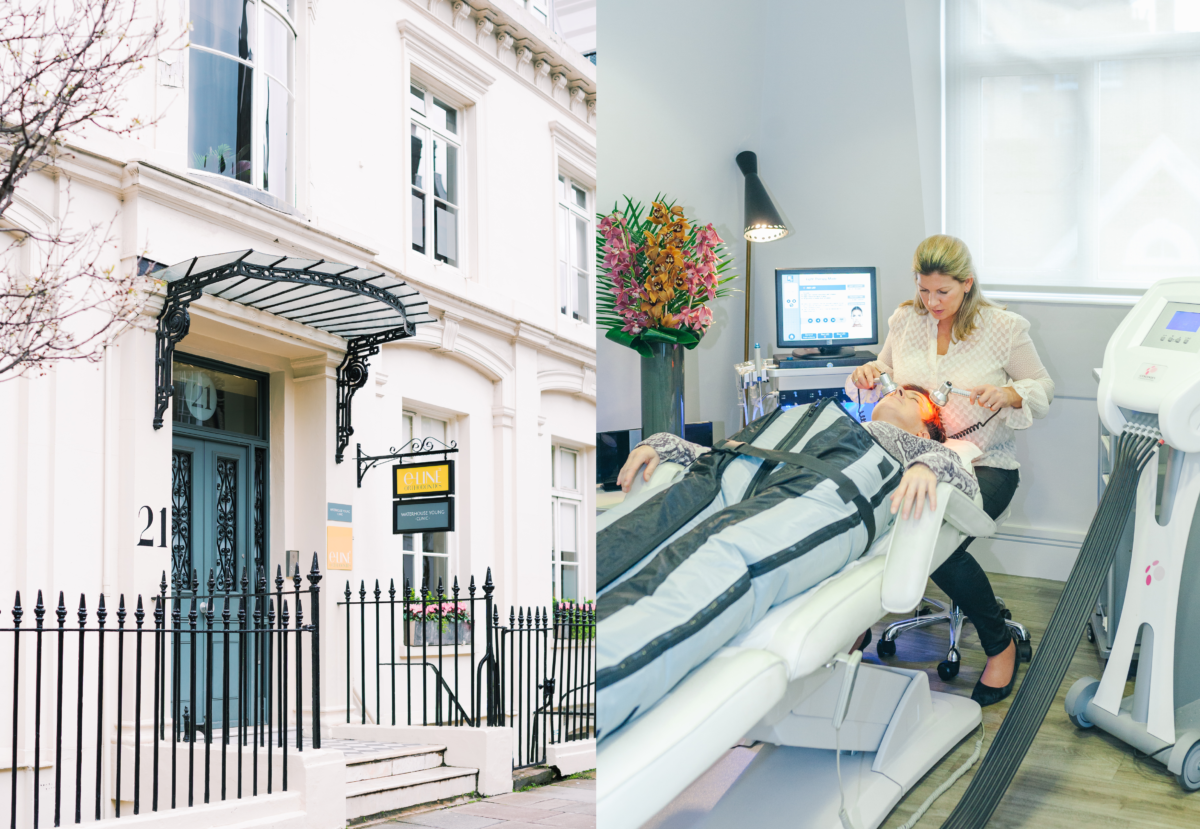 HydraPresso Facial- Waterhouse Young Clinic
Masters in non-surgical medical aesthetic treatments, the Waterhouse Young Clinic are renowned for delivering high-effective results. HydraPresso combines two of their ​signture in-clinic treatments; Pressotherapy and HydraFacial. The dual-action treatment simultaneously works the facial and the body to detox, drain and debloat in just one hour. To kick off the treatment you'll get into a mechanical massage suit that gives a relaxing full-body lymphatic drainage to boosts circulation and removes toxins to reduce cellulite, whilst your expert therapist works on your face! The HydraFacial element is what gives this treatment the wow factor as you'll notice a drastic improvement in your skin instantly. Utilising the advanced patented technology of the HydraFacial machine, the treatment involves a deep cleanse, extraction of debris from the pore (so satisfying), and intense hydration using potent serums that are supercharged into the skin. To finish, red and infrared LED light is used to reduce redness and further stimulate collagen. Ideal for treating fine lines and wrinkles, enlarged pores, hyperpigmentation and oily and acne-prone skin, this rejuvenating and resurfacing treatment instantly lifts dull skin and improves general skin health for all.
If you're big into Indian cuisine, you have to visit Copper Chimney for the ultimate feast! Founded in 1972 in Bombay, the menu delivers the signature tastes of Northern India to London's Westfield, Shepherds Bush. The menu is bursting with an abundance of flavour, with an array of dishes to suit everyone's dietary requirements and taste buds. Ideal for vegetarians and plant-based eaters, Copper Chimney's extensive list of veggie and vegan dishes never compromise on taste as the traditional Indian aromatic spices are what really create the wow-factor. We have to give an honourable mention to the 'Chandni Chowk Chaat', which is a medley of crunchy chickpeas and spiced potatoes in fresh yoghurt and peas topped with chutney, mint and pomegranate…it's sensational! The 'Black Dal Maharaja' is also a firm favorite, made with black lentils in a rich sauce that you will not want to stop eating. Everything from the vibrant interiors, to the smiley staff and of course, exceptionally delicious food, makes Copper Chimney rank one of the best Indian food spots in London we've visited. Add this one to your restaurant bucket list now!
LUCY® is the new innovative water bottle that will ensure your hydration stay on point throughout the day! Global hydration specialists, waterdrop® are the brains behind bottles, which cleverly filters water, controls the level of hydration, and reminds users, day by day, when it's time to drink more. With the main aim to encourage people to drink more water with its range of the world's first microdrinks, made from natural fruit and plant extracts, enriched with vitamins and without sugar, LUCY® also has strong ethical credentials. The cutting-edge design features a smart bottle cap which is what makes the bottle so unique, it uses UV-C purification and a sensor that tracks your water intake via the waterdrop® Hydration App.
Accredited wellness experts, ESPA have launched a new range of supplements that harness the power of nature's finest ingredients. Guided by the wisdom of nutritional experts, dietitians, and biological studies, the range which includes one powder and three elixirs, is the key to harmonious, total wellbeing. Designed to holistically nourish the body to achieve natural beauty and calm from within, the high-performance phyto-active range fuses science and nature for the ultimate formulas which won't disappoint. The versatile vegan-certified supplements, enriched with natural and delicious flavours, mix seamlessly into water, smoothies, recipes and more!
Bringing yoga, pilates, barre, sound and meditation to place, East of Eden is the studio offering both online and in-person classes. The all-inclusive space based in North East London's Walthamstow, East of Eden offers a wide range of disciplines from Hatha Yoga, Body Positive Yoga, Rocket Yoga, Meditation & Gong Sound Therapy, Reformer Pilates, Power Pilates and Toddler Yoga to name a few! Housing two therapy rooms, a café and a wellness shop, East of Eden has developed into a community of like-minded holistic thinkers. Whether you're joining a class in person or online, you'll get a feel for the teachers infectious sense of passion for movement as a remedy to balance the mind, body and soul.
Raw Beauty Lab Vegan Protein & Collagen Builder
New to Raw Beauty Lab's range of eco-conscious beauty-led supplements is their Vegan Protein & Collagen Builder. This duo product not only makes life easier with fewer supplements to think about but also doubles as a delicious breakfast shake or snack. Made using organic plant protein and a complete amino acid profile, including the nine essential amino acids, each serving contains 20 grams of protein and 150% natural vitamin C. Designed to promote collagen production, help support lean muscle development, healthy metabolism and improve recovery, this hybrid formula is cruelty-free, vegan-friendly and contains zero artificial additives or sweeteners.
cyKO is the brand new spinning concept that ravers and party-goers will absolutely love! Hosted within a fully-functioning nightclub, Raffles Chelsea, cyKO transforms the iconic nightclub into a spin studio offering fitness-goers the ultimate spinning experience, soundtracked by tunes that will get you spinning like never before. Consisting of a high-intensity class fortified by Raffles' famous strobe lighting, all in sync with a world-class sound system to elevate the ride, this workout leaves you high with endorphins. Giving you all the buzz of a great night out, without the late night and the hangover, cyKO's adrenaline-fuelled sessions give you 45 minutes of pure escapism, just good music, high vibes and a lot of sweat!
Eym, the brand championing 100% natural, chemical-free home fragrance products, has collaborated with renowned Italian Murano glassmakers, Laguna B to create the ultimate centre-piece for your home. The refillable three-wick candles are crafted from glassware featuring artistic patterns and filled with Eym's signature blends made with 100% natural aromatherapy fragrances. Designed to create a positive therapeutic effect on emotional wellbeing, the blends burn non-toxically to calms the nervous system. Whether you want to focus on sleep, relaxation, restoration or meditation, lighting up the Eym + Laguna B candle will become a daily evening ritual you'll relish.