Hip & Healthy contributor, Eva Ramirez, shares her review of her trip to the brand new The Westin Maldives.
For me, living in a city as loud and energetic as London means it can be hard to slow down and tune in to my inner voice without the constant tug of distractions. Slipping away to the Maldives at the end of November, just before the Christmas buzz felt like a great opportunity to find some calm and stillness.
Anywhere you go in The Maldives you'll find a tropical backdrop of palm trees, white sandy beaches and clear, turquoise waters. Miriandhoo is no different, but the vibe of the resort feels sophisticated and understated in its luxury. Plus, I didn't feel like the only person not on a honeymoon at the resort. Families are welcome and there is a Westin Family Kids Club that will keep little ones occupied with indoor and outdoor activities.
The resort occupies a 14-acre island and feels vast and spacious and high ceilings, wide doors and simple lines make it feel like there's just so much room to breathe. The decor around the resort is marine-inspired and features organic shapes that are reminiscent of clamshells, waves and fish. Earthy colours are used throughout and natural materials such as rattan rugs and woven baskets provide simple embellishments. Communal spaces such as a library and lounge area are comfortable and welcoming enough for you to actually hang out in rather than just admire. Location is also key to this resort's allure, which sits in the Baa Atoll, a designated UNESCO Biosphere Reserve. The Baa Atoll supports one of the largest groups of coral reefs in the Indian Ocean and is home to over 1,200 fish species and animals including hawksbill turtles, manta rays and whale sharks. You'll easily spot the marine life in the crystal clear waters – I'd often be sitting on my deck and see schools of rainbow-coloured fish swimming by and even dolphins further into the distance.
The resort surprised me with its environmental ethics and approach to sustainability. From the design of the hotel through to waste management, recycling and future initiatives, Westin is actively working to preserve and nurture the environment that surrounds it. All of the buildings on the resort are built with sustainability in mind and care has been taken to select materials that are also sustainable, such as engineered and treated fast-growing timber which was used for decking instead of rare and endangered teak wood. Ceramic products also replaced real stone and marble for floors, pools and bathrooms. You'll find solar panels on many of the resort's flat rooftops and executive chef Jason Millar shared his plans to use some of these spaces for hydroponic cultivation of fruits, vegetables and herbs.
Wellness is a key aspect of Westin's philosophy, which is based around 6 pillars: Feel Well, Work Well, Move Well, Eat Well, Sleep Well and Play Well. More on each of them below…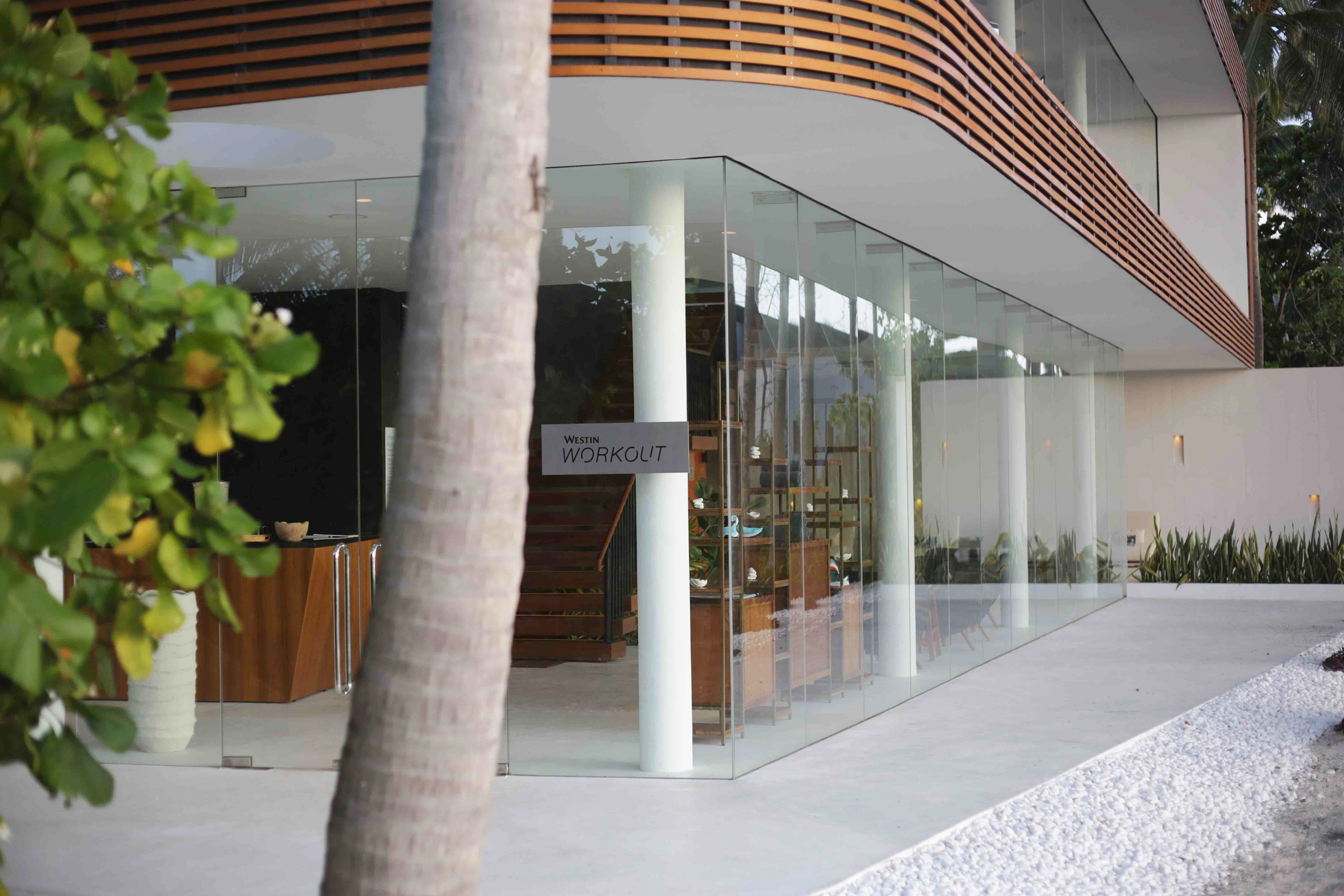 Move and Play Well
There's no shortage of fitness activities on the island, which houses a 24-hour two-story glass gym fully equipped with weight machines, free weights, cardio equipment, a TRX, sauna and steam room. If training outdoors is your thing, there's a court for tennis, volleyball and basketball as well as running trails which are led by an instructor. I'd advise doing any outdoor sports before 8am or after 6pm as it gets really hot and humid in the day! A sunset run around the island was my favourite way to sweat and soak in all of the surroundings at the same time. Personal instructors are also on hand to train you and the hotel will also soon be launching group workout classes such as yoga, pilates and Crossfit. My favourite part of working out was the fact that Westin has a partnership with New Balance, so if you haven't packed gym clothes, you can borrow an entire kit (including trainers!) from the gym.
Of course, being in the Maldives, there's no shortage of water sports to enjoy. The clear, turquoise waters provide the perfect playground for swimmers, snorkellers, divers and adventurers of all levels. You don't need to get very far to experience marine life either, just a short paddle from the shoreline you can discover the spectacular house reef and swim beside the hundreds of different species – from reef sharks to manta rays – which call it home. The diving centre at The Westin Miriandhoo (which is made from a repurposed shipping container which was used to send over materials when building the resort!) will provide all of the equipment, advise and guides you'll need.
Feel Well
Just being at The Westin Maldives is relaxing enough, but if you really want to indulge, the Heavenly Spa is there. Perched on stilts above the water, it's a glass-walled sanctuary. The sound of the waves had an instant calming effect as I indulged in a 60-minute Balinese massage. Based on a fusion of holistic principles, the treatment combined aromatherapy, acupressure and reflexology, working deep into my muscles to relieve tension. Also on the menu, the 'Rebirth ritual' sounds particularly enticing. It begins with a magnesium exfoliation to remove dead skin cells and is followed by a wrap to purify cleanse and detoxify the skin before finishing off with a full body massage. For couples, there is a spacious treatment suite for two complete with a Jacuzzi and of course, the glass walls which allow for incredible panoramic views of the ocean. Beauty treatments, guided meditation and lifestyle consultations are also on offer and for those who just want some time to sit back and chill out, the relaxation room is the perfect spot to reflect post-treatment.

Eat Well
The Resort offers three totally different experiences for dining. First, there's Island Kitchen which serves breakfast through to dinner with a balanced and nutritionally focused menu that combines Chinese, Indian and Maldivian cuisine. Here, you'll get a taste of the Westin's Eat Well brand pillar. My personal favourites were the dahl and curried egg for breakfast and tuna ceviche as a delicious starter at dinner. The Pearl is the resort's speciality eatery, with an authentic Japanese menu which uses the best ingredients to create an offering that is classic and understated, yet elegantly plated and full of flavour. The black cod was unforgettable and the desserts were the most inventive I've ever tried at a Japanese restaurant. The 5-course and 8-course tasting menus are a must in order to enjoy the full experience here. Hawker is the most casual of the three and is set right on the sand for a casual, day-time dining experience that perfect for lunch. The menu is short but sweet with Asian street food hero dishes such as Pad Thai and Bao buns, as well as expertly combined cocktails, smoothies and iced teas. The aptly named Sunset Bar, which sits atop the Island Kitchen provides a beautiful view for evening drinks and chilled vibes before dinner. However, my favourite spot for an unforgettable sundowner was from the privacy of my very own deck. They serve tapas-style bar snacks and imaginative cocktails as well as a huge list of wines, picked directly from the wine room which is open for guests to check out.
Sleep Well
The suites at The Westin Maldives are a perfect example of the fusion of Italian and Asian design influences. Open plan, spacious and comfortable with a minimal, contemporary feel that mirrors the rest of the resort, they are outfitted with unique touches, such as a citrus press and TOTO electronic toilet. Japanese design influences are strong, with dark wooden tones, warm lighting and sliding doors to section off the bathroom, bedroom and living areas. My outdoor deck spanned the full length of my suite and was where I spent the majority of my mornings, soaking in the sunshine and sounds of the ocean before heading to breakfast. Steps lead straight into the water and you can enjoy a dip in your private pool and rinse off in the outdoor rainforest shower while looking straight out to sea. The hotel has a desalination system which uses reverse osmosis to turn seawater into drinking water, which is then bottled into reusable glass bottles and served in the hotel rooms and around the hotel. The Westin's  'Heavenly' Beds, which are renowned and can even be purchased, did not disappoint. I melted into the mattress each night and drifted off peacefully with a little help from a lavender balm which was placed on my nightstand to encourage restful sleep.
Work Well
As for working, I didn't do much of that while at The Westin Maldives, but it was certainly the break I needed. Every experience was curated with well-being in mind, ensuring that my stay was as restful and rejuvenating as possible, so once Christmas is over and January rolls around, I'll definitely be ready to work well.
Nightly rates at The Westin Maldives Miriandhoo Resort are from £608/800 Dollars for two people on a B&B basis. For more information or to book click here.

Words and photographs by @evieramirez
---