Whilst you may already be familiar with the benefits of CBD in supplement form, perhaps you have even seen results using CBD beauty care products, but did you know that you can now get your CBD in delicious drink form? Meet MEDA, the premium CBD drinks brand changing the way we consume our wellness products by creating a range of delicious lifestyle drinks that help calm the mind and help us return to our optimal state of being. With their Functional Wellness range already a roaring success, they've recently introduced nutrient-dense NO-LO mixers and a new ready-to-drink Espresso Martini – known as the Medatini.
CBD is predominantly found in the buds and flowers of the hemp plant, and is free from any intoxicating effects (basically – you're not going to get high!). Increasingly taken as a power-packed nutritional supplement, CBD is thought to encourage focus, calm the mind, improve sleep, ease inflammation, and improve overall vitality. Founder of MEDA, Adam Feldheim, discovered the benefits of CBD whilst living in his hometown of California and felt compelled to help others un-earth the way that CBD can help us get back to a feeling of ultimate balance. By pairing top-quality CBD with nootropics, adaptogens and a range of other nutritional ingredients, MEDA drinks focus specifically on functionality and flavour, no small feat when it comes to CBD, which can sometimes taste bitter – not in MEDA's case though, and their latest range of NO-LO beverages and the Medatini (we couldn't love that name more) is no different.
MEDA NO-LO drinks provide an alternative to high-sugar and highly carbonated mixers and drinks that you'll tend to find during 'Happy Hour'. If you're not drinking alcohol, the NO-LO range is a great way to still enjoy a drink that isn't going to unbalance your levels give you a sugar high – or let's face it – like you're drinking a kids drink – I know I've only too often ordered something less sophisticated than a juice box whilst my friends are tucking into cocktails because I didn't want to drink alcohol that night. The NO-LO range includes four different flavours, each with different wellness outcomes from CALM, which aims to ease stress to DEFENCE, which helps boost the immune system. Each blend contains 5mg micro liposomal organic CBD to maximise absorption to offer the best results. Be sure to try my favourite, GLOW – a mixture of elderflower and lime combined with aloe vera, olive leaf extract and vitamin C. You'll never go back to ordering something as bland as tonic water again.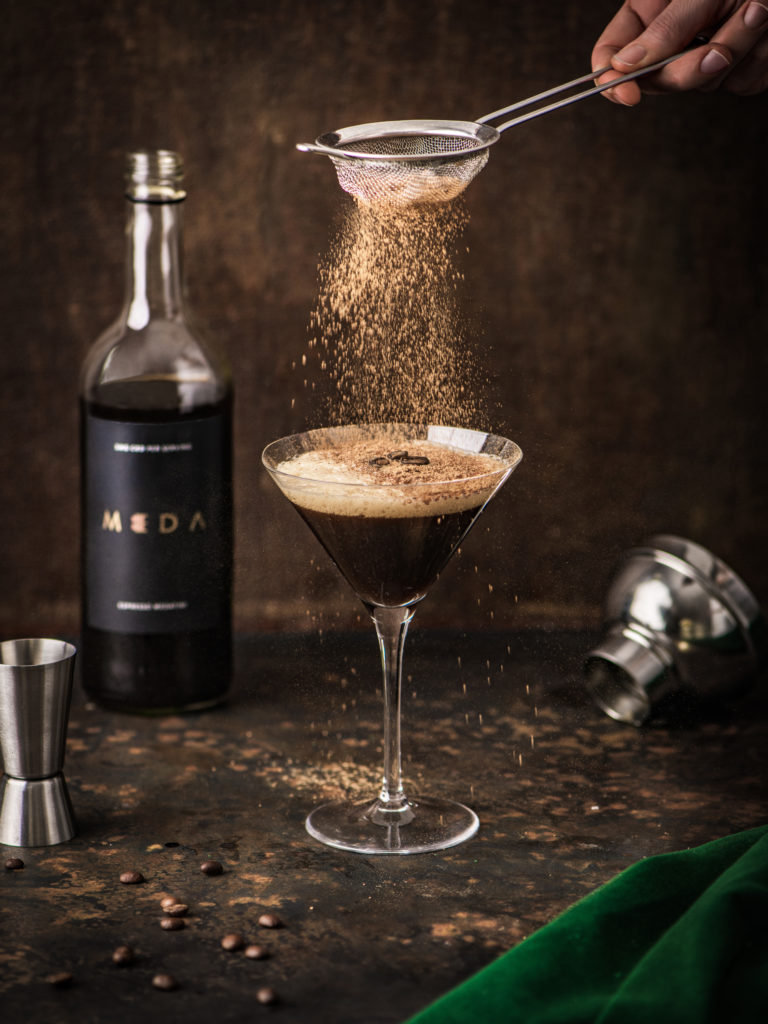 As a wellness lover, I have often felt that we should be asking more of our alcohol. Which is where MEDA's Espresso Medatini seems to have all the answers. Pre-bottled with premium vodka and ready-to-drink after shaking over ice, The Medatini has all the good stuff that London's most iconic cocktail offers without any of the bad stuff (such as those post-espresso martini jitters!) plus it contains only half the sugar and calories of a standard espresso martini with 10mg of CBD teamed with premium vodka, Panax ginseng and rosemary (two potent antioxidants). Created by Feldheim in collaboration with Luís Simões, former Beverage Director at Annabel's in Mayfair, it guarantees a perfect pour and can be served traditionally in a martini glass or, for the summer, over ice for a refreshing, caffeinated CBD cocktail. 'Happy Hour' just got even happier, and, as MEDA say, It's time to drink smarter.
Reader Offer
Hip & Healthy readers can benefit from 20% off all MEDA products whilst stocks last, using code "H&H20" at the checkout. Terms and conditions apply. Excludes full-size alcohol products. Visit www.medahuman.com 
MEDA = 100% Natural + Vegan + Gluten Free + Low Calorie + Made in UK