Don't you just wish you could have one nifty system that manages all of your fitness and health goals? That holds all of your wellbeing data from every meal you eat to any time you break a sweat? That helps motivate you along your fitness journey with tracking, guidance and your very own #fitfam community to share your ups, your downs, the pretty and the ugly? That monitors stress levels and quality of sleep? Sigh…
Strike that sigh and meet the brand new Under Armour HealthBox that does all of the above! Yes really! We were incredibly lucky to get to try, first hand, this highly anticipated, lifestyle collaboration powered by Under Armour and designed by HTC.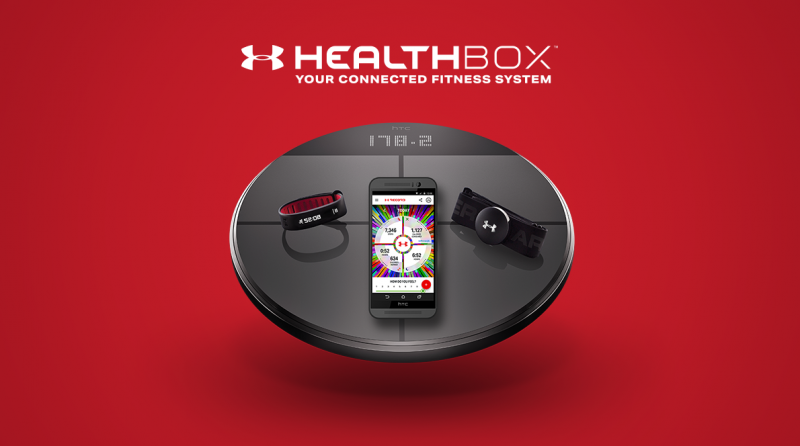 Three components make up this extraordinary connected fitness system, which all centres around the UA Record app – a heart rate monitor, a wearable band and a scale. Let's start with the latter. This is no ordinary scale. Not only does this sleekly designed piece of kit track your body weight, it also tracks your body fat percentage and your progress towards your fitness goals.
Verdict on the Scale
If you have a specific weight loss (or gain) goal this will be really useful to you. The great thing about the scale is that it will sync all the data it collects on to the UA Record app so you can monitor your progress right from your phone or tablet without having to go back to the scale and read past weigh ins manually. With five months of battery life guaranteed and the capability to remember up to eight profiles, it's definitely become part of our bathroom décor and has attracted other members of family to join in too!
Verdict on the Heart Rate Monitor
We were really happy to see a heart rate monitor in this connected fitness concept. In our minds, no wrist wearable can compare to the accuracy of a heart rate monitor and this will excite any budding marathon runner or triathlete! With a handy adjustable strap it's comfortable to wear and will sync, via Bluetooth, all your readings from previous workouts. It's amazing to actually see how hard you've worked and how your figures change over time as you gradually get fitter. You'll even be able to see how your heart rate changes with daily stressors like an important deadline or presentation at work or even when someone cuts in front of you in a queue – giving you a great indication on what really stresses you out so that you can hopefully combat it… cue the meditation class.
Verdict on the Band
For us the band is the stand out piece in this entire trio and it fitted so seamlessly in to our daily lives and routine. Being water resistant, we were swimming, sweating, doing the dishes and even taking our morning showers without taking it off our wrists. And its clever design means it's so comfortable you can sleep in it! Which brings us on to its awesome sleep tracking abilities. Before you worry about the hassle of setting it up just before bed every single night, think again. You don't have to do anything to kick start it's sleep tracking. Just drift off into a peaceful slumber and the UA band will do the rest! Taking a long flight or just become a new parent? The UA band will sync to the UA record app and you'll be able to see right in front of your eyes just how much your quality of sleep can be effected! We noticed such a difference in our quality of sleep from when we gave ourselves a Netflix and email-checking curfew and made an effort to relax with an Epsom salt bath and a good book, compared to when we got in late from work and were finalising important details via email right up until we turned the lights off! Aside from that, the four other, swipe-able screens include a clock, pedometer, heart rate and workout tracker, which allows you to select whatever type of workout you plan on doing like running, spinning, HIIT etc. Not a runner? Don't fear! You can also customise this screen and add other forms of exercise like yoga or Pilates for example and remove the activities you don't do. Other settings include Airplane mode (handy for travelling) and brightness control.
One other thing we liked is that you don't JUST have to use Under Armour gadgets for this fitness platform to work. The app connects with devices from Fitbit, Garmin, Jawbone and Misfit to name a few, which means you won't have to let your current wearable gather dust!
For us, it's a system that keeps on giving. The longer you use it, the better you will understand the ins and outs of your life and how you can improve upon all aspects of your wellbeing. This isn't just a wearable… it's a holistic approach that aims to help you perform, eat, sleep, rest and recover better and more efficiently than you ever have before.
For more info on the Under Armour HealthBox, head to http://www.underarmour.co.uk/en-gb/healthbox.html 
words by Molly Jennings