New York City is known for its buzz, bustle, and of course, its brilliant bagels — but what's a person to do if they want a little healthy living thrown in the mile-a-minute mix? As a former New Yorker and longtime wellness enthusiast, H&H contributor, Anne-Marie Crosthwaite has created the Ultimate Wellness New York City guide… an essential list of places to sleep, eat, drink, shop, sweat, and chill that won't leave you feeling exhausted, but rather, ready to take on that Big Apple.
SLEEP 

The Greenwich Hotel 
Homey yet sophisticated, classic yet trendy, the impeccably designed Greenwich Hotel in Tribeca is tough to beat. Comprised of 88 rooms of which no two are alike, you can expect furnishings from a wide variety of cultural influences — think Tibetan silk rugs, Moroccan tiles, Italian Carrara marble, and English leather settees. The hotel's restaurant and spa also receive significant accolades all on their own. Locanda Verde serves up some of the best Italian comfort food on the island, while Shibui Spa offers a heated indoor pool, steam room, massage and bodywork services, seasonal aromatherapy baths, and an endless supply of fresh juices and sake.
1 Hotel Brooklyn Bridge 
Resting on the waterfront of Brooklyn Bridge Park, this airy, light-filled hotel is all about sustainability. Featuring interiors designed almost entirely by local artists, the 1 Hotel Brooklyn Bridge is brimming with lush greenery, rustic reclaimed wood walls, and thoughtful finishing touches like hemp-blend mattresses and organic cotton sheets. It also offers a cinema room, an all-day café, an all-natural spa, and a 10th-floor plunge pool overlooking the East River. And did I mention it has one of the best views of the Manhattan skyline you'll probably ever see?
The Bowery 
Exuding a retro-glam vibe on a bustling Third Avenue block, The Bowery is not only a superbly cosy stay for out-of-towners but also a local staple for the young and trendy. Conveniently positioned between the buzzing East Village, Lower East Side, and SoHo neighbourhoods, many a celebrity has been spotted in the hotel's art-deco-themed bar, and the dramatic, vintage-inspired lobby provides a stylish setting for getting a bit of work done or catching up on the morning news. The rooms are also lovely and often quite spacious by NYC standards, with most featuring massive windows, hardwood floors, and marble bathtubs — some even have serious views of the Empire State Building. 
Mandarin Oriental, New York
Luxury and elegance seep from every corner of the Asian-inspired Mandarin Oriental, New York. This iconic hotel flaunts gorgeous floor-to-ceiling windows in every room, a 75-foot lap pool, one of the best therapeutic spas in Manhattan, and absolutely stunning views of the city — all within a two-minute walk of Central Park. Staying in the Upper West Side also has its benefits, as the area is chock-full of fascinating museums, endless shopping, and world-class restaurants. If you can spring for the upmarket price tag, the Mandarin will surely not disappoint. 
11 Howard 
Located in Manhattan's lively SoHo neighbourhood, the 11 Howard has a familiar, relaxed, and welcoming feel. Subtle touches like navy drapes, blush throws, and simple Scandanavian decor can be found in most rooms, as well as minibars stocked with wellness essentials from Thrive Market. The hotel also boasts electric skateboards for hire, contemporary art throughout the property, enticing dining options at Le Coucou, and a partnership with the Global Poverty Project, to which a portion of your room rate is donated.
EAT + DRINK

Nix
The team at Nix believes that eating plant-based should feel more like a celebration than a sacrifice, and boy do they do an excellent job at proving their point. The menu at this spirited Greenwich Village eatery features vegan and vegetarian recipes that are seasonal,  flavourful, and ideal for sharing. Start with a "my darling" cocktail — a refreshing mix tequila, clementine, fresh turmeric, and chilli — and don't leave without trying the lobster mushroom galette with sheep's milk cheese and almond-sorrel cream. Positively delicious. 
The Little Beet Table
With delectable dishes like a broccoli pizzetta, grass-fed burger, and chipotle carnitas tacos, who would have thought that the entire menu at The Little Beet Table is 100% gluten-free? They use a seasonal, vegetable-forward approach to everything they make, and they do a damn good job of keeping it tasty, nourishing, and wholesome. Open for lunch, dinner, and weekend brunch, this Park Avenue haunt is pretty popular, so booking ahead is encouraged. 
Avant Garden
A tiny vegan restaurant in the East Village, the cleverly coined Avant Garden is operated by the owner of several bars in the neighbourhood and features seriously exquisite all-veg eats. No one is trying to fool you into thinking you're eating something carnivorous here — plain and simple, you'll get incredibly fresh vegetables, creatively combined, and beautifully presented. The hen of the woods is my go-to, and their orange wines are outstanding.
West-Bourne
At West-Bourne, the feel-good vibes almost outweigh how amazing the food is — almost. A California-themed restaurant slightly removed from the chaos of the SoHo shopping district, this little gem flaunts fun and healthy options that make you want to grab the SPF and head straight to the beach. Try the Malibu waffle, sunrise kingdom, mushrueben, or over the rainbowl to see what I'm talking about.
abcV
Getting a reservation at this Union Square hotspot can indeed be a challenge — so why not go when everyone else is still waking up? Yes, the dinner menu is fantastic and full of veggie-friendly goodness, but the breakfast menu is where it's at. Schedule a business meeting or a coffee catch up and order the dosa with swiss chard, a fried egg, and za'atar, or the fresh steamed tofu with roasted cauliflower, harissa, and coconut yoghurt — both mind-blowingly good. Also, the mostly-white colour palette with occasional pops of pink and lime green makes for a cheerful way to start the day.
Honourable Mentions
There are quite simply too many wonderful restaurants in this city. If you have the time and extra room in your belly, a few more fantastic spots to check out are The Butcher's Daughter, Morgenstern's, Matchaful, Dirt Candy, Avocaderia, Beyond Sushi, and Superiority Burger, to name but a few. 
SHOP
Cap Beauty
"Beauty is wellness, wellness is beauty" — what a mantra. At CAP, the focus is on products and practices that foster beauty inside and out. From manuka honey masks to mermaid hair oil to pink mountain salt, they stock over 150 brands that are 100% natural, with an emphasis on pure plant ingredients. If you're in the market for a little pampering, the flagship store on West 10th Street also has a spa that offers a series of signature facials as well as a supernatural herb and wellness treatment.
The Alchemist's Kitchen 
Partnering with world-class herbalists to deliver high-quality botanical medicines, herbal remedies, and whole plant beauty products, the team at The Alchemist's Kitchen pride themselves on goods and services that celebrate artisanship, sustainability, and conscious living. With two locations in the city — the East Village flagship store and a second location inside ABC home — you'll stumble upon everything from adaptogenic mushroom powders to animal spirit tarot cards to abundance candles and even weekly social events. 
Bandier
Bandier wanted to create a shopping environment that fostered a sense of community — and what better way to do that than by putting the top athleisure brands in one place and offering free workout classes to boot? This activewear powerhouse has three locations across Manhattan, with its flagship shop in Flatiron boasting a sleek fitness studio and classes led by teachers with cult followings. Pop in for the latest in flattering workout gear or for an actual workout — it'll be a good decision either way. 
The Primary Essentials
Since opening in the Fall of 2013, The Primary Essentials has been Brooklyn's go-to for thoughtful, artfully crafted home and gift items. Ranging from moderately to rather expensive, the shop offers a wide variety of decorative details — think handmade pens and pencils, uniquely patterned rugs and pillows, golden barrettes and jewellery — created by local independent designers and artisans. If you're shopping for a holiday or a loved one's birthday, definitely pay this Boerum Hill treasure a visit. 
Reformation 
The beloved, eco-conscious, LA-based clothing brand Reformation seems to have taken the world — and NYC — by storm over the past few years. Now with four locations across the city, you have ample opportunities to find that perfectly flattering, on-trend, and sustainable dress, swimsuit, pair of shoes, or even a wedding ensemble if you're in the market! The Lower East Side location is my personal favourite.
Honourable mentions: Similar to restaurants, one thing NYC has no shortage of is great shopping. For a few more eco- and wellness-friendly shopping experiences, head to Credo, Shen Beauty, Package Free Shop, and Flower Power Herbs and Roots.
SWEAT
Y7 Yoga
Two words: Hip-hop. Yoga. Touted as one of Meghan Markle's favourite workouts, expect intense heat, a lot of really sweaty bodies in very close proximity, and near-total darkness illuminated only by little flickering candles. You'll flow to tracks ranging from Kanye to A Tribe Called Quest, and you'll 100% leave dripping in sweat and hopefully, feeling a little freer. An interesting concept, indeed, but it's one that definitely works — since opening its first pop up in 2013, Y7 has expanded to 12 locations across the city. Give it a try!
The Class With Taryn Toomey
Said to be a favourite of celebrities like Jennifer Aniston and Naomi Watts, The Class by Taryn Toomey is a 60-minute hybrid of yoga, HIIT, and dance that uses basic, repetitive callisthenics and plyometrics to exercise both the body and mind. Throughout this oh-so-challenging workout, instructors push students to witness, explore, and better understand their resistance to discomfort — a concept applicable to almost every facet of life. The Class now has four bright and airy studios across the city, but they book up quite quickly so reserve your spot as far in advance as possible. 
SoulCycle 
A workout that needs no introduction, SoulCycle has quickly become the world's most celebrated indoor cycling class. Low lights, loud music, and a lot of high-fiving, every 45-minute session uses choreography, weights, and positivity to create an uplifting experience and a truly effective workout — and judging by the massive community that has formed around the brand, people are absolutely obsessed with it. With almost 20 studios across Manhattan and Brooklyn, you'll never be too far away from your next class, but do be warned that they are a bit pricey. A one-off session is $36, or if you're a newbie, you can get a starter pack for $25 per class up to three sessions. Book on Monday at noon for the best bikes.
Box + Flow
To repeatedly hit a punching or indulge in a few downward dogs? That is the question. If you're having trouble answering, don't fret — just head to Box + Flow in NoHo. Every 50-minute class starts with a shadowbox warm-up, moves onto a heavy bag and weight round, and winds down with a 15-minute vinyasa flow sequence. Set to tunes by the likes of Pearl Jam, Nirvana, Bon Iver, Eminem, and more, the class aims to inspire and empower through energy, breath, movement, and music. New to the concept? You're in luck — they offer a two-for-one deal for newbies, just $33 for your first couple of classes.
Sky Ting Yoga
Light and breezy studios, animal mascots, and infrared saunas are just a few of the things that set Sky Ting apart in the saturated NYC yoga scene — but perhaps the biggest differentiator is their teaching method. Rather than taking a purist approach, the team at Sky Ting believes that having a diverse pool of influences promotes greater physical, emotional, and cultural wellbeing. That's why all of their classes are based around a mix of different theories and practices, including Vinyasa, Taoist theory, Kundalini, and more. They have three lovely locations across Manhattan and Brooklyn, so pop in for a 60-minute session — and maybe a sauna — next time you find yourself in the area. 
Honourable mentions: A few more of my favourites for a little fitness in the city: Jivamukti, Rooftop Yoga at The James, and Good Times Yoga. 
CHILL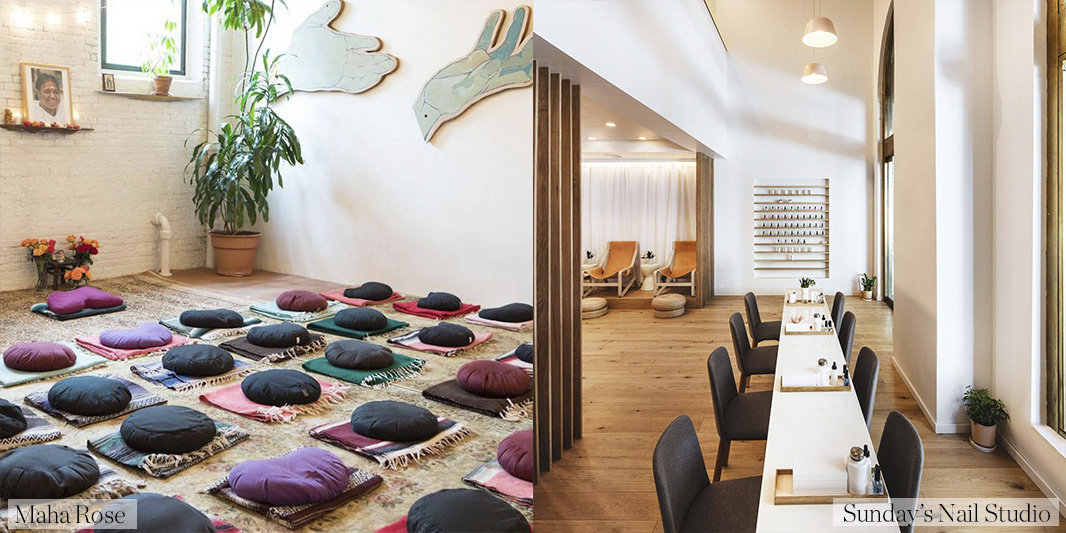 Ancient Aire Baths
This place is steamy, dreamy, and oh-so-rejuvenating. A former textile factory that dates back to 1883, Ancient Aire is an ethereal and dimly-lit bathhouse lined with candles and lanterns that flicker against exposed brick walls and towering columns, with splashes of electric blue emanating from the glowing plunge pools below. Inspired by ancient Roman, Greek, and Ottoman traditions, people flock to this Tribeca jewel for their renowned thermal and ice baths, saunas, salt soaks, and massages. For those not afraid to get a little messy, they even offer a wine bath experience — I haven't tried it, but I am terribly intrigued. 
Inscape Meditation Studio 
Just steps from the Flatiron building in Manhattan, Inscape is a spacious luxury meditation centre that offers guided group sessions in a trippy-yet-chic dome and equally unique alcove setting — a 35-minute session will run you about $22, or 45-minutes for $26. The studio also features a fantastic shop loaded with thoughtful products for alleviating stress, boosting energy, and promoting better sleep, and to further ensure you can feel at ease anytime, anywhere, the brand also created an easy-to-use meditation app. Talk about a 360-approach! 
Woom Center
A self-proclaimed avant-garde yoga studio, the Woom Center strives to inspire curiosity about higher states of consciousness by providing participants with full mind/body/spirit experiences. Highly trained instructors guide meditation sessions that incorporate things like scent, sound vibration, and visual effects to help participants get more in touch with their senses. If you're new to the studio — or if it all sounds a bit woo-woo to you — the breath and sound practices are probably the best places to start. Whichever experience you choose, it's highly likely that you'll leave feeling pretty zen.
Sunday's Nail Studio 
Meditation + manicures = such a great idea. Sunday's is a wellness nail care brand with three sleek and spacious studios in Manhattan. Committed to finding an alternative to toxic nail products, the founder created and only uses her own line of lotions, cuticle oils, and polishes that are 100% non-toxic and vegan. While having lovely, cruelty-free nails is nice, the team at Sunday's also knows the benefits of pampering the mind — so for just $30, you can get a "2 in 1 Meditation + Manicure" package, which is a signature manicure plus a guided meditation. Highly recommended.
Maha Rose 
Stress and anxiety always seem to check themselves at the door of this peaceful Greenpoint oasis. With restorative services ranging from meditation and breathwork to reiki and shamanism to a variety of practitioner trainings, Maha Rose is a safe space for those wanting to heal or expand their spiritual practice. The centre also has the most enchanting little shop filled with crystals, astrology cards, jewellery, clothes, books, and so much more — it's almost worth its own visit!
Honourable mentions: You can't have a list about wellness in NYC without mentioning the myriad of delightful parks perfect for chilling out (or biking, running, walking, doing yoga — such multidimensional spaces). A few of the best are Central Park, Prospect Park, Domino Park, McCarren Park, and Brooklyn Bridge Park.
words by Anne-Marie Crosthwaite
---
Read more: Hip & Healthy Guide To Washington, D.C.