Sun's out, bod's out. Yes, summer is finally around the corner, which means one thing – it's time to get your hair removal routine in check. With a myriad of methods out there to help you stay fuzz-free and silky smooth, choosing the right option can be a daunting task. And that's if you don't want to wear your body hair proudly, of course. It's a personal decision that no one should feel pressured to make, and we're here for beautifully bare to bushy and everything in between.
But if you're looking up your hair removal game, Hip & Healthy is here to help. We've tapped top experts in the hair removal business to help you find the best method for you and your body hair needs, whatever your budget, patience levels, and pain threshold…
Quick, easy, and purse-friendly, shaving is the most common form of hair removal. But it can get a bad rep. Two words: razor burn. On the flip side, what was once solely reserved for legs, underarms, and the occasional bikini line tidy-up is now widely used on all areas of the body, including the face. Those patches of superfine face fuzz are a thing of the past when the right razor's involved. Speaking to Angela Degville, Brand Manager for sustainable razor subscription service Fuss Free Shaving, we found out why shaving is still so popular and how best to utilise your razor.
What are the advantages/disadvantages of shaving?
The biggest advantage of shaving is it's quick, affordable, and easy to do at home in comfort. If you are using a quality razor and prepping correctly, there really are no disadvantages.
What parts of the body is shaving good for?
Literally everywhere! We polled our customers on this, and they shave everywhere from toes to faces, and we are here for it! It's a myth that your hair will grow back thicker, it's the bluntness of the regrowth that makes it feel this way.
What's your top shaving tip?
Our top tip is to prep and exfoliate your skin to remove dead skin cells, as these can clog your blades. Always use a hydrating shave cream – especially if you are prone to irritation when shaving – and we love to finish with our shave balm for an extra smooth silky feel.
What's the biggest shaving mistake people make?
Not changing your blades frequently. We recommend changing blades every 5-7 shaves. We cannot stress enough how important it is to change your blades, they are a breeding ground for bacteria which can lead to irritation. And, contrary to popular belief, blunt blades cause nicks and cuts, not sharp ones!

Whether you're an avid waxer or not, chances are you know what it's all about. Heated, melted wax is applied to hair, left to harden and cool, and then pulled off (in the opposite direction to hair growth) to remove the hair from the root. And whilst the experience can't be called pain-free, waxing has come on leaps and bounds, especially when it comes to hair "down there". To explain more and to reveal what to do (and what not to do) before a wax, the experts at Strip, London's leading luxury wax bar, gave us their top tips. Here's what Monica Botros, Marketing Manager, and Terri Rielly, Head of Education, had to say about all things waxing.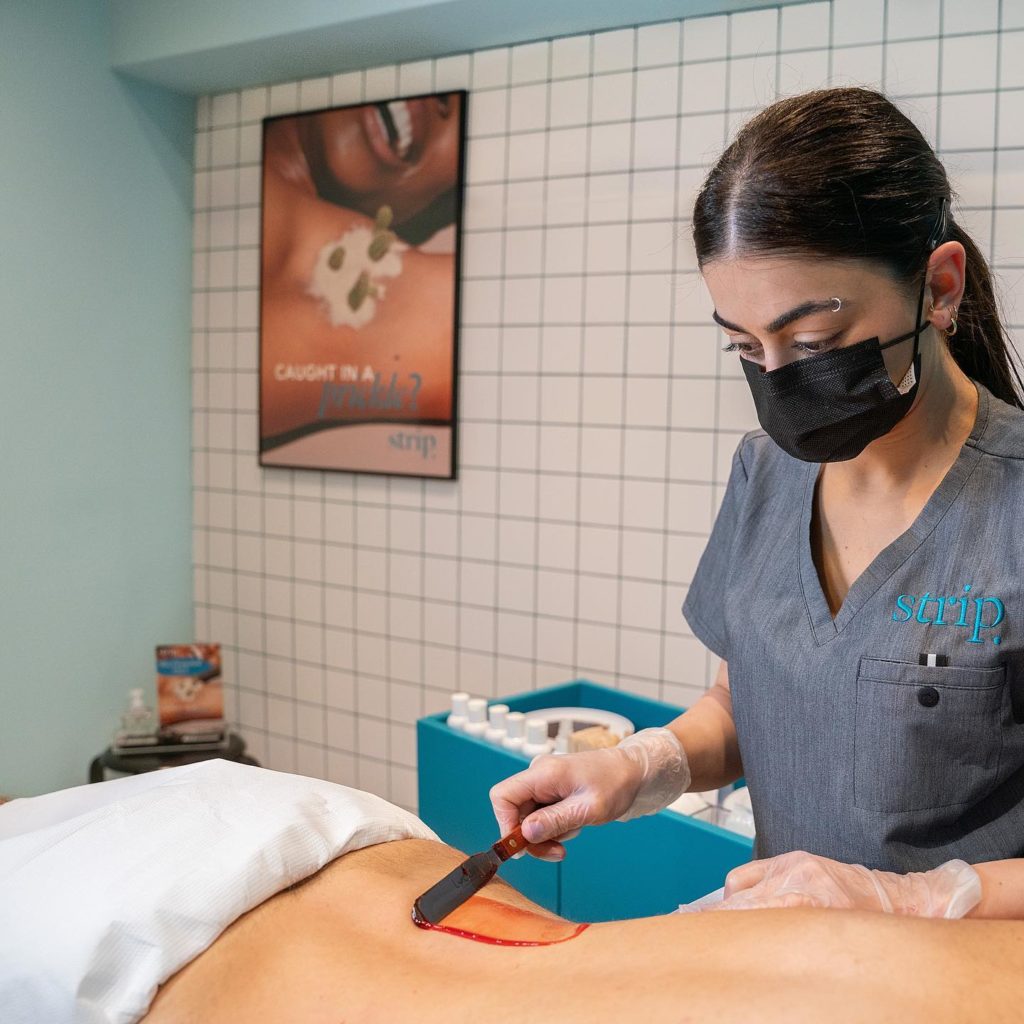 What are the advantages/disadvantages of waxing?
Waxing is a great form of hair removal as over time, and the more waxing you carry out in a specific area, the softer and sparser the hair regrowth tends to be. Hair in waxed areas will not grow back for 2-6 weeks compared to shaving, which is almost daily!
Waxing is super-fast and effective. It can remove large areas of hair quickly and can save a considerable amount of time compared to shaving, which – again – has to be carried out almost daily. Waxing is also great if you suffer from ingrown hairs as it removes the hair from the root. However, if you don't look after your skin, your ingrown hairs can get worse and it's super important you always use the correct aftercare.
What are the different forms of wax?
There's hot wax and strip wax. Hot wax is best used for intimate areas, face, and underarms, and can be used for larger areas of the body if the client's skin is more sensitive. We recommend strip wax for larger areas of the body i.e., legs, back, and arms, however, you get faster results with hot wax.
Top tips if opting for waxing?
Make sure you have at least a month's worth of growth from the last wax/shave as you want all hairs to grow at the same rate to get an even result. It's also super important to exfoliate at least two times a week and moisturise every day for optimum post-wax results.
What's the biggest mistake/thing to avoid if waxing?
Don't shave or tweeze in between your appointments as it can mix up the growth rate of the hair. Within 24 hours of a wax, you should avoid doing any activity that will put heat on the area you've waxed. I.e., exercising, sauna, having a hot bath or shower, as this can irritate the skin. Also, don't apply any fake tan within 24 hours of your wax as this will irritate your skin, especially if you are sensitive
What parts of the body is waxing good for?
Waxing is good for all body parts and for everyBODY! There isn't a place on the body we don't wax. It's of course great for those larger areas where shaving starts to become tedious, and where you want to be rid of hair quickly and for a longer period of time. Waxing is super convenient when going on holiday, as you will most likely be hair free for the full duration of your stay.
Although it may look more sci-fi than beauty, laser hair removal – which, as its name suggests, involves using laser beams to stop hair growth – continues to gain popularity as technological advances get better and better. Read: it's now virtually pain-free (honest) and the results are even more effective. "Laser hair removal has been around for a very long time and technological advances mean better results, not only with hair removal but also with the user experience. A clear objective is to make it as painless as possible!" Explains Samantha Larkin, Founder of luxury clinic NuYu London. "For instance, Soprano is on its 4th generation model so has improved significantly. It's always had in-motion technology to make it virtually pain-free, along with the cooling tip, however, the latest machine boasts increased cooling and more wavelengths, therefore giving more comfortable results." So, if you want to get a bit more whizzy with your hair removal, here's what you need to know about laser, courtesy of Larkin.
What is laser hair removal?
Laser hair removal involves a single beam of light that travels into the skin and picks up the colour of the hair, transmitting light energy to the base of the follicle to kill the circulation, thereby stopping the hair from growing. There are four stages of hair growth, and laser only works at the anagen phase (when hair is connected to the base of the follicle). Only 10/15% of hair is in the right stage approx every six weeks.
Clients must understand no two laser journeys are the same – this should always be explained in a consultation. Clients can expect to have between 6-10 sessions at 6 weeks intervals, so could invest up to 18 months of their time. However, I have no doubt it's worth the commitment.
What parts of the body can it be used for?
Subject to the normal protocols required to undertake laser treatment, it can be applied to areas of the face down to toes!
What are the advantages/disadvantages of laser?
Advantages: It's a very effective long-term solution that can be "life changing" for most clients. Benefits can be seen after just one treatment, it saves so much time in the long run, and skin appearance improves.
Disadvantages: The initial outlay can appear daunting until you see the results. It's not for life – it permanently reduces the hair, but top-ups are needed
Top tips if opting for laser?
Look at reviews and seek recommendations. Always go for a patch test and consultation and be sure you understand the process and the timescale commitment. Follow the guidelines and stick to the routine to see the best results.
What's the biggest mistake people make with laser?
It's imperative not to be drawn in by headline prices. There is a reason why good laser treatments cost more! Protocols require a consultation or patch test, so if not offered, walk away.
There should be consistency with treatment and ideally your practitioner. I recommend attending clinics that have Soprano Ice, Cynosure or Candella machines. There are a lot of machines on the market, but these are the most effective and reputable
Avoid fake tan two weeks before your treatment, get a good SPF to protect your skin, use aloe vera gel to help post-treatment, and don't pick ingrown hairs!
Originating in Asia, threading is now hugely popular across the world thanks to its precise technique that allows for accurate hair removal. As its name suggests, a thin piece of rolled thread is used to capture hairs and pull them out from the root. It's quick, effective, and ideal for finer hairs that are impossible to tweeze or remove with wax. Although it's more commonly used for facial hair removal (if you're after beautifully shaped brows, this is for you) it can be used on parts of the body, too. And who better to ask about all things threading than Shavata Singh, Founder & CEO of Shavata Singh London? Not only is she the go-to for countless celebs (Adele and Victoria Beckham included), but her award-winning studios offer the best threading treatments in town. Here are her top tips and tricks.
What is threading?
Threading is a method of temporary hair removal, originally from India/Central Asia. It's used mostly on eyebrows, as well as the lips, cheeks, and chin. The name comes from the cotton threads that are twisted to pull the hair from the root. It's become popular in Western countries, especially with cosmetic application. The result is natural-looking yet groomed brows.
What parts of the body can threading be used for?
The intention of threading is to remove the complete hair follicle. It removes lines of hairs rather than removing each hair one at a time like tweezing. It is usually used for eyebrows, to add shape or definition, but can also be used for other parts of the face, such as the upper lip, neck, cheek, and forehead. Some areas of India still use threading for body hair removal, for example with underarms, arms, etc.
What are the advantages/disadvantages of threading?
It's good for sensitive skin, and for allergy sufferers, threading has advantages over other forms of hair removal. However, it can aggravate acne. Threading can be easier on the skin than waxing, especially if you need to remove hair frequently. It also doesn't cause ingrown hairs. It's kinder to the skin, redness doesn't last as long as waxing, it creates a defined shape, results can last a lot longer compared to tweezing, and it can pick up finer hairs.
Biggest mistake/thing to avoid if going for threading?
Avoid tweezing the area or using any other hair removal methods, as this can ruin the hard work of your therapist and your desired outcome, not to mention trigger ingrown hairs and irritation. A great way to prep for threading is to exfoliate the skin. This will help remove dead skin and ingrown hairs for a beautifully smooth finish.
---
READ MORE: Want Supermodel Hair? Elle Macpherson's Nutritionist Has All The Secrets…