Mastering our sleep is a mission we're all trying to conquer. From pillow sprays, oils and rituals to help us drift off with ease, we're up for testing out just about anything that promises a peaceful night's rest. Two London hotels are taking things a step further with their new sleep offerings that are bound to help you nail the perfect night's sleep. Harnessing the power of CBD, aka the holy grail sleep formula, the Mondrian Shoreditch and Rosewood London have collaborated with two of our favourite CBD brands to create sleep hotel stays like no other!
Mondrian Shoreditch London – The Ultimate CBD Sleep Experience
Newly opened in the heart of East London, Mondrian is the trendy hotel ideal for a mini urban overnight stay. Partnering with OTO CBD, Mondrian have created a fully immersive overnight package set to revamp the way you sleep. The Ultimate CBD Sleep Experience has been designed to leave you feeling thoroughly well-rested and re-energised for the year ahead. Setting the tone for your stay, you will experience the signature OTO CBD Balance massage, designed to help reset and promote sleep. This 60-minute full-body massage uses CBD oil, infused with jasmine, helichrysum and roman chamomile to calm the nervous system, resulting in deep relaxation. When it's time for bed, you'll be able to put your OTO CBD sleep set to use. Packed with their cult CBD sleepy products, including the pillow mist, night face mask, Aromatherapy roll-on and sleep drops, this set is the first turndown service of its kind. Allowing you to hit the reset button to kickstart your 2022 in wellness style, the Ultimate CBD Sleep Experience is the way to treat yourself this January.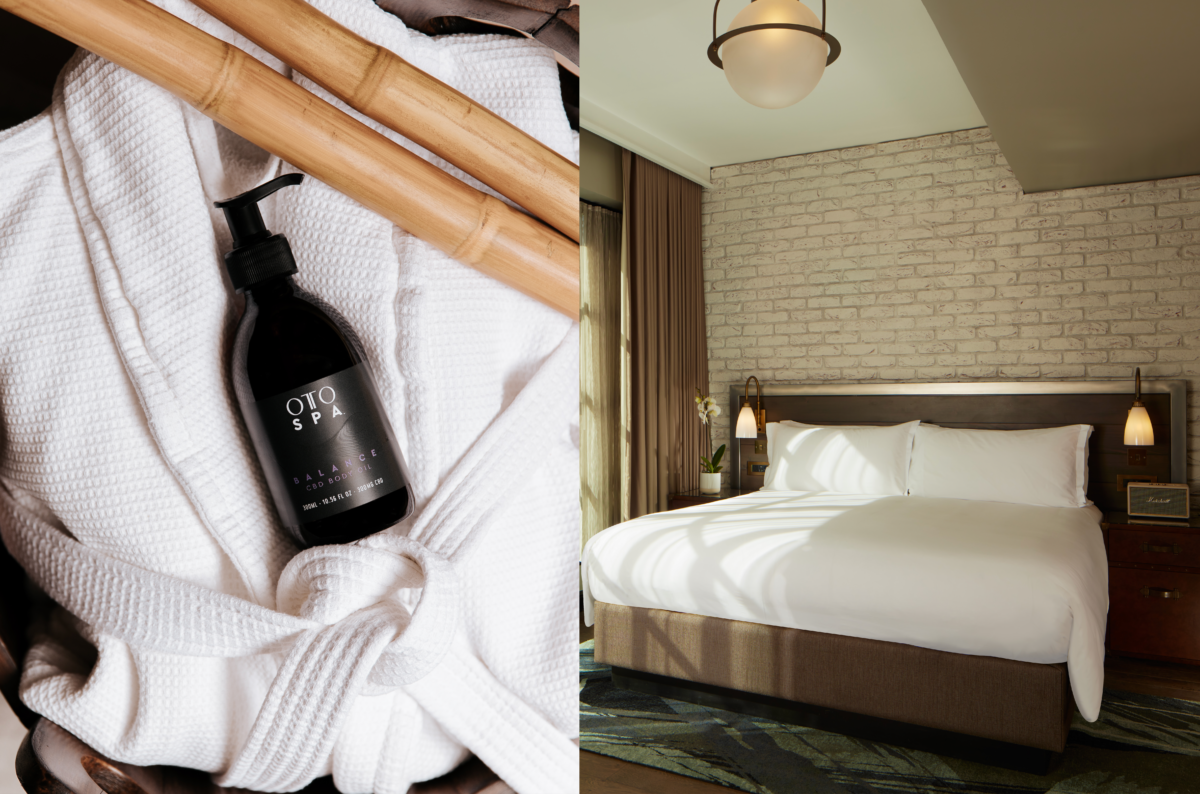 ---
Rosewood London – The Alchemy of Sleep
Luxury London hotel Rosewood introduces 'The Alchemy of Sleep' designed to promote rest and relaxation through sleep-inducing treatments, mindful movement and restorative meditation. There are two exclusive offerings, the Sleep Transformation and Dreamscapes, each utilising CBD as the most effective ingredient to induce restorative sleep. First up, The Sleep Transformation in partnership with Votary is designed to restore and renew. The two-night stay in a luxurious suite comprises a Votary Antidote Sleep Journey with the choice of a CBD Facial or a CBD Massage, followed by two private AWE sessions where you can choose from Pranayama Breathing, Restorative Yoga or Meditation. The second of Rosewood's new sleep focused offerings is Dreamscapes, in collaboration with Dreem Distillery…if you're yet to discover this brand you're in for a treat!  Curated for those looking for a restorative escape whilst on the go, the one-night Dreamscapes retreat features a Sleep Service delivered by a dedicated Rosewood Butler. With dreamy amenities filling your bedroom upon arrival plus a one 60 minute deeply relaxing treatment at Sense, the Rosewood Spa, as well as a 60-minute private AWE session, you will leave feeling refreshed and rejuvenated. These thoughtfully crafted programmes are perfect for those seeking renewal of the body and longevity to come.