Exfoliation has been a beauty art practiced for centuries and very little has changed in terms of technique and product. From the ancient Egyptians to the middle ages, a range of natural exfoliation practices and processes took place and all in the pursuit of one common goal, a goal that is still the case today; to have brighter, clearer and younger looking complexions. American Indians used dried corncobs as pumices to scrub the skin; Polynesians used crushed seashells and women in the middle ages used old fermented wine because of the high tartaric acid that "chemically" exfoliated the skin, all in the name of getting that glow.
But somehow, for a moment, we over-complicated the process and created a beauty catastrophe with our introduction of microbeads. These little plastic balls not only damaged our oceans, and the poor fish that consumed them but they were also working their way back onto land through our water systems and harming humans too (one man found microbeads imbedded in his gums from brushing his teeth – yuk). For years they went unnoticed until former President, Barack Obama, signed the Microbeads-Free Waters Act of 2015 at the end of December, which banned microbeads in the personal care industry in the US. Here in the UK we followed suit and introduced a pledge to have microbeads banned by the end of the year. The good news is that retailers are already removing them from shelves and thus we have returned to a much more natural way to add a little glow to our skin.
So in light of this great news we celebrate three of our top facial exfoliators – all of which will help you well on your way to achieving that spring glow!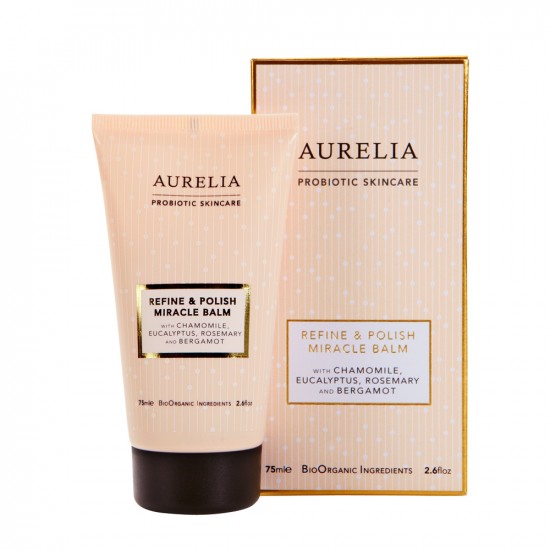 Refine + Polish Miracle Balm, Aureila, £57
We caught up with Claire Vero, Founder & CEO of cult beauty brand Aurelia –best known and loved for introducing probiotics into the skincare market. Their new Refine & Polish Miracle Balm is the latest addition to the BioOrganic skincare range, aimed to brighten and clear dull, lack-luster complexions. "Dullness is one of the main concerns of ageing skin and can be one of the first signs that your skin is not optimally balanced" Claire remarks, "and there are immediate steps you can take to counter-act this". Formally a Dermatology Director at GlaxoSmithKline, Claire was frustrated about the level of unnatural substances she was asked to use in her formulations when she felt that natural ingredients were much more effective at getting the job done: "Exfoliators come in a variety of forms but some of the most effective are naturally derived from plant and fruit enzymes, known as Alpha Hydroxy Acids (AHAs)". The particular AHAs that are found in Aurelia's Refine & Polish Miracle Balm are derived from sugar cane and maple sap; "these enzymes dislodge and digest the dead skin cells on the surface of the skin and, when used as a mask, offer effective and noticeable results even after one use. By increasing the rate of cell renewal they promotes smoother, younger looking skin." Apply the balm as a mask and leave for a few minutes to allow the fruit enzymes to deeply exfoliate the skin by targeting dead surface cells. On contact with water the balm will turn into a milky fluid that once rinsed off will leave skin feeling and looking smooth, soft and glowing. There are also very gentle rice beads, "not plastic microbeads" Claire hastens to point out, which help to rinse away the dull skin.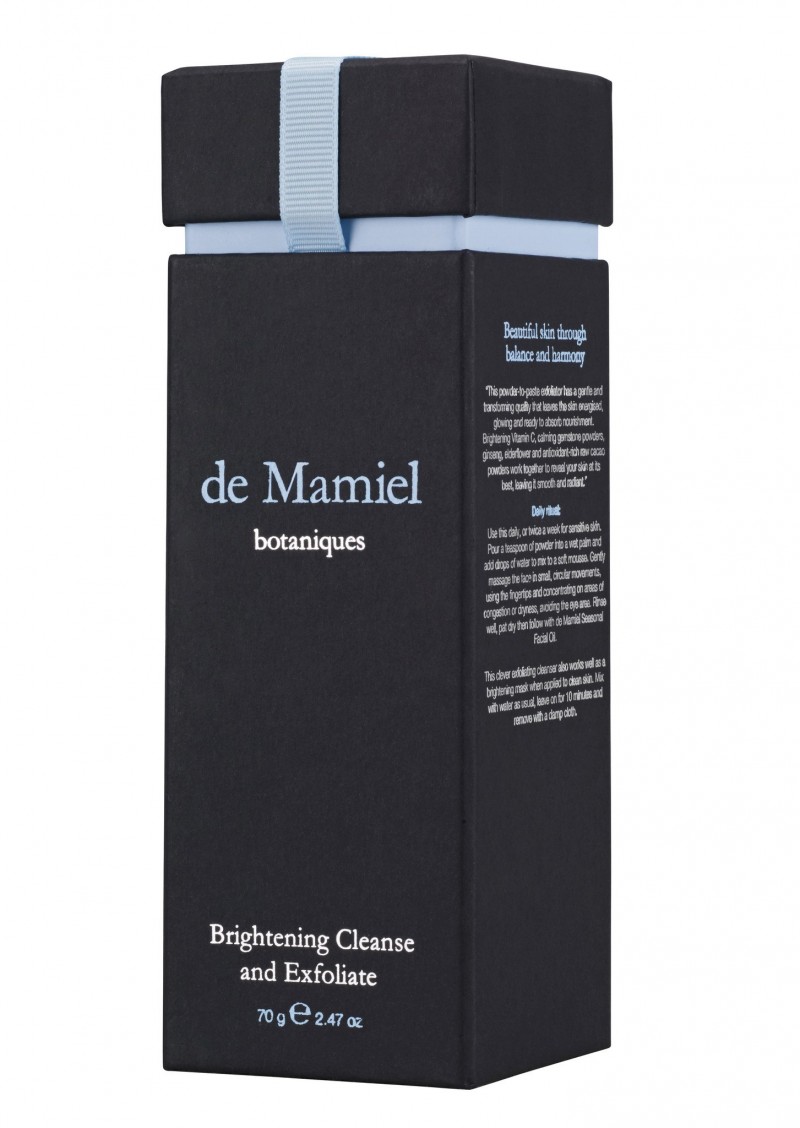 Brightening Cleanse & Exfoliate, de Mamiel, £41
Another deliciously natural brand that undoubtedly blazes a trail in the skincare market is de Mamiel; their botaniques Brightening Cleanse & Exfoliate has been revered as the ultimate skin fix by journalists and celebrities alike. The product comes as a pink powder, which on activation by water, polishes and perfects skin to reveal it's natural radiance. But it is the unique list of ingredients that really gets us excited; Rose Quartz, Cacao, Hawaiian Sea Salt, Collodial Oat to name a few. Annee de Mamiel hand blends all of the de Mamiel products herself, researching different ingredients as well as sourcing them to ensure their quality and potency; "where and how the ingredients are grown as well as how they are harvested can really impact the quality of the ingredient" and therefore the product. But what in particular will ingredients like Raw Cacao do for our faces? "Raw Cacoa powder is rich in minerals such as magnesium that helps to promote blood flow whilst Collodial Oat reduces redness and the blend of mineral packed Hawaiian Sea Salt, Red Jasper and Rose Quartz Gem powder will physically buff away dead skin cells". Top tip: Mix the powder with their cleanser and the scrub becomes even more gentle, massage onto the skin for a few minutes then gently wash away.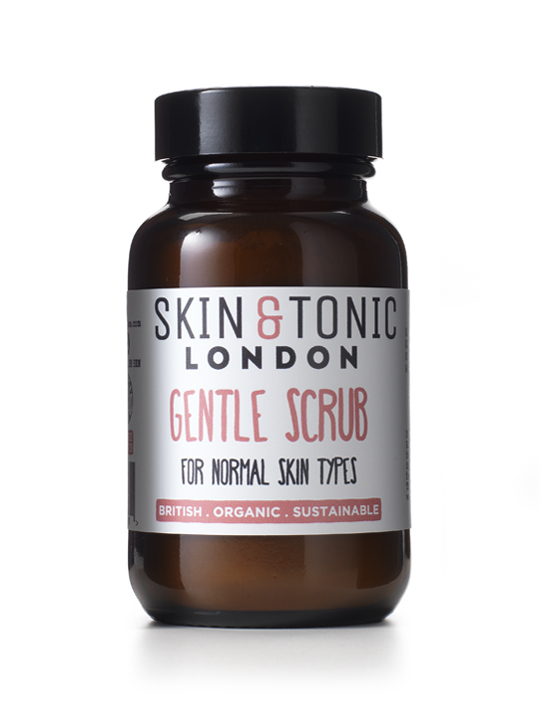 Gentle Scrub, Skin & Tonic, £18
This gentle yet effective scrub also comes in the form of a pink powder, founder Sarah Hancock explains that "by keeping the formulation powdered based we are able to keep the ingredients as natural and potent as possible". The pink colour is derived from the French Pink Clay ingredient, which cleanses and detoxifies the skin. The scrub also contains; oat bran, which protects the collagen and elastin in the skin, helping to fight against the damage caused by free radicals; Probiotic yogurt powder – which help keep wrinkles at bay; rosehip seed powder and geranium leaf oil (this is where the wonderful scent comes from). Quality of ingredients is not the only thing that Skin + Tonic take seriously, they also place a lot of importance on quantity – so much so that none of their products contain more than 7 ingredients. I asked Sarah why this was, "The skincare industry is full of products that contain excessive, synthetic ingredients that are hard for the consumer to decipher. At Skin & Tonic we wanted to keep things simple, so we only use a maximum of 7 natural and organic ingredients in each product so our customers understand exactly what they are putting on their skin & why it benefits them." Top tip: Add 1 tsp of honey or yoghurt to the paste to create a hydrating mask. Leave for 10 minutes and rinse face with warm water.
words by Sadie Reid