Holidays are an incredible experience to share with your children. But travelling with kids can also feel quite overwhelming. Flight delays, long packing lists and over-tired little ones (aka full-blown tantrums) are just a few of the challenges you may encounter along the way. At Hip & Healthy, we've got 3 kids between us so we feel well-equipped to share our toddler travel essentials that will make your next holiday a little easier. After all, we should all get the chance to switch off on holiday and create memories with the family.
The Ultimate Ride For Adventures Near Or Far...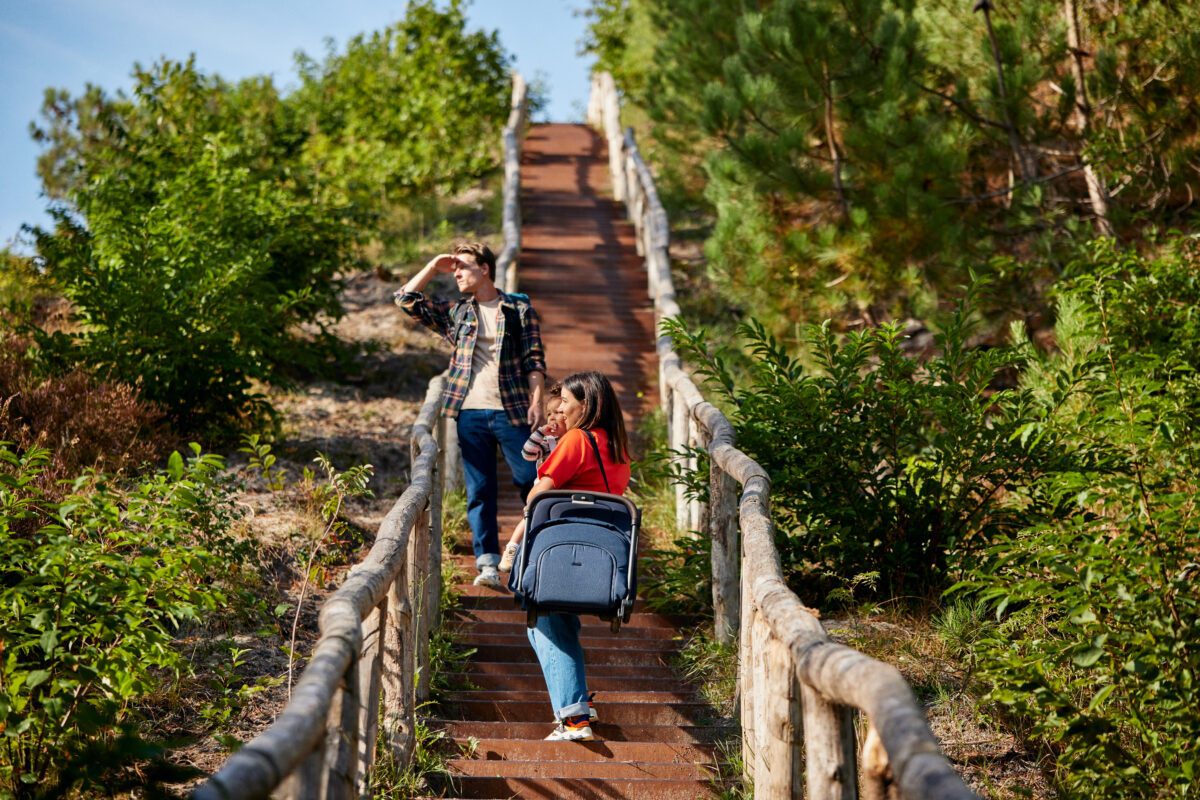 A travel pram is probably the number one essential item to keep things easy when travelling and on holiday. The new Joolz AER+ is ideal for family adventures or city trips, without having to compromise on comfort for your little ones.
The new and improved version of its already much-loved Aer Buggy, is light as a feather, fits perfectly in an overhead locker and has a bigger basket for all the essentials and more! It also has the incredible ability to actually fold (and unfold) one-handed, and it genuinely is super simple to do.
Keeping our kids comfortable while out and about is key. The new Aer+ boasts a bigger ventilating SPF50 sun hood to provide even more protection when somewhere hot and sunny, but also with a simple adjustment, the ergonomic seat can be brought into a full-lie flat position. Now your little one can sleep soundly, as we all know; a well-rested baba makes for a much happier journey and holiday.
Designed To Make Kids Excited About Their Holiday…
LIEWOOD is an international children's lifestyle brand created to ease and inspire the everyday lives of families. Designed to make every journey with your family as comfortable and as easy as possible, these gorgeous suitcases and travel bags are not only beautiful, but they will make kids excited about packing and carrying their own bags ( so you don't have to). With the endless packing for kids your little ones will love the feeling of a little independence and with their own Liewood Suitcase and bag so they can feel in charge of their holiday.
Everything You Need For A Minor Emergency…
The packing list on a family has to include this amazing Mini First Aid Large Family First Aid Kit, which has everything you would need if there is a minor emergency. Containing 115 items, from plasters, instant cold pack and bandages to a digital thermometer, scissors and burn gel. It's small in size but well packed for your everyday bumps and grazes. The kit also includes a handy information leaflet with first aid tips and advice for treating common injuries.
Mini First Aid is the trusted brand, best known for delivering multi-award-winning first aid classes so you know you can trust this amazing first aid kit to give you some peace of mind on your next holiday.
The Hands Free Essential…
Having a baby carrier is a complete holiday essential with a baby, to allow you to have your hands free and Baby Bjorn is the original and the best.
The Iconic Swedish brand pioneered babywearing in the 1960s and is synonymous with ergonomic and adaptable carriers. Baby Bjorn Harmony Carrier is a comfortable and ergonomic baby carrier with four carrying positions, including outward-facing and a back-carry. With a long period of use, from newborn to three years, this carrier will be your go-to holiday essential for years to come.
The Harmony is crafted in a special 3D mesh which is both super soft, sturdy, and airy to keep your little one comfortably and cool; ideal for warmer weather holidays.
Your High Chair Away From Home…
Bumbo has been making clever things for little ones for over a decade. Their mission is to make your life a little easier and this Bumbo Booster Seat is the perfect seat to take away with you on holiday, when you are away from your trusted high chair. It's incredibly lightweight as well as being super easy to wipe down ( an essential with any kid at mealtimes) and your little one will feel very grown up sitting in it.
Smart Toys and Games Beach Puzzle
Keeping little ones occupied on holiday can always be tricky but Smart Toys have some amazing travel-friendly games to keep your kids away from the tablet ( for a little while anyway). Smart Toys are committed to creating inspirational and educational toys with multi-level logic games to challenge children (or adults) of all different ages. These toys are amazingly travel friendly and this magnetic game is perfect for on the go or whilst on holiday. This puzzle game comes with 48 interactive and fun challenges and solutions, so your kids will have everything they need to have an endless amount of fun!
Some of Our Favourite Family-Friendly Destinations
words by Louise Af Petersens