Let's face it: lack of sleep makes you feel rubbish. Not only are you more likely to cry at the next GBBO eviction (guilty) or to eat an entire packet of biscuits without pausing for breath (again, guilty), but because not enough shut-eye puts extra stress on your body. Extra stress = increased levels of stress hormones, resulting in a tired, cranky, older looking you. Yes, that's right – not enough sleep causes wrinkles, faster ageing, and even hair loss, as it's while we sleep that our body goes through vital repair and rejuvenation processes.
But before you start Googling miracle sleep cures, what if we told you that Roccabox is about to drop the ultimate sleep edit full of skin, hair, and body boosters that won't only help you wake up looking better, but will also help you sleep better? It might sound too good to be true, but our beauty sleep box of dreams has officially arrived. Boasting five full-size products (and a rather special extra treat), our 'Do Not Disturb' box is worth over £125 and retails for an incredible £30. Available from this Thursday 18th November, be sure to sign up for priority access, as we predict these will be snapped up faster than you can say "hit the hay".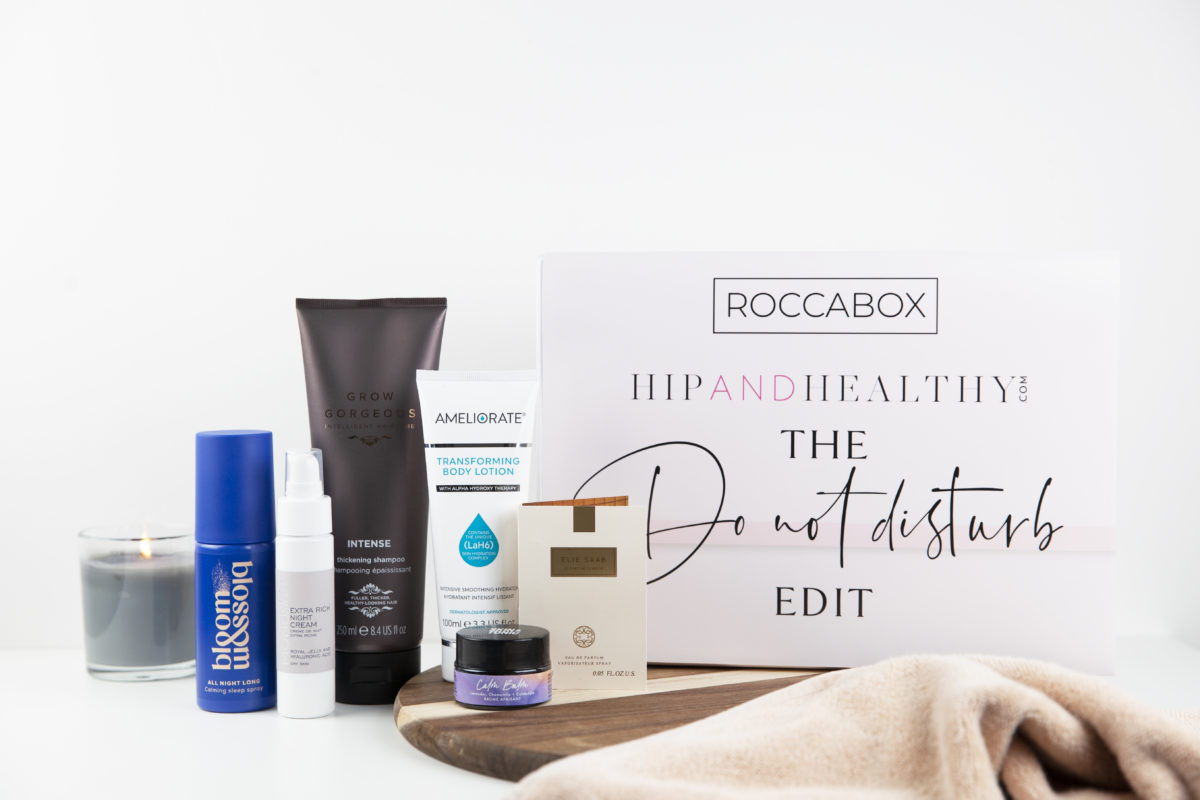 So, if you're feeling a little worse for wear this holiday season or if counting sheep isn't quite cutting it, then look no further. Because this beauty box will help you, fast. Here's what you can expect…
The Sleep Spray – Bloom & Blossom 'All Night Long Calming Sleep Spray' £18
Spritz your way to sleep with this powerful pillow spray. Formulated with 99% natural ingredients and bursting with botanicals (all specifically chosen for their anxiety and stress relieving powers), its gorgeous, soothing scent will have you drifting off to the land of nod in no time. A blissful blend of rose water, Frankincense, and linden blossom, it lightly scents your sheets, PJs, and your room to promote a sense of calm and to help you sleep soundly, all night long.
The Dream Cream – MONU Skin 'Extra Rich Night Cream' £51.50
A cream that intensely hydrates, softens, and protects skin, all whilst promoting a better night's sleep? It might sound like a dream (no pun intended), but MONU Skin's 'Extra Rich Night Cream' does it all, and then some. Packed full of Mother Nature's finest, there's everything from hyaluronic acid to lock in moisture, naturally protecting beeswax, and nutrition-rich royal jelly to nourish and boost cellular renewal, as well as essential oils of sandalwood and jasmine to provide a relaxing, soothing scent. Now that's what we call beauty sleep.
The Hair Hero – Grow Gorgeous 'Intense Thickening Shampoo' £16
If you're looking for the ultimate way to boost your locks, then treat your tresses at night with this shampoo. Why? Well, while we sleep we produce melatonin, which has been shown to promote hair growth. Plus, a lack of sleep leads to higher stress levels, which in turn increases hair loss. Not what we want. But that's where this super shampoo comes in. Free from harsh detergents, parabens, and sulfates, it's packed with ingredients usually reserved for fancy face creams (niacinamide, biotin, and caffeine) as well as amino acids and rice proteins to gently cleanse while locking in moisture, stimulating roots, and protecting strands and scalps. You'll wake up to thicker, fuller, more luscious locks, naturally.
The Body Booster – Ameliorate 'Transforming Body Lotion' £15
Nothing beats slathering on a skin softening body lotion, especially when it exfoliates, resurfaces, conditions, and treats pesky bumps. An essential part of any wind-down ritual, this body booster does just as its name suggests – transforms skin thanks to a powerhouse blend of lactic acid, glycerin, sodium lactate, sweet almond oil, and alpha hydroxy therapy. Specifically created to treat keratosis pilaris (a.k.a. those little bumps usually found on the tops of arms), it deeply hydrates and smooths, ensuring your skin will be just as soft as your favourite bed sheets.
The Calm Balm – Skin & Tonic 'Calm Balm' £13
Rub in the remedy with this nighttime treat. A buttery, balancing blend of therapeutic oils and extracts, it's brimming with calming ingredients such as lavender and chamomile to instantly soothe the soul and calm the mind. Plus, thanks to rich Shea butter and calendula, it nourishes and cares for the driest of skins and helps relieve redness, inflammation, and eczema, all while loading skin with nourishing fatty acids and intense moisture. Perfect as temperatures continue to drop. Massage into skin and inhale its soothing scent before bed or apply to pressure points to relax both body and mind.
The Bonus – Elie Saab 'Le Parfum' (sample)
You've just had the best night's sleep of your life courtesy of Roccabox's 'Do Not Disturb' edit, so, what better way to show off that fresh face than with a swanky dinner out? Which calls for one thing – a new nighttime scent. Naturally, Roccabox thought of that too, which is why this edition's special bonus treat is Elie Saab's iconic 'Le Parfum' fragrance. An ultra-feminine, floral woody scent that celebrates all things light, notes of sun-kissed orange blossom, addictive jasmine absolute, captivating patchouli, warm, heady woods, and hint of sweet rose honey are bound to turn heads and leave you smelling sublime wherever your night takes you.
SHOP HERE