Winter is coming. Have you got your Vaseline at the ready? With over 140 years in the business, Vaseline is a brand that has made the health and beauty wall of fame yet continues to grow from strength to strength. Certainly, Vaseline is not going to disappear from the shelves anytime soon.
And to ensure we don't forget to power of petroleum, Vaseline are proud to present their new Intensive Care range, a lotion available in four varieties to nourish and nurture your skin back to 100% hydration. Packed with a special blend of healing humectants and magical micro-droplets of Vaseline Petroleum Jelly, it is no wonder that the product is exceeding the hydration promises made by other brands.
But how was the potential of petroleum discovered?
Impressively, petroleum jelly was first used by oil workers in the form of 'Rod Wax' to heal their cuts and burns. In 1870, it was Robert A Chesebrough who saw the potential in such a substance: he extracted the usable petroleum jelly from the wax and marketed the product as Vaseline. Its success was down to its effectiveness, and before long it was the number one product to prevent chapped lips, skin sores and blisters.
From then on, the variety of benefits Vaseline provided were celebrated. Mothers began using it as an absorbent shield for diaper rash, teenagers would use it as an alternative to lip gloss and professionals working in extremely cold conditions (such as the North Pole) would use it to relieve dry skin as it didn't freeze! Vaseline was versatile, practical and credible, securing its home not only in the first aid box but also the make-up bag.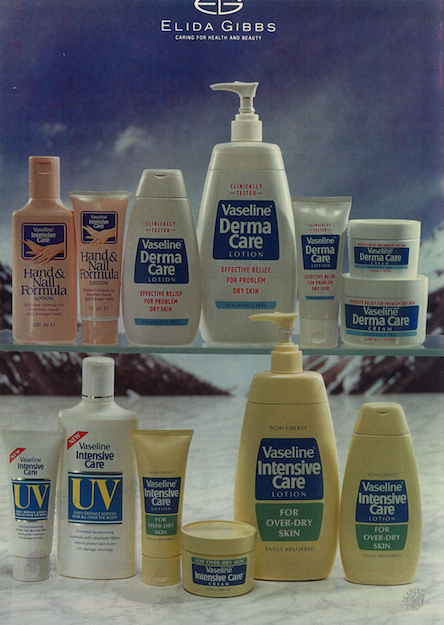 This present day, Vaseline has proved that it is passionate about looking after one of the most intriguing organs we have. Our skin not only protects us from weather extremes, infection and injury, but it also has the ability to recreate and regenerate itself. It stretches, yet springs back to cover our bodily form. It is waterproof, yet it can emit water. Vaseline has been on quite a skin-care journey to ensure we keep our skin in the best condition possible – due to its health and beauty heritage, we can feel confident that all Vaseline products strive to restore our skin back to the best it can be.
Therefore we are super excited about the new Intensive Care range that promises to live and breath this ethos. In each lotion contains the dry skin healing micro-droplet of Vaseline Petroleum jelly, except they are triple purified to be 100% pure and safe. By making a strong protective shield on the skins surface, any natural moisture produced by your own skin cells is locked in, preventing the skin from unnecessary dryness and irritation. By sealing the skins natural moisture production, your skin remains naturally hydrated, rather than being blocked by excessively thick creams that struggle to be absorbed. By returning skin to its natural ph, natural exfoliation and the accelerating of the skins own natural barrier recovery, your body will perform like clockwork, returning you to the best version of you.
But what variant is your dry skin crying out for?
If you have extremely dry skin…Vaseline Intensive Care Advanced Repair – Fragrance Free:
Clinically proven to heal dryness in five days, indulge in this rich, luxurious lotion for a truly nourishing experience. Suitable for sensitive skin, this moisturizer absorbs fast, is non-greasy and fragrance free, leaving you smooth, soft and satisfied without unwanted residue or scent. Your skin is the largest, most protective organ in your body – let it be as beautiful as it should be.
If you have broken, red or irritated skin patches…Vaseline Intensive Care Essential Healing:
Clinically proven to protect, perfect and pamper for three whole weeks, you can guarantee that your sore, dry skin irritations will be soothed in no time. Be prepared for the ultimate healing journey as not even the autumnal weather conditions can hinder your gorgeous glow!
If you're passionate about the power of plants…Vaseline Intensive Care Aloe Soothe:
For centuries Aloe has been a known remedy for skin irritations and inflammation. Used by the ancient Greeks to heal war wounds, the combination of aloe and petroleum jelly makes this lotion the perfect protective powerhouse. Feel nourished and conditioned for a whole three weeks, whilst enjoying the refreshing scent to calm your senses.
If your crazy for cocoa…Vaseline Intensive Care Cocoa Radiant:
Radiate from head to toe whilst you smell delicious with this cocoa butter lotion. This lotion delivers you back to normality, and smells good enough to eat. Summer may be officially over, but the cooler weather is no excuse for dry, flaky skin. Here's to the super sweet sexy you!
So don't put up with dry, cracked and sore skin this season. Let's appreciate our skin as one of the greatest gifts we have the pleasure of wearing. It deserves some tender loving care, don't you think?
All of the new VaselineIntensive Care lotions are available in 200ml (RRP £3.29+) and 400ml (RRP £5.39+) sizes and are available September 2014 at food, drug and mass retailers nationwide. For more information, click here.
words by Olivia Murphy
Hip & Healthy Promotion