There are few places offering whimsical wellness quite like the Broughton Sanctuary. A place where heritage, nature and modern wellness co-exist, Broughton catalysis spiritual awakenings through the vessel of retreats. Upon first glance, this grandeur estate in the Yorkshire Dales simply appears to be a Georgian country manor surrounded by 3000 acres of rolling hills. But what you find when you venture in is a world-class wellness sanctuary, perhaps the best the UK has to offer. Coined the 'house of transformation', the Broughton Hall estate is a family heirloom run by Roger Tempest. Roger's vision has given Broughton a new lease on life, eluding to his own sense of well-being.
One retreat that caught our fancy is Thrive. Promising a way to experience fitness differently, Thrive is combining everything you love about your most memorable holidays, think adventure, relaxation, good food, and new experiences, with learning how to make sustainable changes to your lifestyle. Equipping you with the ultimate toolkit to implement into your every day, Thrive covers fitness, nutrition, rest and recovery tips in digestible doses that break down boundaries. Whether it's fat loss, strength gain, confidence in the gym, or dietary advice you're seeking, Thrive's team of specialists teach you how to integrate new rituals to achieve your goals with the right set of skills. Likewise, if you're already into your well-being journey, Thrive's retreat is a chance to mix with like-minded people and experience new endeavours. Dotted around, the estate has a selection of cottages housing retreaters during the Thrive experience. Filled with modern amenities, the converted cosy cottages make you feel right at home. Utilising the Broughton Sanctuary as their playground, this three-night stay reaps all the benefits retreating has to offer with the standards you're looking for in a luxury staycation.
Founded by fitness enthusiasts, Robbie Barlow and Veryan Dexter, Thrive's core mission is to help you (re)discover the joy of exercise. Evolving from contrasting backgrounds, the founding duo share a harmonious passion for fitness and its power to completely transform your life for the better. Many deem exercise as a chore, the Thrive team are here to rewire your relationship with fitness, demonstrating the mental and physical benefits. Wrapped up with a flurry of exhilarating wellness experiences, from cold water bathing to mountain biking, Robbie and Veryan will gift you with a perfectly-packed wellness toolkit to take home, along with fond memories and new friendships forged through the retreat.
Using an evidence-backed approach, the daily workouts are rooted in the fundamentals of functional fitness, made adaptable with progressions and regressions. Home to premium holistic health and wellness facilities, Avalon Wellbeing Centre is where the vast majority of workouts take place throughout the retreat. The wellness spectacle embodies a myriad of amenities, including the 20m pool, sauna and steam room, hydro-massage pool, Somadome, therapy rooms, conscious library, large scale studio, personal training studio and 'The Nest', the glass box submerged into the wilderness where the yoga sessions take place. Lead by nature, there's a common thread that runs through Avolon's tranquillity, adopting a Biophilic design outlook and the signature Phibanachi, subtly etched within the interiors. The signature Thrive workout, dubbed 'Set The Bar', is a chance to gauge where you're at with your fitness. The hybrid workout is led in Avalon's largest studio, following a circuit of strength and cardio exercises. Completing this workout twice per week hits the weekly recommended exercise guidelines. It's easy to follow and requires minimal equipment, meaning you can mimic it at home or in the gym…one skill added to your toolkit, delivered in a fun format with the guidance of the team to ensure your technique is spot on.
Working alongside Rehab Trainer and Form Coach, Ricardo Walker, Thrive aims to get you moving at your optimal. Niggles and injuries can hinder performance, which is why Ricardo is on-hand to assist with specific needs. Included in the retreat package is a 1-to-1 session with Ricardo to give bespoke advice on aches and pains you may be experiencing.
Stepping into the foothills of the Yorkshire Dales, Thrive's itinerary lets nature take centre stage at various points throughout the retreat. All activities are optional, you can take part in as much or as little as desired. Carved into the woods, the mountain biking trail dares you to step outside your comfort zone for an enthralling time trial, or leisurely cycle through the tree-lined forest. Wild swimming is another chance to relish the natural beauty Broughton has to offer, plunging into the lake for a dip! Cold water therapy, in the form of ice bathing, is a feature most will fear yet grow to love, taking place up on the hill in ice barrels. With the security of the toasty woodland sauna just a stone's throw away, retreaters are revved up by one another to experience the exhilarating buzz of cold water therapy. New to Broughton Sanctuary, Oddesy is a mapped-out loop on the estate designed to take you on a spiritual journey. The morning runs and hikes will weave in and out of Oddesy, giving you a chance to experience the mystical enchantment!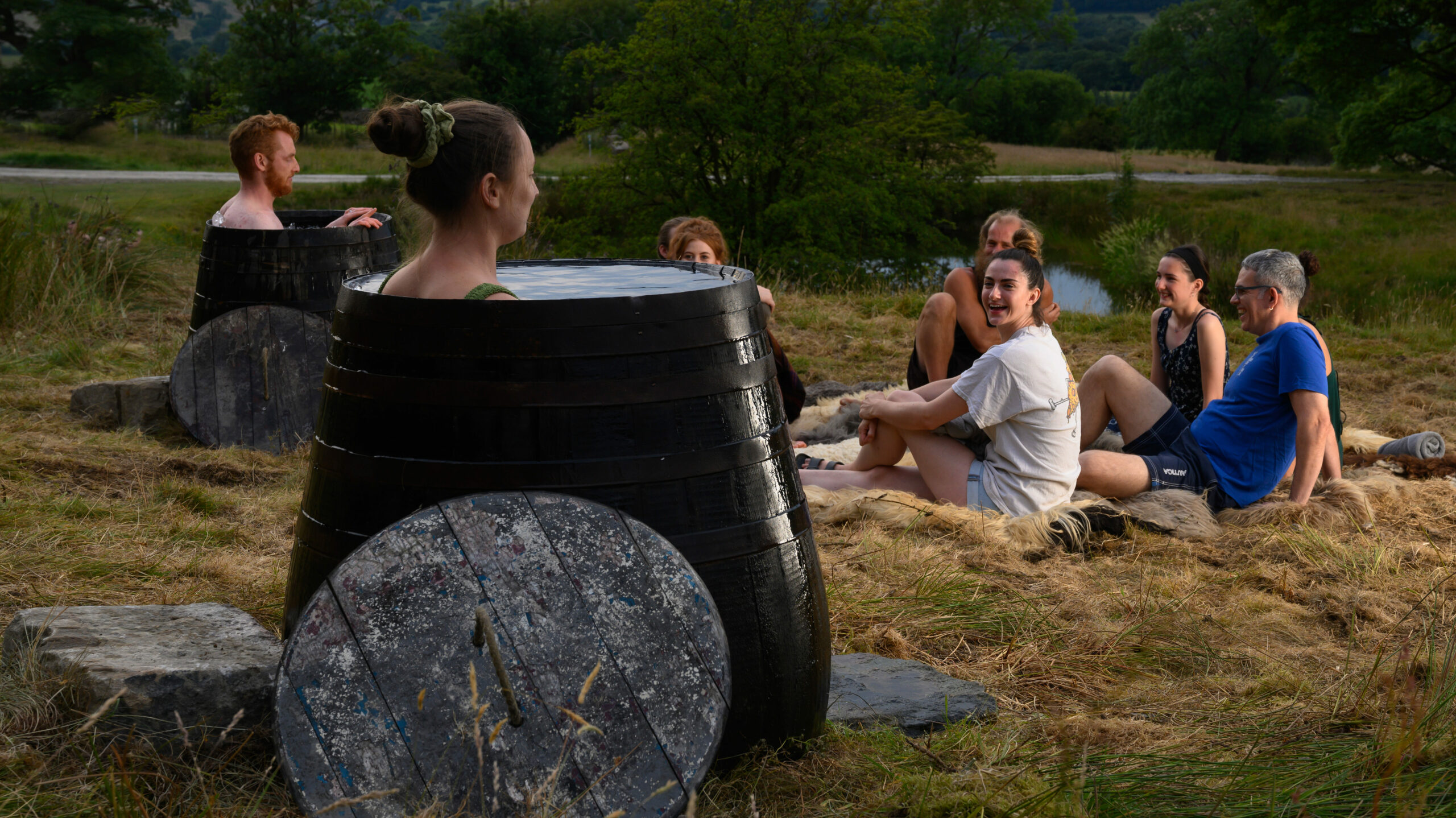 Destigmatising the reputation retreats can often get, the food enjoyed at Thrive will nourish your body, without restrictions. Utopia, the planet-first contemporary bistro, serves up healthy food you'll adore! Vibrant salads, homemade dips, local cheeses, veggie-packed falafels and roasted vegetables are dished up sharing-style for lunch and dinners, fuelling you well for the adventure-filled days. For a post-run/pre-workout breakfast, you can't beat the porridge topped with wildflower-infused honey, fresh berries and toasted hazelnuts with a mushroom-spiked matcha latte to sip on!
The pitfall many of us have with leading a healthy lifestyle is often nutrition. Garnering a 360 approach to well-being, Thrive runs workshops led by a leading nutritionist to delve into the impact of nutrition on overall health and quality of life, covering gut health, food sensitivities, hormonal health, nutrient status and how to achieve sustainable weight loss. Informative, and delivered in a non-preachy tone, these workshops are worthwhile, with a specialist on hand to answer your questions about nutrition.
During free time, retreaters can explore the grounds of Broughton, filled with quirky corners and hidden kooky spots. Roam the Hermit Hut, Moon Baths and Cosmic Garden to get a real insight into just how outlandish and eccentric the Broughton Sanctuary is! Pioneering an innovative Nature Recovery Project, the Broughton Sanctuary invests heavily in conservation, active rewilding and regenerative agriculture. Intend in leaving the land in a better condition than they found it, Broughton works beyond their means to support the serene natural environment it enhabits.
Wind down in the evenings around the campfire, where thought-provoking conversations are sparked or slip into a state of blissful relaxation listening to a sound bath. Let the magic of the Broughton Sanctuary whisk you up, fostering vulnerability, exploration and a chance to connect with fellow retreaters.
No matter what stage of life you're at, a retreat can come calling for a multitude of reasons, whether it's time to dedicate to your mind and body, a chance to hit the reset button, a tonic to hectic city life or an opportunity to seek new adventures. Come alone, or with friends, everybody is welcome by Thrive with open arms. Immersing yourself fully into the retreat is where transformation is built. Avoid the resistance to hold back, adopt an optimistic mindset and watch the spellbinding nature of Broughton unravel.
Thrive Example Day:
7.30AM – Optional Yorkshire Dales Nature Run
8.30AM – Breakfast at Utopia.
9.30AM – Thrive Set The Bar Workout – HIIT and Strength session
11.00AM – Free time to walk, relax and enjoy the facilities.
1PM – Lunch at Utopia
2.30PM – Wild Swimming adventure, hot and cold therapy session, woodland sauna and ice barrels.
4.30PM – Access to the pool suite and spa at Avalon. Plus one-to-one sessions with a specialist rehab trainer.
7PM – Dinner at Broughton Hall.
​8.30PM – Evening soundbath in The Sanctuary
Click here to learn more or book a spot on the upcoming Thrive retreat running 19th – 22nd October 2023