If you're really not a fan of drinking tap water, we totally feel you. In our minds, drinking water should not only be an essential part of your daily life but it also should taste good too! Something we've always relied on to stay healthy and hydrated at home is owning a decent water filter. They're ideal for not only improving the taste of your drinking water but also the quality. Water from the tap can contain minerals and chemicals that affect the taste and might not be so great for your health in the long term. If you think about it, tap water has to be disinfected to make it "clean", which although completely necessary to kill bacteria and contaminants that would cause waterborne illnesses, it can mean you're consuming a lot of chemicals. A water filter can help remove impurities like dirt particles and chemicals and we think it's well worth investing in one for your home for the sake of your tastebuds and your health. Plus, your plants and your kettle will thank you for making the switch (they aren't tap water fans either!). Below are our tried and tested picks of the best water filters on the market.
Best for taste
Eva Advanced Water Filtration System
For great tasting filtered water, our top pick is the Eva Advanced Water Filtration System. It's pretty huge so would need to sit on the worktops or in a utility room but their advanced filtration system turns tap water into what tastes like distilled bottled water. With an impressive 8-stage filtration and re-mineralising mechanism using volcanic rock, the Eva filter stabilizes the pH of the water which results in a lovely natural taste.
Best for the fridge
If you like staying hydrated with a fresh glass of icy cold water then the best option for you is the Dafi Glass Water Filter Jug. It fits snugly into the inside of fridge door as it's slightly narrower at the bottom and is made out of toughened glass. The taste scored pretty well on this one too and its sleek design makes it a winner for us.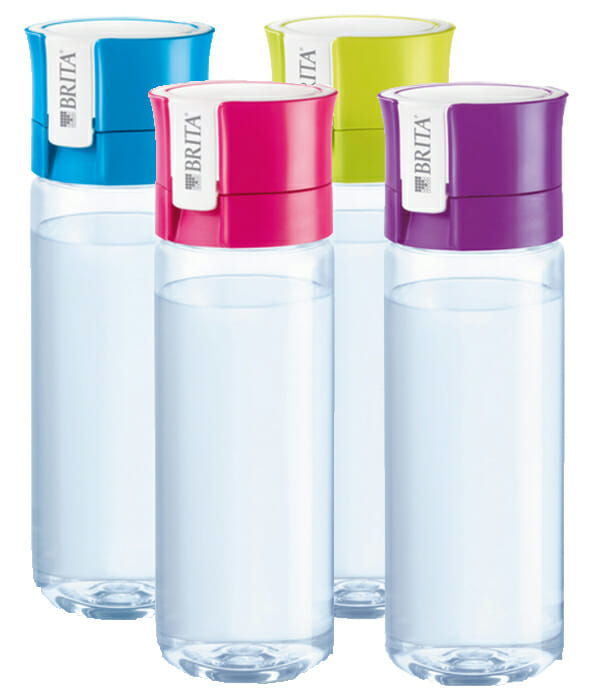 Best for portability
If you're always out and about but don't want to succumb to mindlessly grabbing a plastic bottle of water when thirst comes knocking, then we'd highly recommend trying the BRITA Fill&Go. Made from BPA-free plastic, the microdisk technology instantly filters your water as you drink making it super easy to stay on top of your hydration on the go. While it's not as good for taste as the Dafi or Eva, this will provide a highly economical alternative to bottled water. You'll never look back!
Best for style
Perrin & Rowe Parthian Water Filter Tap
If you're looking to add a permanent water filter tap to your home, why not choose one for its style AND substance? Perrin & Rowe are known for their beautiful kitchen and bathroom hardware and their Parthian Water Filter Tap scores high on taste and looks stunning too. Coming in different finishes, (we particularly love the brass version) it doesn't take up much room under the sink unlike a lot of other brands and it's super simple to put in place. You'll just need a handyman to plumb it in (which takes no time at all) and drill a hole in your worktop.