There is nothing more satisfying than a refreshing gin and tonic on a hot summer's day! Known for being one of the trendiest spirits on the market at the moment, there is no wonder gin and tonic is such a popular choice of tipple amongst Brits, and the key to making the ultimate G+T is all about the quality of the ingredients.
Founded upon a premium taste with no artificial ingredients, Skinny Tonic's sugar-free tonic water is the perfect accompaniment to your favourite gin. Putting your health first, Skinny Tonic understands that even the healthiest of people enjoy a drink and that doesn't mean we have to lade ourselves with sugar in the process. 
After spotting a gap in the market for no-nonsense, great-tasting tonic water, co-founder's Ian and Steve, were set on creating the creme-de-la-creme of tonic water's that wouldn't cause a blood sugar spike. Being a type 1 diabetic, Ian struggled to find tonic water without either hidden sugar or artificial sweetener, so with that Skinny Tonic was born!
Skinny Tonic's uniqueness lies in what it doesn't contain…zero sugars, zero artificial ingredients and zero calories! Led by science, the tonic's have been formulated with the help of taste specialists, Synergy Flavours, who are renowned for their state-of-the-art pairing technology and expert taste profilers to come up with the perfect matches to the most popular gins on the market. Skinny Tonic's range is made using the finest natural ingredients including natural plant extract, stevia and spring water from Staffordshire to create a premium-tasting blend of tonics.
Going above and beyond to ensure their manufacturing process is of the highest value, Skinny Tonic has its own bespoke production plant which is committed being plastic-free. The full range is produced using aluminium cans which are indefinitely recyclable and will go from the recycling bin to store shelves within 60 days, with a much smaller carbon footprint than glass or plastic.
With the perfect balance of fragrance and fizz, the Skinny Tonic range contains eight delicate flavours that can be used with whatever you fancy creating a heavenly cocktail or mocktail! Not limited to just gin, Skinny Tonic's selection works great with a variety of different spirits so whether you're into vodka, tequila, rum or non-alcoholic spirits (perfect for you T-totaler's), you will be able to mix up a cocktail to suit your taste. Bursting with natural extracts and essences, each unique flavour is utterly delicious and reflects the premium standard Skinny Tonic have set out to reach. Finding it impossible to chose a favourite, our drinks cabinet is now fully stocked with each and every flavour for whenever we fancy a refreshing tipple over the summer! Garnished with some fresh fruit and a few cubes of ice, it really is the most indulgent yet guilt-free way to spend a lazy afternoon in the sunshine.
The Flavours…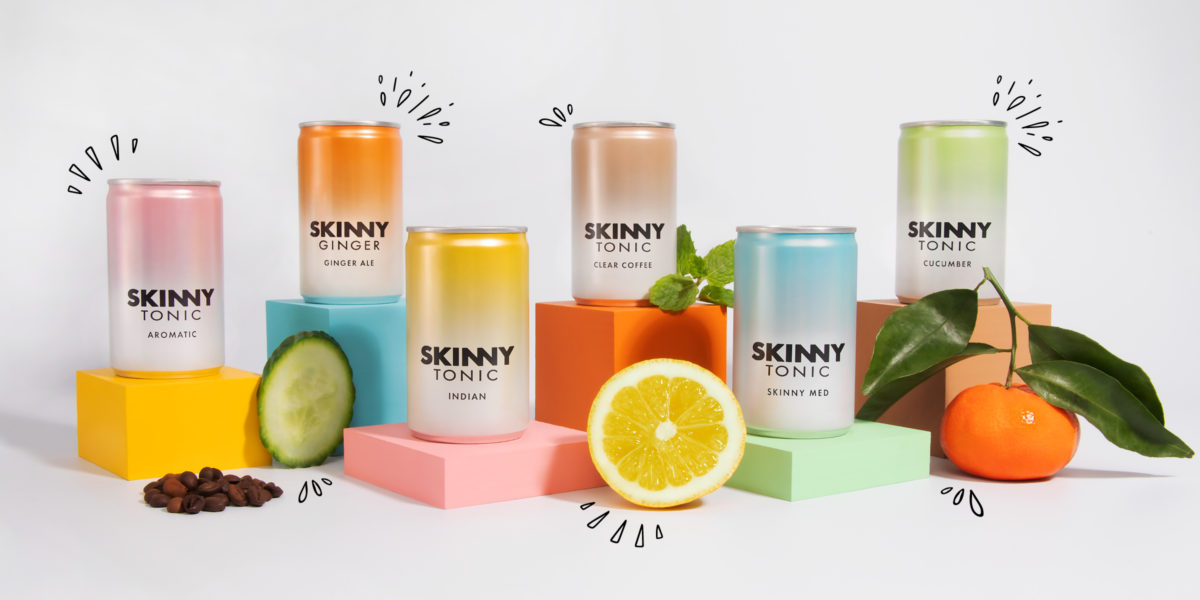 Skinny Med
Using a delightful blend of flowers, fruit and herbs typically found on the shores of the Mediterranean coast, the Skinny Mediterranean will quench your thirst whilst leaving a fragrant floral bloom taste in your mouth. Perfect paired with any fruity gin's you love.
Indian
A true classic, the Indian is made with using a botanical blend of Sicilian lemon, bitter orange and thyme that creates the soft bitterness that Indian tonic is traditionally acclaimed for. Clean and crisp, it works well with just about any spirt but we especially love to pair it with anything citrus or exotic fruit-based! 
Ginger Ale
Adding a flavoursome kick to any tipple, the Ginger Ale uses premium ginger, gentle botanicals and fiery scotch bonnet to create a spicey blend of tonic. This works amazingly mixed with dark rum to create the perfect 'Dark and Stormy' cocktail.
Aromatic
Warming and refreshing with every sip, the Aromatic blend uses botanicals, such as cardamom, pimento berry and warm ginger to create a unique, zingy flavour perfect for special occasions with its delicate colouring. Great with any premium classic gin for the ultimate G+T with a splash of pink.
Cucumber
Made using the highest quality cucumber essence, this cooling blend is what you will be craving at the end of a hot summers day. Impeccably balanced from the contrast of the soft bitterness of the quinine and the crisp notes of the cucumber essence, this tonic tastes super luxe. Don't complicate this one, just pair with a top-notch clean spirit and a few slices of fresh cucumber…divine!
Light Citrus
Titled as the 'hybrid tonic', the Light Citrus is where soda meets tonic to deliver a fresh-tasting blend of fresh zesty lemon and bitter orange. This sophisticated tonic works brilliantly with vodka and a slice of lime for a citrus-filled finish. Perfect for those that don't want anything too overpowering.
Clear Coffee
If you are an Espresso Martini fan, this is going to be right up your alley! Using a unique fusion of the soft bitterness of the quinine and the distinctive notes of the Arabica bean, the Clear Coffee tonic creates a taste sensation paired with vodka for a guilt-free alternative to the much-loved cocktail.
British Raspberries
Using succulent British raspberries, lemon and bitter orange, this fruity blend is packed with flavour and works well with just about anything but most especially berry-based cocktails. This blend screams summer to us and is what we will be treating ourselves to for a sweet, uplifting glass of deliciousness!
We take our hats off to Skinny Tonic for creating an exceptional range of great-tasting tonics that are 100% natural and contain zero calories. Rethinking your drink is an absolute no-brainer! With their array of flavours to suit everyone's tastebuds, you can enjoy a drink knowing that it will compliant your healthy, balanced lifestyle.
With the likelihood that most pubs and restaurants will remain closed for a while, you can become your very own mixologist this summer and get creative with trying out new cocktails and mocktails to enjoy in the sunshine!
Exclusive Reader Offer:
First 500 customers can use code HH20 to get your first 2 cases (48 cans) for just £20!