How many hours of sleep do you need to feel your best? Chances are, it's slightly more than you're actually getting. A recent survey found that the typical Briton undersleeps by an hour every night. Over the course of a week, that constitutes a deficit of 7 hours – almost a whole night's sleep.
Sleep is not something you want to skimp on. While your conscious mind may be taking a rest, your body is in full-on work mode. It's an important period of growth and repair, during which your body takes out the metabolic 'trash', setting you up for another day of high-energy wakefulness. Getting a sufficient amount of sleep each night helps to control your appetite, stabilise your mood, enhance your memory, increase willpower, boost happiness and may even make you live longer.
Generally, for those not caring for young children, there are three reasons for not getting enough sleep. The first is not going to bed at a sensible hour, which is largely lifestyle driven (and totally reasonable from time to time!). The other two are struggling to fall asleep or waking up during the night.
A secret sleep weapon we've come to rely on for helping us fall asleep and, most importantly, stay asleep, is magnesium. It's a nutrient that can often be overlooked and you might be surprised to find that it is one of the most common deficiencies. 
A brand who've made it their mission to innovate pill-free supplements for modern lifestyles is BetterYou. We've been thoroughly enjoying slathering on some of their Magnesium Sleep products recently and we've seen a real improvement in the quality of our sleep. 
Magnesium is a mineral that's involved in more than 300 chemical processes in your body. It's also known as 'nature's tranquilliser' for its calming effect on muscles and nerves. Upping your intake of magnesium is a useful tactic to help you wind down in the evening. While there are pill-form supplements you can take, we find transdermal absorption (through the skin) to be incredibly effective and much more enjoyable to use.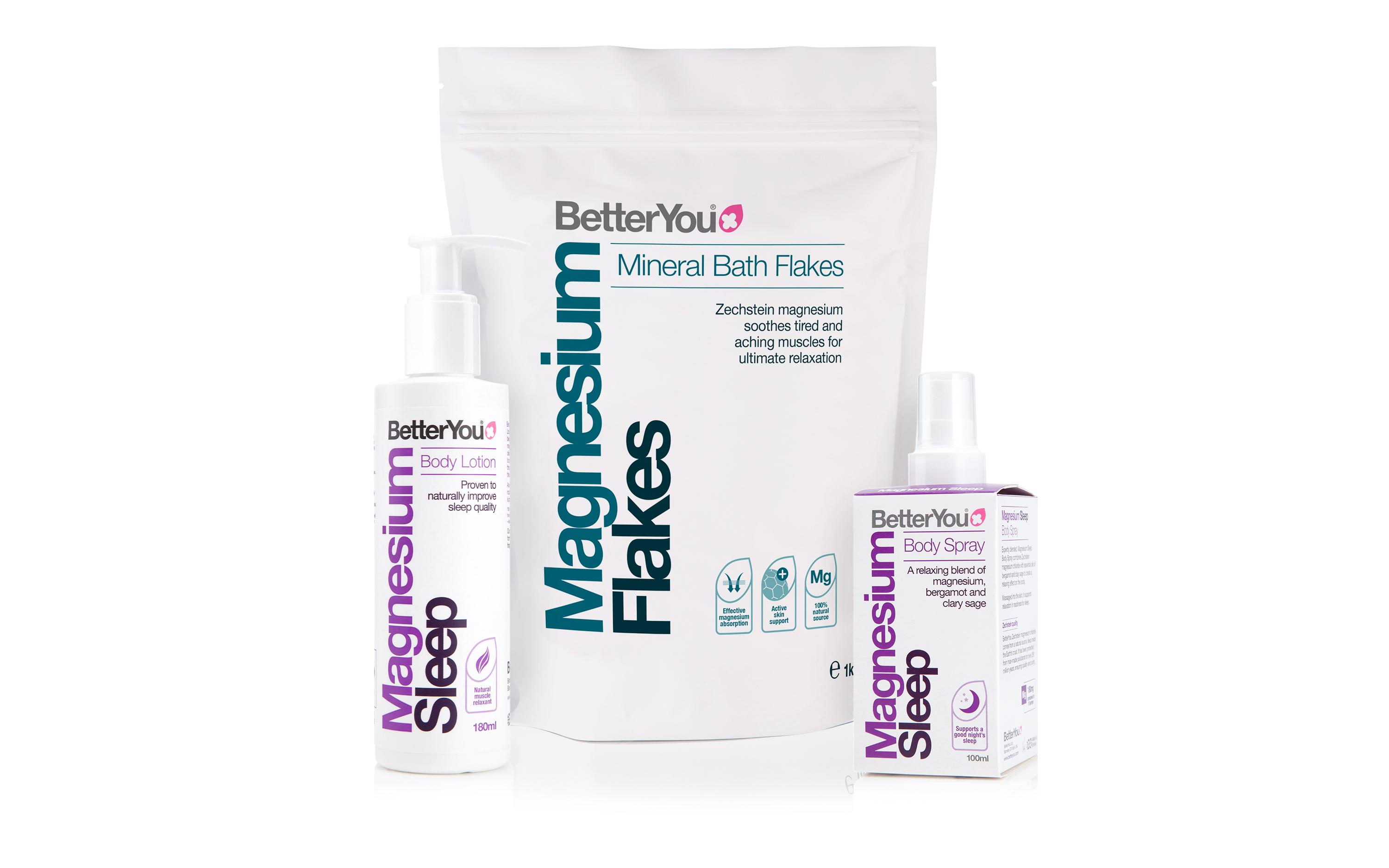 BetterYou's Magnesium Sleep range consists of a beautiful Magnesium Sleep Lotion infused with chamomile and lavender (2 more ingredients that are great for promoting relaxation), a Magnesium Sleep Body Spray, a great one to spritz all over your body after a hot bath or shower when the pores are open and a Magnesium Sleep Lotion Junior, so your little ones can also feel more relaxed and sleep deeper. Using these products have become a bit of a nightly bedtime ritual, which, in itself, gets us in properly into wind-down mode. 
This month, BetterYou is inviting the British public to "Find their magnesi-zen" by incorporating their magnesium sleep range into their nighttime routine. It's worked for us and it's certainly a daily habit we don't intend to give up anytime soon!
BetterYou is constantly innovating ways to help people feel the best versions of themselves and they are committed to creating completely pill-free supplements to maintain optimal levels of those nutrients that can be underrepresented in our modern lifestyles. From oral sprays (we religiously take their Vitamin D spray, it's minty and delicious!), bath flakes and oil sprays, to lotions and creams, they believe that supplementation doesn't always have to mean piling up your pill tray. 
With each new innovation, they continue to meet the growing needs of their customers' nutritional requirements. Providing scientifically formulated products that use the highest quality ingredients and the most effective and convenient delivery methods possible. BetterYou also cares deeply about the planet (we love them for that) and have made it their mission over the last few years to develop a range of recycled and carbon-negative packaging solutions. They also started The Better Planet Project, which focuses on targeting all aspects of their environmental footprint, including the initiatives of their suppliers, growers and retail partners. 
We couldn't think of a more trust-worthy brand to help us get our snooze on and we encourage you, our lovely reader, to give their products a go if you're struggling with sleep. 
Shop BetterYou's Magnesium Sleep Range online at Betteryou.com