Autumn is a toughie… Our golden summer tans fade to ghostly complexions, our summer florals are evicted by an overspill of woollen garments, lemsips are purchased in bulk for the inevitable onslaught of colds and viruses, hot water bottles resurface in preparation for arctic temperatures and blissfully sunny, never-ending days turn into blustering darkness by late-afternoon. Fun! What you need to get you through the next few months is a secret weapon. Enter Pukka's New Herbal Latte Blends.
Famous for their wide variety of delicious teas, Pukka have created four latte blends that celebrate the incredible power of spice. Majestic Matcha Chai, Ginger Joy, Turmeric Gold and Cacao Maca Magic. The objective? To prove that nourishing your body and treating it well can be really delicious! Designed to be a treat with a health kick, the herbal experts at Pukka understand the many health benefits and healing properties of different kinds of spice and every blend is packed with organic, practitioner grade spices to help support you throughout your day. The H&H Team have tried them all and we can't get enough of them! With that in mind and in celebration of this exciting launch, we're giving you a rundown of what latte blend to enjoy at what time of day to reap all the rewards.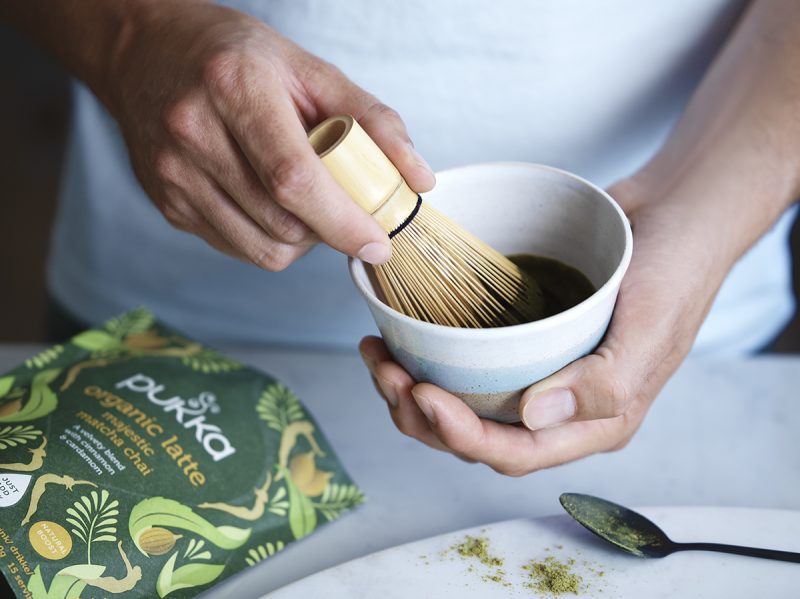 Morning Energy Boost – Majestic Matcha Chai
If you're a serial snoozer, you are going to love Majestic Matcha Chai. The delightful pairing of energising matcha and sweet chai is a delicious way to start your morning and will provide you with a real pep in your step! Why not try this in place of your morning coffee? Matcha's caffeine kick is balanced by L-Theanine, which actually helps slow down the release of the caffeine into your blood stream. Way scrummier than plain old coffee and no jitters whatsoever! Win.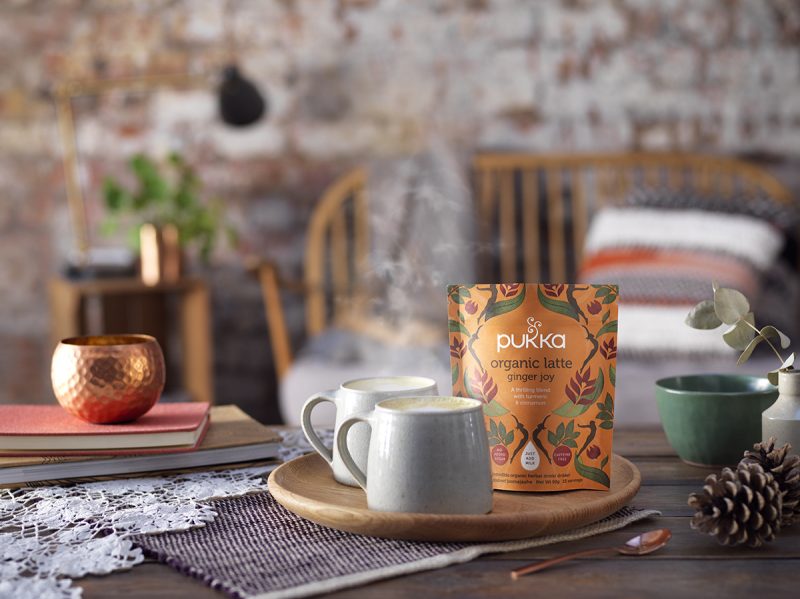 After Lunch Digestion Aid – Ginger Joy
Hot drinks are a staple for most people during the colder months and nothing will warm your soul more than a cosy cup of Ginger Joy. Ginger not only has fantastic warming qualities, it can also be used to aid digestion and even ease an upset stomach. We recommend whisking up this blend after lunch, pouring it in your reusable cup and stepping away from your desk for a lunchtime walk. The movement combined with the ginger will work wonders for your digestion.
Post-Workout Recovery – Turmeric Gold
You've just got home from a sweaty gym session and the DOMS are already flooding your body. Before glugging back your favourite protein smoothie, look to Pukka's Turmeric Gold latte blend as your post-workout drink of choice. Turmeric is a spice famous for its anti-inflammatory properties, helping to soothe tired muscles and stiff joints. You'll also hopefully head off the office cold by sipping this on the regular. Double whammy!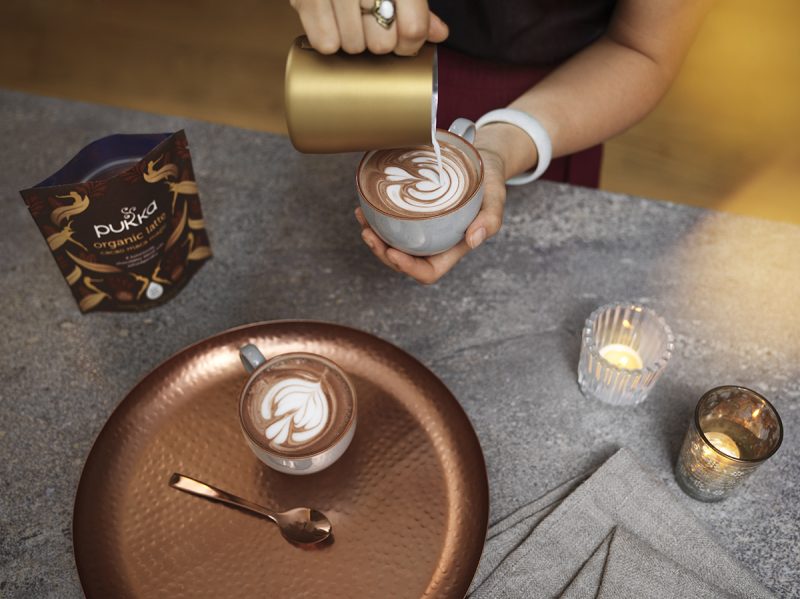 Bedtime Sleepy Brew – Cacao Maca Magic
We have to admit, Cacao Maca Magic is our favourite! This silky, sumptuous blend contains cacao powder, hormone-balancing maca and sleep-inducing ashwagandha to deliver not only a soothing, chocolatey drink before bedtime but also a whole host of health benefits all conducive to feeling wonderfully sleepy and good about yourself. It's the most delicious healthy hot chocolate that will help you relax and unwind in the evening. Perfection.
Pukka's herbal latte blends couldn't be easier to fit into your daily life. Simply combine with your favourite plant-based milk and enjoy!
SPECIAL OFFER! Buy two latte blends and get an eco Pukka Keep Cup worth £8.99 for free! Simply enter the code "PUKKAHIP18" at the checkout. pukkaherbs.com