From a PT in your pocket to serious interiors-inspo, here's what Hip & Healthy founder, Sadie is loving in the world of wellness right now.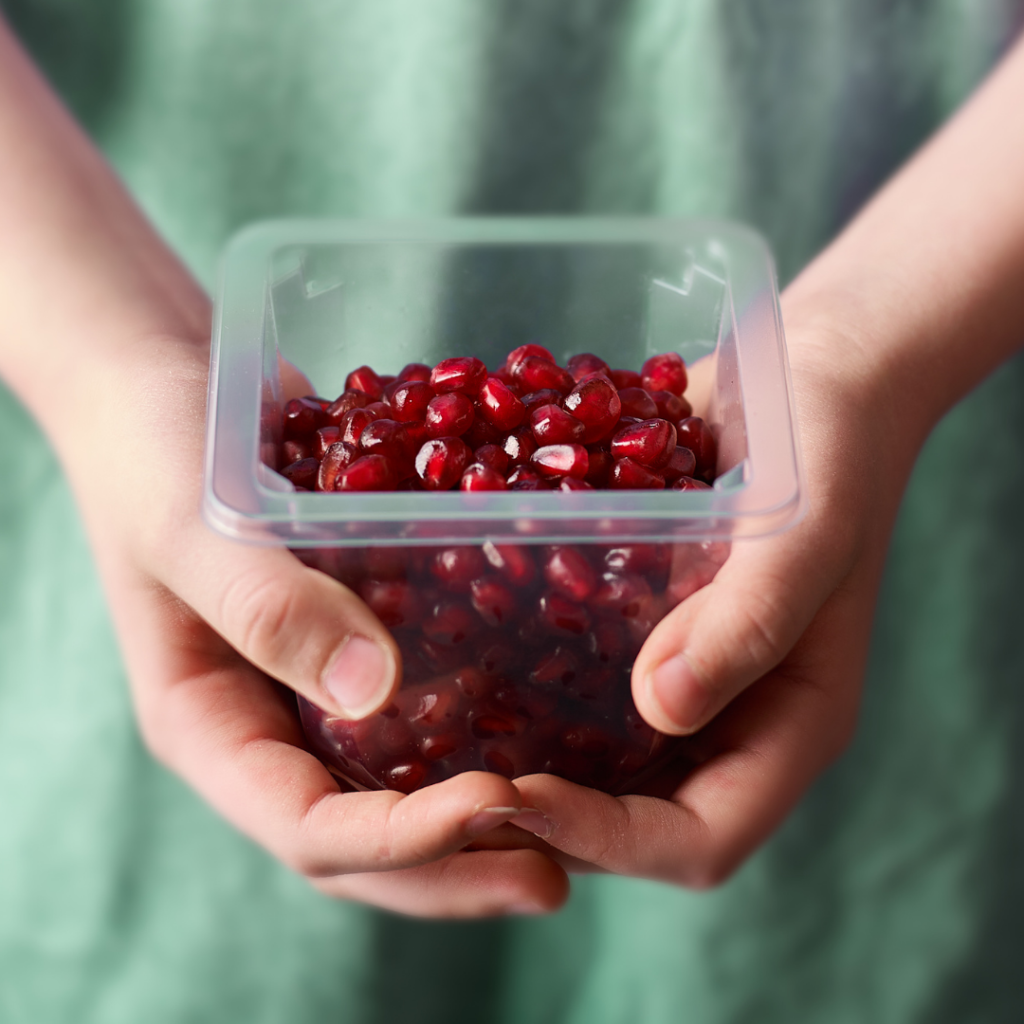 Poppin' Poms
Pomegranates are having a real moment in the wellness world with everyone from Gwyneth Paltrow to Kylie Jenner raving about them – and for good reason. Did you know that a 100g portion of pomegranate seeds provides half of the recommended daily amount of vitamin C. Pomegranates are also a source of vitamin K, some B vitamins and minerals such as calcium, potassium and iron, making these superfood powerhouses one of my go-to garnishes right now. Here are some recipes that I will be making this summer: Puy Lentil and Pomegranate Salsa with Raw Noodles; My fave 5-minute lunch; and Vegan Shakshuka. Be sure to visit poppinpoms.com for a healthy dose of information and inspiration on how to enjoy yours!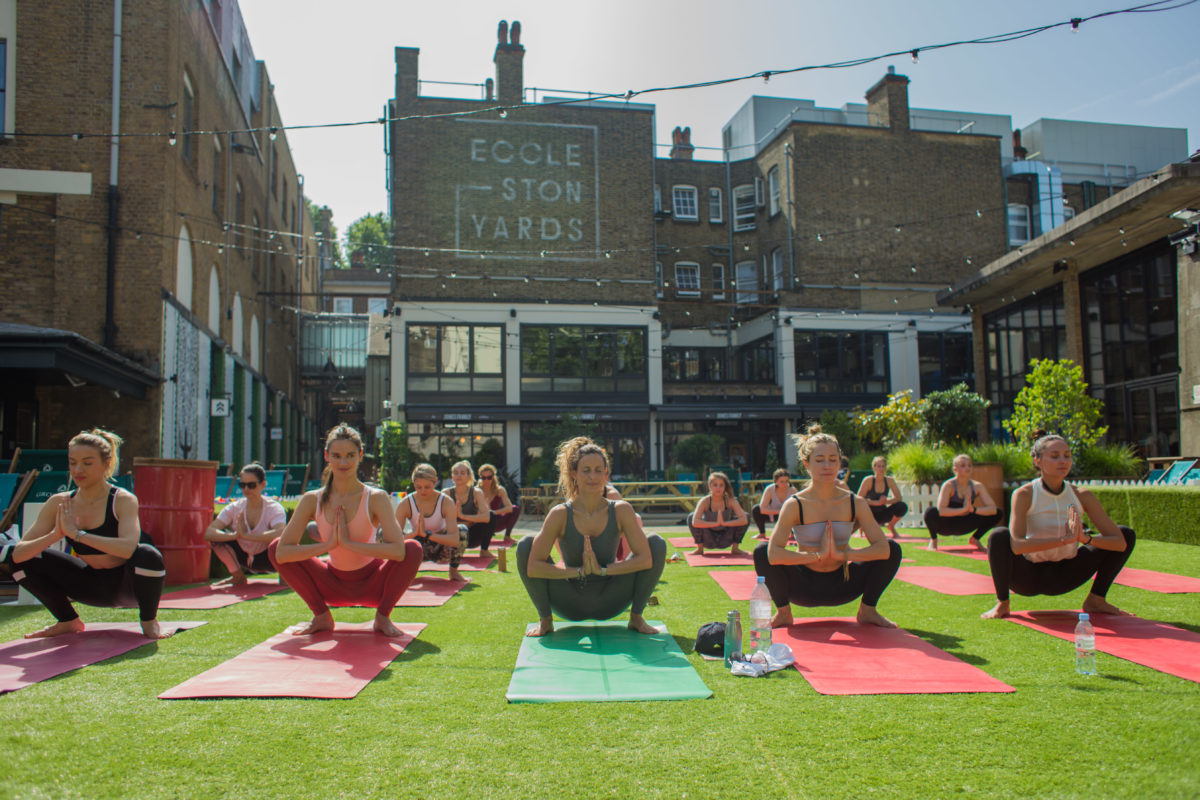 Eccleston Yards Wellness Weekenders
I am so excited to announce that we are partnering with the wellness destination, Eccleston Yards in Belgravia, London, to bring you a lovely yoga and brunch event on the 14th August at 10am. After a year and a half off events we cannot be more excited to be bringing you all back to the mat for a lovely heart-opening, outdoor yoga session followed by a delicious vegan brunch from Morena that will be brought to your mat and whilst you munch on their delicious acai bowls I will be talking to the ever-inspiring Tessa Kelly all about the power of authentic positivity, how Tessa fits wellness into her day and what her non-negotiable health habits are. We will also be discussing how we juggle business with bringing up families and how life has changed post-pandemic too. Please book your tickets here.

Heist Studios
Heist is a British foundation-wear brand renowned for its comfort, support and style and their new Everyday Legging delivers on all of their brand pillars. I have always loved Heist for their beautiful non-wired bras and invisible knickers, and now they have launched the perfect pair of leggings that offer just the right amount of support in the comfiest way possible. Made with over 50% recycled materials, these four-way stretch pants provide wearers with a super-soft feel and adaptive waistband so that you can breathe easily and comfortably all day long! Designed for whatever life throws at you, wear them to yoga (they're totally sweat-wicking), the school drop-off or even under a dress for dinner. Plus, they are 100% opaque so no visible panty-lines here! See their entire range (you'll want to be sure to check out their Summer Lights collection too) at heist-studios.com. Readers can get 10% off when spending over £60 using the code "AFFHEIST60UK". Terms and conditions apply.

A Personal Trainer in Your Pocket
I have recently moved out of London and one of the things I was worried about was being able to access great personal trainers as I had built up such a brilliant wellness squad in the city that I knew I was going to miss. But I am thrilled to discover A Body Forever, an online on-demand, Pilates and PT platform that gives you access to highly skilled personal trainers that encourage you to get moving no matter where you are. Founded by renowned Pilates instructor and trainer Amy Brogan, A Body Forever's classes are tailored to your needs and offer the opportunity to deepen your movement practice, build core strength and embrace healthier body perceptions – it's all about quality over quantity so the trainers are there not just to help you feel your very best but also to educate you on how to achieve that so that you can continue the learnings into each day. I am super excited to try the Pilates Flow With Me class. Access costs £20 a month. For more information visit abodyforever.com or follow them on instagram.
Current Obsession:
Louise Roe's Home instagram channel, @louiseroehome – I'm currently re-decorating our new home in the country and getting a lot of inspiration from the squares on her feed!
---
Quote of the Month
"You will face many defeats in life, but you must never let yourself be defeated." – Maya Angelou
---
Things I am reading this month:
House and Garden Magazine (and pretty much every other house magazine I can get my hands on.
Anya Hindmarch's book If in Doubt, Wash Your Hair – I am currently only half way through but am really enjoying learning about the personal insights she shares.

Anna Jones' Cookbook One Pot, Pan, Planet: A Greener Way to Cook for You, Your Family and the Planet As well as being packed full of amazing recipes there are also some amazing tips on how to avoid waste and look after the planet as well as our tummies – am loving it!