Food is fuel and has the power to truly change your life. Rhiannon Lambert is no stranger to this statement, being a Harley Street nutritionist and Master Practitioner in Eating Disorders and Obesity. Through her incredible work at her Rhitrition clinic and her book, Re-Nourish: A Simple Way To Eat, she's helped many people change their relationship with food for the better. We sat down with her to discuss her go-to food staples and her greatest achievements.
My non-negotiable health habit
"Breakfast! I never go a day without it."
My favourite workout right now
"I love a class, I mix it up between F45 Paddington and barre at Define London but I'm also a big fan of weight training and boxing so really enjoy BXR too!"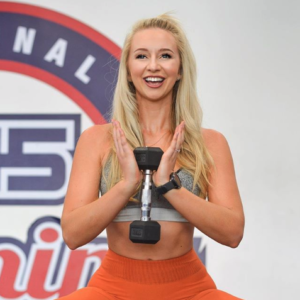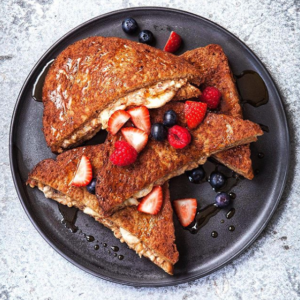 My favourite recipe to cook right now
"Banana French toast sandwich from my latest book Top Of Your Game, it's the simplest, most delicious recipe ever."
My de-stress tool
"To truly destress I need to leave the city, I love to escape and stay with a friend in the country or book a mini break to recharge."
My guilty pleasure
"Nut butter on toast, preferably using Burgen Soya & Linseed bread – it's high in protein and fibre, and the texture with the seeds is divine! I also like to add sliced banana, blueberries, chia seeds and a drizzle of honey."
My go-to food staples I'm never without
"Eggs, spinach, oats and frozen berries"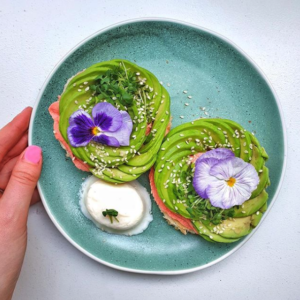 My biggest life lesson
"Nutrition can be the difference between feeling merely okay and feeling on top of the world."
My greatest achievement
"This is really tough, I am so happy in my current space but my TEDx talk and Re-Nourish – my first and bestselling book are real highlights for me."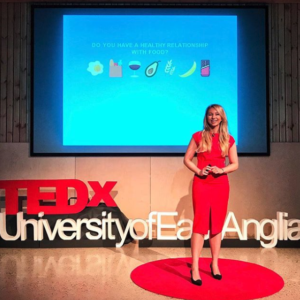 Try Rhiannon's SMØRREBRØD (Danish Open Sandwich) with Egg and Ricotta
INGREDIENTS
2 slices of Burgen Soya and Linseed bread
100g ricotta • Olive oil, for frying
1 garlic clove, very finely chopped • 60g spinach leaves
1 Preheat the oven to 180°C fan/200°C/400°F/gas mark 6.
2 Place the slices of bread on a baking tray and spread the ricotta (or vegan cream cheese) over the top. Bake for 6–8 minutes – this will warm the bread and slightly brown the cheese.
3 Meanwhile, add a tablespoon of oil to a frying pan, and when warm add the garlic and sauté for around 30 seconds. Next, add the spinach leaves and cook until they wilt down, about 2 minutes. Drain the garlicky spinach on kitchen paper while you cook your eggs. If the pan is dry add a little more oil and then fry your eggs until the white is set.
4 Remove the ricotta-topped slices from the oven, transfer to two plates and heap the garlicky spinach and a fried egg on top of each one. Season liberally with black pepper.
Burgen bread has teamed up with registered Harley Street nutritionist Rhiannon Lambert as part of its Discover Burgen campaign, which is calling on Brits to discover new things and go for the good stuff.