Choosing the right spot to spend your precious out-of-office days is a sizeable decision. The destination has to tick many boxes that will please your entire party in equal measure, whether it be a group of friends or family. A special spot which will not just meet, but exceeds, the expectations of everyone is Daios Cove on the island of Crete.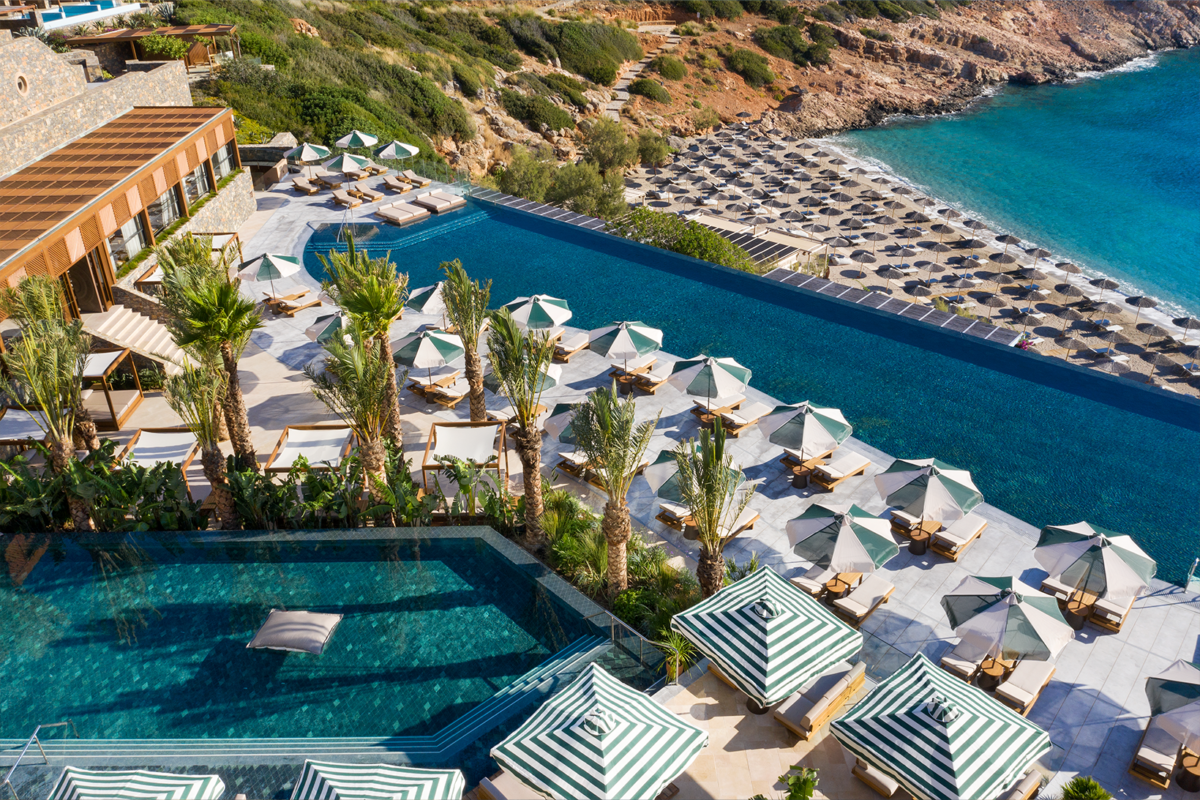 Carved into the cliff, the resort is spectacular, to say the least. The space resembles a luxurious village rather than a typical 'holidaymakers resort', with boutique shops, a selection of fine dining restaurants, a wow-factor infinity pool, state-of-the-art wellness facilities and a private stretch of beach that overlooks the Mediterranean. In fact, Daios Cove has managed to create the ultimate set-up for a vacation like no other, with everything you can dream of at your fingertips and the perfect equilibrium between relaxing and staying active.
From the moment you check in, you'll be greeted with the overlooking views, giving you a taste of what lies beneath. The interiors are exquisitely designed with intricate designs from the multitude of unique furnishings that adorn every corner of the resort. Their tagline 'Magic Moments' is an ode to each and every minute spent at this wanderlust haven.
The entire cove is yours to explore, with a sprawling secluded beachfront being the ultimate selling point of the resort. From every tier of Daios Cove, you will catch the turquoise waters that hug the bay. Days spent lounging on a sun bed, peering over your obligatory summer read to take in the awe-inspiring ocean, with occasional dips into the calm water are what holidays are all about. Equally, you can opt for laying around the infinite pool placed one tier above the beach, giving you the beautiful backdrop of the sea with the poolside vibes.
As Daios Cove spans quite a distance from one side of the cove to the other, they've taken transportation into great consideration making your stay as easy as possible. The resort has its very own funicular service that runs up and down the hillside making for the most picturesque mode of transport. Golf Buggy's are on hand to assist you at any time to take you from A to B, kids love it (adults too) and the combination of the steep hills and the heat means they are very necessary. 
Dotted all over the premises, the accommodation ranges from rooms to suites to villas. Luxe bathroom amenities and local beverages and snacks come as standard as well as a turndown treat to nibble before bed, all these little touches are what give Daios Cove its remarkable charm. Many of the accommodation options come with their own pool on the terrace, giving you privacy when wanted…the 'Fatboy' you'll find in the pool (aka floating beanbag) will give you hours of unwinding, drifting from corner to corner.
Daios Cove is a family-friendly resort, and for parents to fully immersive into holiday mode, happily-occupied children is a must! The kids club is the perfect place for little ones to make vacay buddies, with exciting games and activities to keep them busy. Even hard-to-please teens will find their groove at Daios Cove with a games room at their disposal.
Food can make or break a trip when opting for an all-inclusive holiday…in this case, it will definitely make it! There are four restaurants and three bars in total at Daios Cove, each with a unique culinary flair housed by skilled chefs that specialise in their area of expertise. 
Boasting a Michelin star, Ocean Restaurant is Daios Cove's dining jewel that they pride themselves on. Spanning the land and sea, the menu's inspired by the produce sourced locally from the region of Agios Nikolaos. The restaurant adopts a fine-dining spin with a lavish four-course dinner overlooking the cove. A reservation at the Ocean Restaurant is an absolute must during your stay, be sure to put on your best dress and indulge in an evening of exquisite dishes.
The Beach House is Daios Cove's bohemian free-spirited offspring out of all the dining experiences, featuring chilled deep house playlists, merging with the sound of the ocean gently kissing the shore, long lunches and ambient dinners. It's rustic yet chic, with furnishings that look like they've been imported from Tulum and a menu mixed with raw appetisers, fresh salad bowls, BBQ grilled meat and fish and Greek Meze boards to graze through. On 'Magic Mondays' a live saxophone plays whilst a fire pit burns and the moonlight glistens on the ocean…it truly is a majestic evening to immersive yourself in.
Highlighting the very best of Greek cuisine, The Taverna pays homage to Daios Cove's hometown…and there is no better place to eat Greek food than in Greece itself! The menu features elevated heritage favourites like prawn saganaki, baked feta sprinkled with freshly grown herbs and, of course, the humble 'greek salad' with the freshest heirloom tomatoes. The table and the chairs transport you to a classic Greek Taverna, with no thrills attached, just hearty Greek dishes done incredibly well.
Culinary masterclasses, hiking, biking, boat excursions and water sports make a nice alternative to lounging around if you're up for a bit of activity. Daios Cove makes great use of its surroundings with these experiences which run throughout the season so be sure to check what's on during your stay using the resort's app.
Part 2 of our review is coming up and it's all about wellness… stay tuned, it's worth the wait, trust us!