The key to turning back the clock for more youthful, glowing skin, retinol is a highly effective and proven skincare ingredient that can be found in many different products. Retinoids promise a whole host of skin-loving benefits… reducing wrinkles and fine lines, fading age spots and smoothing out dry patches. It's a pretty awesome skincare weapon! 
It's one downside, however, is that it often can cause a bit of sensitivity or aggravate those with sensitive skin, making it almost impossible for those with more delicate complexions to reap the benefits. Fear not sensitive skin-ers, Murad's got the solution and it'll get you glowing in no time!
Meet their Retinol Youth Renewal range – an entirely new approach to anti-ageing skincare, that everyone can get on board with. While many formulas rely on a single form of retinol to deliver results over several weeks (which can often cause irritation), Murad's formula overcomes the drawbacks of retinol with a unique combination of 3 retinol technologies (fast-acting retinoid, time-released retinol and a retinol booster) that optimises performance to quickly deliver visible results with minimised side effects.
How does Retinol Tri-Active Technology work? It unites three retinol technologies:
Fast-acting retinoid: Goes to work upon application for rapid, visible results.
Time-released retinol: Controls the release of retinol for ongoing benefits while minimising the potential for irritation.
Retinol booster: When used in combination with retinol, this booster amplifies retinol's ability to increase cell turnover—one of retinol's key actions for more youthful-looking skin.
The skincare aisle can be hard to navigate at times but Murad's simple, no-fuss approach to providing effective skincare always sets them apart. Their Retinol Youth Renewal range is a prime example of this. Results-driven, unique potent formulas (that work) and gentle on the skin. 
Our 3-Step "Renewal Nighttime Routine"
Step 1 – After a thorough cleanse (we highly recommend their Renewing Cleansing Cream) we apply the Retinol Youth Renewal Serum. This deeply penetrates the layers of your skin, targeting those fine lines and wrinkles straight at the source. In a study conducted by Murad, 93% of people saw a reduction in lines and wrinkles in as little as two weeks. It's no wonder that it's the No.1 Retinol product in the U.S.*
Step 2 – Time to nourish the eyes. Your eye area is much more delicate than the rest of your complexion so extra care is needed to keep the surrounding skin hydrated and supple. The Retinol Youth Renewal Eye Serum helps to firm up the eye area which is most prone to showing signs of ageing. This super smooth formula glides on beautifully, just what you want when applying product to your eye area. You can even put this on the lids too! It also contains Cotton Wool Grass extract to deliver 24hrs of hydration to minimise dryness, and Marine Kelp Complex to visibly lift for revitalised, youthful-looking eyes. 93% saw a reduction in lines and wrinkles, smoother and softer eye area skin.
Step 3 – Lock in moisture with their sumptuous Retinol Renewal Night Cream. This intensely hydrating formula is designed to work it's magic while you sleep, leaving your skin radiant and smooth when you wake in the morning. It also has amplified benefits from niacinamide and picolinamide to strengthen the skin's barrier and smooth texture. 80% saw increased radiance and glow. This stuff is heaven!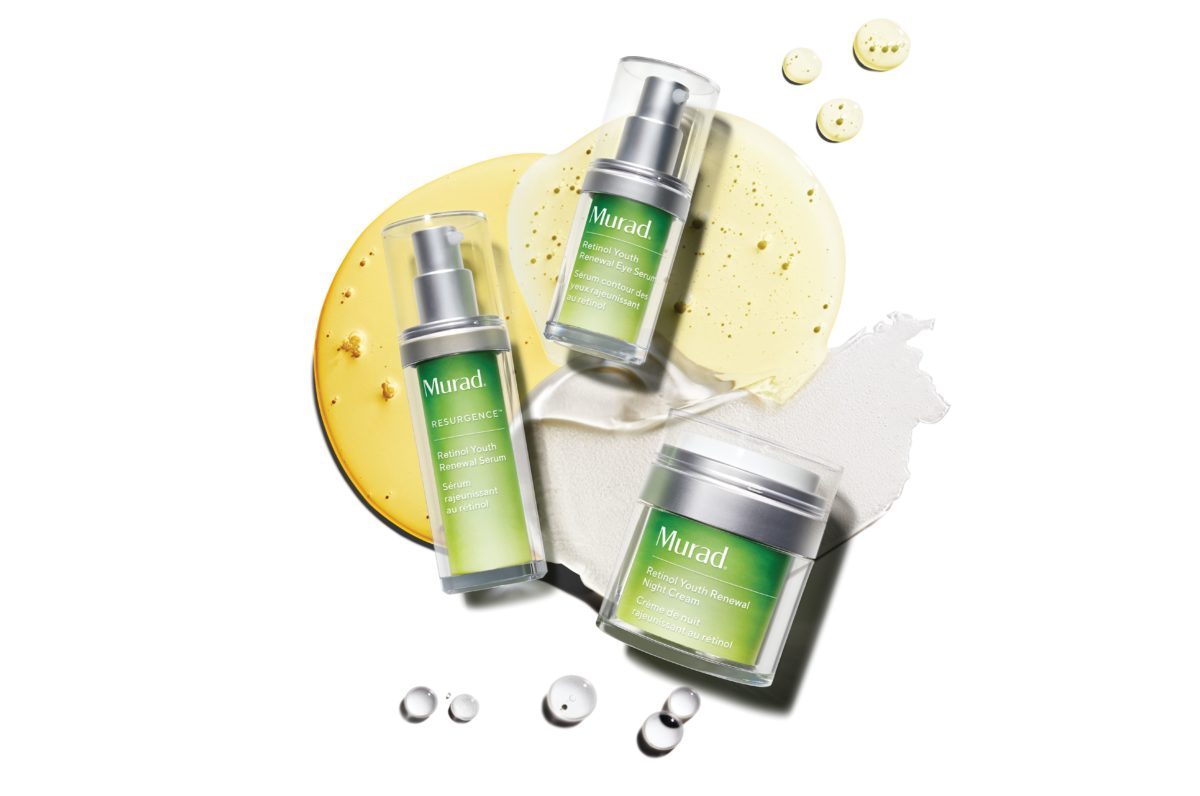 This magnificent Retinol Trio is available to shop online at Murad.co.uk
Our lovely Hip & Healthy readers will get a free gift with purchase! Spend £70 or more to receive Murad's Renewing Cleansing Cream, one of our favourite cleansers. Simply enter the code "H&HCLEANSER" at the checkout.