Say hello to the Rawtella Donut . As the donut craze continues, so does our love for creating equally satisfying health-a-fied options. we've based this recipe on my cinnamon donuts that have been incredibly popular over the last couple of weeks. we've just adjusted the quantity and time needed in the oven to get the perfect gluten free, refined sugar and dairy free guilt free babies. These are the perfect mix of sweet, spongy, light and fluffy – and are actually incredibly easy to make. If you can't be bothered with the process of adding the Rawtella inside the donut, simply smear some on top and enjoy every..single…bite.
Ingredients
Donuts
¾ cup + 1tbs almond meal
1/4 cup arrowroot flour
2 tsp baking soda
1 large free range eggs
1/4 cup almond milk
1/4 cup rice malt syrup
1/2 tsp vanilla bean powder
1 tsp cinnamon
pinch of sea salt
1 tbs coconut oil
1 tbs maple syrup
Cinnamon sugar
3/4 cup coconut sugar
1 tsp cinnamon
Rawtella
1 cup Hazelnuts
2 tbs cacao butter
3 tbs coconut oil melted
3 tbs cacao powder
4 tbs coconut cream
½ cup rice malt syrup
1 – 2 tsp stevia (depending on how sweet you like it)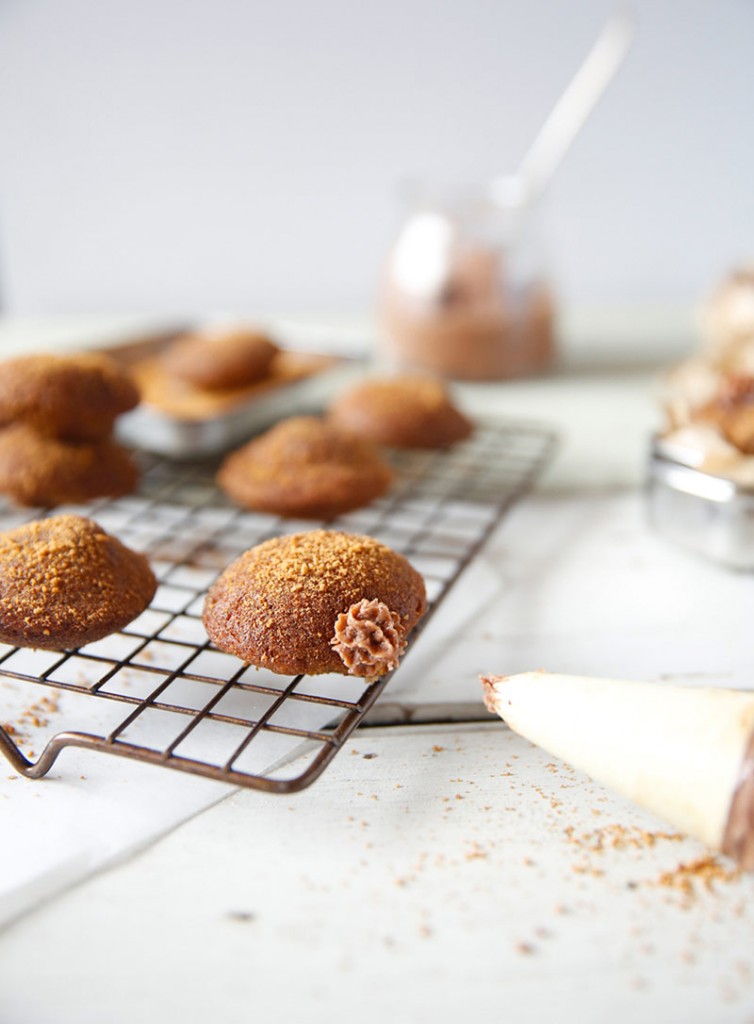 Method 
To create the small round donuts I used a tray that had half circles.
Prepare the tray by spraying it with coconut oil. Preheat the oven to 180 degrees Celsius.
In a large bowl, place the almond meal, arrowroot flour, bicarb soda, vanilla, salt and cinnamon and combine.
In a separate bowl whisk the eggs, milk, rice malt syrup, maple syrup and softened coconut oil together until runny.
Transfer the wet mixture into the dry and whisk by hand until mixture is well combined and resembles a cake mixture.
Transfer mixture to donut tray and bake for 4-6 minutes. They cook extremely quickly so keep watch.
Remove from oven and lay on a baking tray to cook. Roll them in your coconut sugar mixture and set aside.
To make the Rawtella combine all the ingredients in a small food processer / blender and pulse until smooth and creamy. Add a tbs of water at a time if needed to help get the mixture moving.
Using a straw, pierce a hole in the donut and wriggle it around to create a nice deep space. Spoon Rawtella into a piping bag, and pipe into the hole created.
Recipe by A Conscious Collection