Bananas are like avocados… you wait and wait until their just right (just sweet enough, under-ripe bananas are gross, just sayin') and then boom. The little brown spots turn in to brown splodges all over! You may think it's game over for your sorry looking bananas but most of the time they look worse on the outside than they actually are on the inside! Before we share some recipes from The Zero-Waste Cookbook that will help you use up over-ripe bananas, our top tip for slowing down the decaying process is store them in the fridge! Once you've got them to your desired "ripeness", whack them in the fridge and they'll stay like that for so much longer. Failing that, if in doubt, peel and freeze them.
Banana Pancakes
makes: 10-12 pancakes
Ingredients
1 overripe banana, mashed
140 g (5 oz/generous 1 cup) self-raising flour
1 egg
240 ml (8½ fl oz/1 cup) milk
butter, for greasing
Method: Combine the ingredients together, except the butter, in a bowl and mix well. The banana will cause the mixture to be a bit lumpy. Melt the butter in a frying pan (skillet) over a medium heat. Ladle in the pancake batter. Cook until bubbles start to form on top of the batter, flip and cook the other side until golden brown. Continue with the remaining mixture.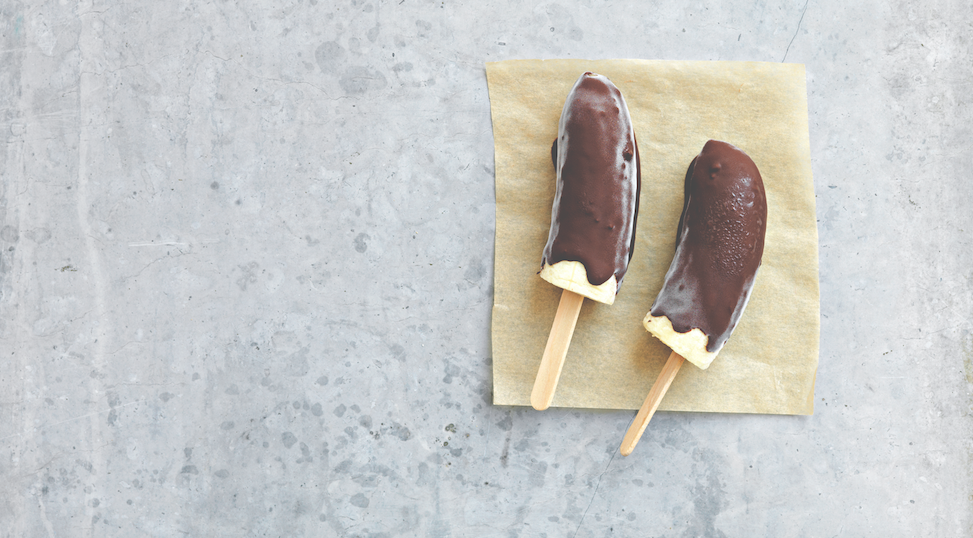 Banana Choc Ices
makes: 4 choc ices
Ingredients
2 overripe bananas
4 lollipop sticks
50 g (2 oz) dark chocolate
Method: Peel the bananas and cut them in half. Push a lollipop stick into the cut end of each banana half. Break the chocolate into squares and melt in the microwave, or in a heatproof bowl set over a saucepan of boiling water (don't let the base of the pan touch the water). Dip each banana half in the melted chocolate and lay them on a small baking sheet lined with baking parchment. Transfer to the freezer. Once frozen, remove from the sheet and store in a freezer bag for an instant yummy frozen treat.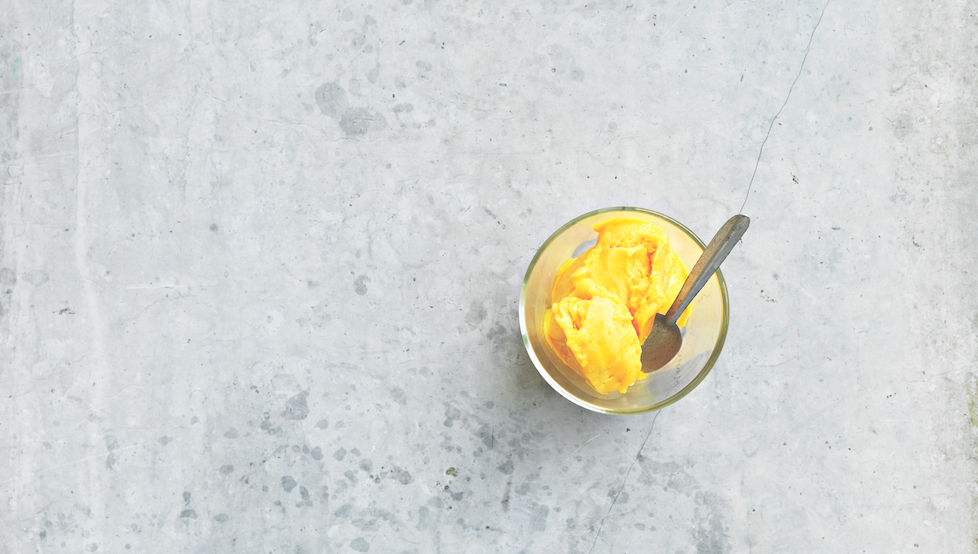 Mango + Banana Ice Cream
makes: 350 ml (11ó fl oz) ice cream
Ingredients
2 frozen overripe bananas
250 g (9 oz) frozen mango
Method: Place the ingredients together in a food processor or blender and blitz until smooth. Serve immediately.
Green Smoothie
serves: 1 (makes about 250 ml/8ó fl oz/1 cup)
Ingredients
1 frozen overripe banana
1 ripe avocado
handful of spinach or kale leaves
2 tbsp yoghurt
½ tbsp honey
120-150 ml(4-5 fl oz/ ½-scant ⅔ cup) coconut water
Method: Combine ingredients in a blender and blitz until smooth. Add water to achieve desired consistency.
Extracted from The Zero-Waste Cookbook by Giovanna Torrico & Amelia Wasiliev (Hardie Grant, £16.99) Photography © Deirdre Rooney