There's no denying the rise in the cost of living (a very steep rise!) will mean many will be watching and worrying about the pennies. You may be considering capping or stopping altogether certain luxuries like eating out, beauty treatments and even your favourite workout classes to protect your wallet this winter. Well, why not forgo your pricey gym membership with online alternatives that might be more cost-effective for you? While there were already some big players in the online fitness arena pre-covid, many boutique studios had to embrace the world of digital fitness to keep their much-loved community alive over the last few years. So, thanks to covid (never thought we'd say that) your options are pretty endless these days.
On-demand fitness is essentially being able to workout from your home, at a time that suits you where you can browse a whole host of classes to fit your goals. It's not live, which takes the pressure off in many ways… you have the freedom to pause for a water break or grab your amazon parcel from the postman without missing anything. Below we're sharing just a few of our favourite on-demand fitness platforms for working out at home, whatever your exercise preference and whatever your budget.
Apple Fitness+
For the beginner, intermediate or advanced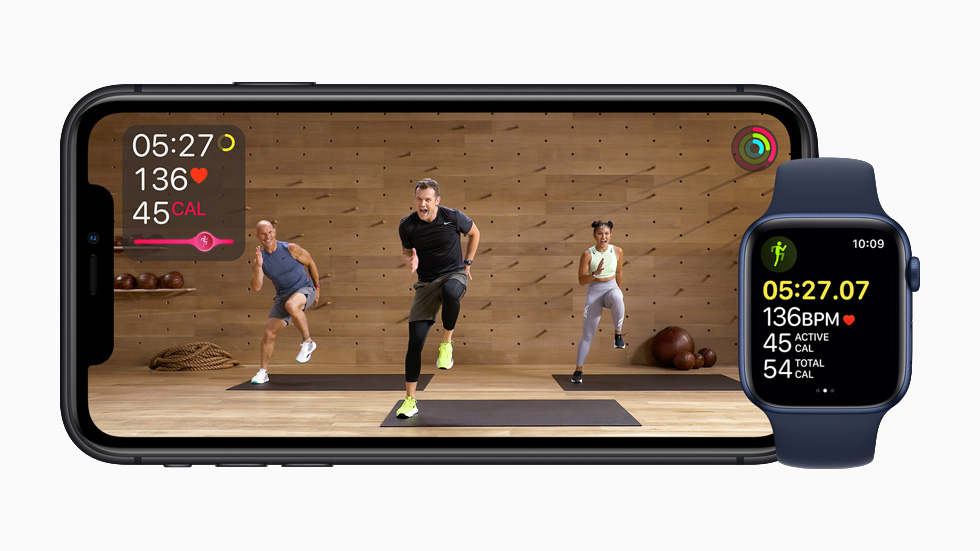 Apple Fitness+ is an exciting new launch that we think is going to change how people workout at home. Latest iPhone users will automatically have the app installed but if you don't have the newest phone you just need to update your software. This is the app for everyone in our opinion. Beginners are well catered for with gentle, easy workouts with classes ranging from as little as 10 minutes and up. Intermediates and advanced users will also be able to get their sweat on too. With so many genres of fitness and top-class trainers from around the world, there's a constant stream of new videos for you to enjoy anytime, anywhere. If you've got an Apple Watch or Apple TV this makes for an even more interactive experience where you can track your progress, save your favourite trainers and their workouts, flag the music playlists that got you grooving, as well as see those all-important rings close!
Heartcore At Home
For the pilates lover
Heartcore fans will be pleased to hear that Heartcore At Home landed last spring, meaning you can get your dynamic pilates fix right in your living room. While there's no replacing the vibe of the studio, you'll be seeing familiar faces leading the classes, which have been adapted to suit small spaces. Their signature Dynamic Reformer class has been modified to a mat workout, but don't be fooled, the trainers will still get your abs shaking and temples sweating! There's also an amazing stretch class which is perfect for post-workout or if you want to end your working-from-home day giving your desk bod a much-needed release. With an extensive pre-post natal library of classes, mamas will also be able to benefit from this platform.
Peloton App
For sweating it out
Don't have a peloton bike? No problem, Peleton's app is suited for anyone who wants a feel-good workout at home. With thousands of classes available from yoga, running, strength, meditation and, of course, cycling, you'll never be bored! Whether you've got a tonne of equipment or none at all, there will be plenty of classes to suit your set-up with trainers ready on hand to get your endorphins flowing and get you sweating! You can track your metrics and set yourself goals all on the app and you can even join live classes if you want to. New members get their first 2 months free so we definitely think this is worth a go!
Ballet Blast
For toning and sculpting
If you're looking to improve muscle tone, flexibility and posture then Ballet Blast by ex-dancer, Saskia Gregson Williams, will provide you with all the grace and strength of a ballerina without leaving your home. With no dance experience required, the workouts are formulated to use bodyweight and resistance training to burn fat and create long, lean, sculpted muscles. Yes, please! With new videos added each month, we love following along with Sassy and with regular attendance, you'll notice results in no time at all. If elegant arms, toned pins and a strong core is what you're after, look no further.
FiiT
For the variety seeker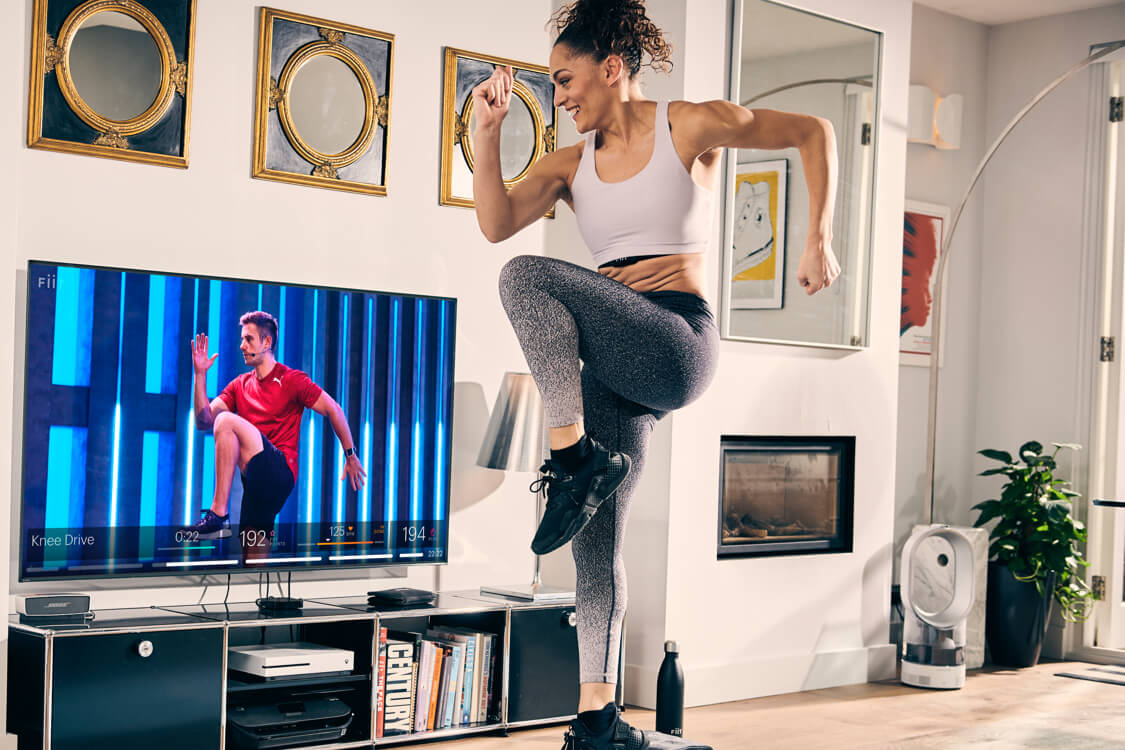 If you're a fitness genre commitment-phobe and like to jump ship from HIIT to yoga, spin, to pilates, then you're going to love Fiit. From entry-level to advanced fitness, you can choose from a whole host of classes like strength training, breathwork, yoga, combat and even mobility. Whether your goal is to burn fat, improve your cardiovascular endurance or perfect your crow pose, Fiit's trainers are on hand to guide you through a great workout depending on your mood. So, whether you wake up wanting to be a yogi or dream of abs of steel, Fiit will have you covered!
Grndhouse
For strength training
A true product of lockdown, Grndhouse is an exciting new platform built by some big names in fitness! Founded by Louis Rennocks, Jay Copley, Connor Minney, Nik Naidoo and Izy George, you may recognise these names from attending the famous Barry's Bootcamp, this is a powerhouse lineup ready to bring you strength training to your home. Setting them apart from other online platforms is their commitment to being the first specialist strength training, offering expert guidance on how to build muscle and lift heavy. Helping you to push through plateaus, gain power through correct posture guidance and ultimately improve your confidence with weights, we think Grndhouse is a hot new platform with a big future.
SLR@HOME
For an at-home retreat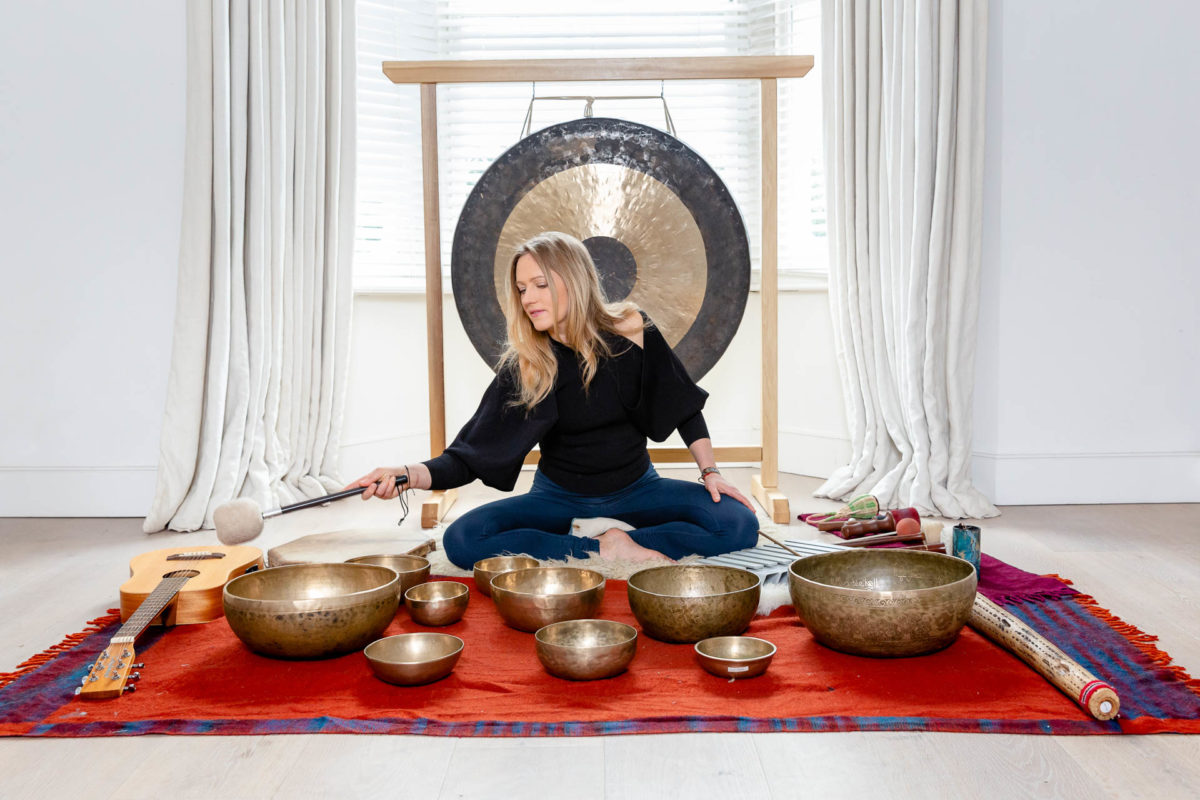 Heading into the complete opposite direction, Silver Lining Retreats bring you SLR@HOME, a unique way to experience all the rejuvenating elements of a retreat to your home. Silver Lining Retreats are now offering 3 or 5-day courses that promise to leave you feeling fitter, stronger, calmer and more centred. With workshops consisting of daily movement classes, mindful eating workshops, breath technique sessions and evening stretch tutorials, we think this is such a unique concept that can help anyone who's getting bored of their four walls, to transport themselves to a calmer, happier, more content mindset.
---