Vegan restaurants are popping up all over London but Mildreds has been the pioneer of plant-based dining since 1988, back when eating a plate full of veggies was seen as hippy-dippy. Having stuck with their clear vision for over 20 years, they're now at the forefront of vegan cuisine with six restaurants in London, the newest being the St Martin's Lane location in the heart of Covent Garden, which opened this Spring. Renowned for its fresh, vibrant and innovative dishes, Mildreds serves up breakfast, lunch, dinner and weekend brunch. 
The new restaurant depicts similar hallmarks to the existing Mildreds locations, with bold colours, contemporary lighting and abstract art filling the walls. Friendly faces will greet you at the door, setting the tone for a laid back dining experience.
In line with the launch of Mildreds St Martin's Lane, they've just launched their new Spring menu which blew our socks off. Whether you're fully vegan or vegetarian or dabble in a bit of the plant-based lifestyle, or you'd simply like to try something new, the menu will deliver on all fronts. The creativity that has gone into dishes is noteworthy, some of the meat substitutes are uncanny and every single bite is bursting with flavour. Harnessing incredible culinary skills alongside quality ingredients, the menu will take you from day to night with both returning favourites and brand new recipes that are nutritious and indulgent in equal measure. We were particularly impressed with the variety of influences from cuisines around the globe coming together on one menu, it's clear that each dish has been thoroughly crafted with attention to detail at every point! To accompany your food, you must try out Mildreds range of cocktails/mocktails, homemade blends and fresh juices, all of which embody unique flavour combinations incorporating fresh fruit, vegetables and herbs.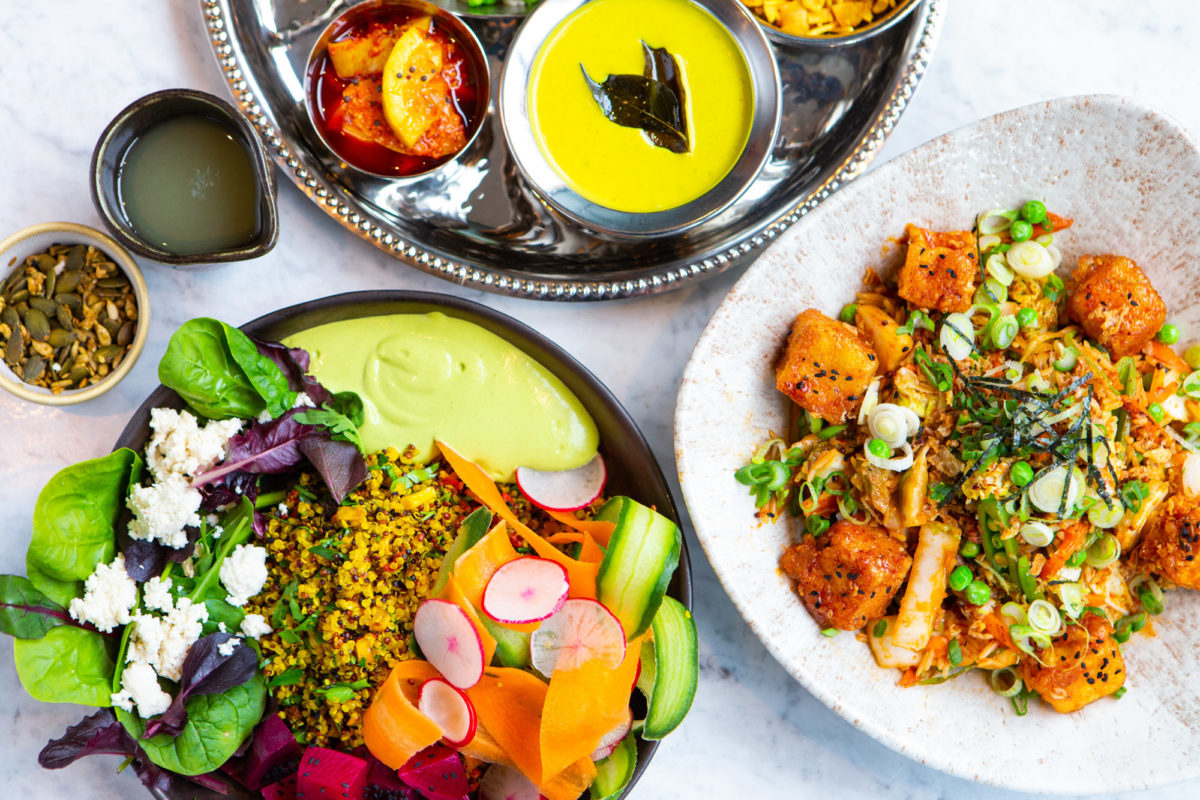 OUR TOP MENU PICKS:
Chipotle cheese nachos, black bean molé, tomato pico de gallo and sour cream
Perfect dish for sharing with others, get messy and relish in all the toppings!
Gunpowder bonda, pea spinach & potato fritters, mango pickle yoghurt
Like bite-sized Indian inspired bonbons, combined with the sauce, it's a taste sensation.
Fasolia burger, white bean carrot patty, tzatziki, harissa, grilled aubergine
A stack of veggie goodness with a Middle Eastern flare, packed with flavour.
Bhatti ka chick'n*, kachumber, mango pickle yoghurt, tomato chilli chutney
Quite honestly the best chicken alternative, it's mastery how they've managed to mimic the texture!
Butterscotch banana pudding with miso butterscotch sauce and salted caramel ice cream
Uniquely divine, the flavours work so well together for a blend of sweetness with a twist from the miso.
Having been the hotspot for London's herbivores for some time, Mildreds knows a thing or two about serving up plant-based dishes that impress and the new Spring menu lives up to expectations. If you're yet to experience a meal at one of their restaurants, check out the shiny new location in St. Martin's Lane, not only are you bound to love the food but you'll also be nourishing your body with wholesome veggies in a new and exciting way!