Keeping up with the beauty world is no easy feat, but thanks to our Best Beauty Buys roundup, you can keep your finger on the pulse of what's hot in the world of skincare, makeup, body care and beyond. For May's Best Beauty Buys, expect dreamy summer scents, the hottest in haircare, and the best bronzing boosters in the business, as tried and tested by our resident beauty expert, Frankie.
NEST New York x Gray Malin 'Ocean Mist & Sea Salt Reed Diffuser' – £53
Whether or not you're jetting off to sunnier climes this summer, nothing beats the smell of holidays, which is why we're scenting our homes with NEST New York's stunning new diffuser. Created in partnership with fine art photographer Gray Malin, who's renowned for his love of travel and interior design, this gorgeous blue and white striped bottle screams summer and will transport you to sandy shores with just a whiff. Inspired by the scent of the sea and crystal-clear waters, it's brimming with notes of sea salt, white tea, and coconut to bring that refreshing ocean mist straight to your home. This is wanderlust, bottled.
NEOM 'Super Shower Power Shampoo & Conditioner' – £20
It's official. NEOM has entered the world of haircare, and it was well worth the wait. Bringing everything we love about NEOM to a shampoo and conditioner, each hair hero is packed with natural, nourishing ingredients (algae, apple seed oil, Shea butter, and amino acids included), and – of course – an uplifting, mood-boosting scent. This is NEOM, after all. They're also sustainably made, might we add. "There were a few reasons why we decided to branch into haircare but for me, the main one was that there was a gap in the market for a natural shampoo and conditioner which really delivered impressive results," explains founder Nicola Elliott. "Going natural shouldn't have to be a compromise". You'll never look back.
Jo Loves 'Body Mist' – £55
"I have always loved body mists and travel everywhere with them. I love the easy way you can refresh your scent throughout the day wherever you are", says fragrance queen Jo Malone, who's just gone and launched a whole new range of body mists, just in time for summer. With four fragrances to choose from, ranging from the heady, floral 'Tuberose' and warm, spicy 'Vetiver' to the uplifting, zesty 'Grapefruit' and balmy, juicy 'Fig', there's something for everyone. The perfect perfume pick-me-up, they're great for an on-the-go spritz or when for when you're after something a little lighter. Even better? There are complementary hair mists, too.
Jo's Top Tip: Keep yours in the fridge for a refreshing fragrance hit on a hot summer's day.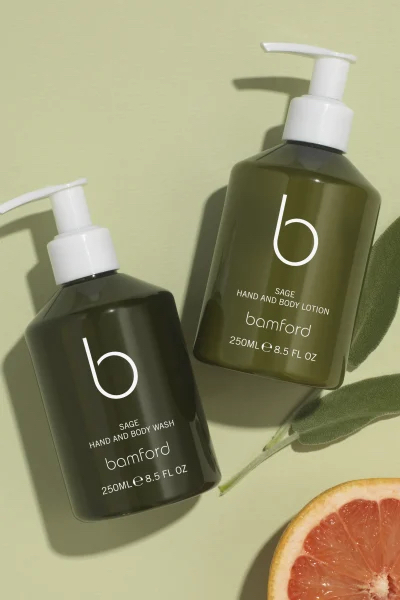 Bamford Citrus & Sage Body Care – from £25
Launching just in time for summer are Bamford's two new body care collections, the refreshing and invigorating 'Citrus' – packed full of orange flower absolute and patchouli to relax and balance – and 'Sage', a clearing blend of peppermint, grapefruit, and clary sage to refresh your skin and lift your mood. With everything from exfoliating body scrubs to rich, hydrating body creams, there's everything you could possibly need to keep your skin in tip top condition, all summer long. Even better? They're COSMOS certified, so you can relax in the knowledge that they're good for your skin, and the planet.
Elixseri Skin Meditation Serum – £100
This barrier-boosting, intensely soothing serum from Elixseri works its magic to revitalise skin types suffering from the effects of internal stress or environmental aggressors such as pollution, UV or climate. Ideal for even the most sensitive of skin types, this will calm irritated complexions to reveal a radiant glow. It's superb for reducing redness if that's something you suffer from and using it day and night will help balance out the skin's natural microbiome which is essential for healthy-looking, trouble-free skin.
Isle of Paradise Self-Tanning Oil Mist – £21.95
In the words of Isle of Paradise founder Jules Von Hep, "Tan shouldn't just make you feel good, but it should be easy too. I'm not here for those 10-step tanning routines. You should be able to slap it on and go!" And that's just one of the reasons why his vegan, cruelty-free, customisable tanning products are our go-to. Especially when it comes to his latest launch, the 'Self-Tanning Oil Mist'. Packed full of hydrating ingredients and nourishing oils (hyaluronic acid, squalane, argan, and avocado oils included) it locks in moisture for 24 hours whilst giving you a gorgeous, natural bronze tan in just a few minutes. Simply shake up, spray on, and you'll soon be giving JLo's glow a run for its money.
Natucain 'Brow Serum' – £59
Big brows are here to stay, but if you've been a bit too tweezer happy or your pair is looking more bare than bushy, then you need to invest in Natucain's 'Brow Serum'. Created by Dr. Stefanie Deyda, who specialises in hair loss, it combines nature with science to boost brow density by an impressive 54%, using all vegan, natural-origin ingredients – including stem cells from bamboo, thyme, and lentils! And it couldn't be easier to use. Simply brush onto brows twice a day and watch them transform into a pair that even Lily Collins would be proud of.
Burt's Bees 'Moisturising Sensitive Hand Cream' – £9.99
Whether or not you're still slathering on the hand sanitiser, our mitts bear the brunt of daily life and after often dry, chapped, and rather stressed out because of it. So, if your hands are on the sensitive side and in need of a caring, cocooning hug, reach for Burt's Bees' new hand hero. Specifically formulated for very dry and sensitive skin, it helps strengthen the moisture barrier while providing instant, soothing relief thanks to a calming blend of aloe, rice milk, and baobab. Fast absorbing and non-greasy, it won't leave hands feeling sticky or slimy, and instead they'll be soft, smooth, and deeply nourished in no time.
Voya 'Sea Or Skin, Hair & Nails Seaweed Supplement' – £35
It's all well and good using fancy creams and supercharged serums, but the age old saying of "you are what you eat" is as important as ever. What you put in your body reflects on the outside, so it's time to boost your beauty routine with a supplement. In particular, Voya's new seaweed packed pills, which contain a whopping 23 ingredients specifically chosen for their nutritional benefits to the body, skin, hair, and nails. Not only are there two types of scientifically selected Irish seaweeds, which offer immune system and thyroid function support, but there's also a plethora of vital minerals and vitamins to promote healthy hair and nail growth, support skin cells, and even keep your tummy happy. Just two a day will see you on your way to glowing skin, luscious locks, and perfect nails.
benecosBIO 'Let The Shower Be-Gin Shower Gel' – £10.95
Using COSMOS Organic certified ingredients that are dermatologically tested and vegan, as well as upcycled, innovative ingredients, benecosBIO's shower gels don't only keep skin squeaky clean and fresh, but also hydrated and nourished from top to toe. As well as bringing some fun to your bathing routine, of course. This organic gin infused body wash uses plant-based compounds, organic apple juice from local orchards, and the best part of your summer's G&T to leave you feeling refreshed and rejuvenated whilst gently washing away the day. Even better? It can be used on hair too. We'll raise our gin and tonic to that.
Ruka 'Hair Perfume' – £25
If you've been spritzing perfume onto your hair, it's time to stop. Not only can it damage locks (it's incredibly drying and often contains frizz-forming ingredients like alcohol), but regular fragrances haven't been designed for hair, so you're just wasting them. Instead, op for a hair mist. Specifically formulated to scent your strands whilst providing nourishing goodness, they tick all the boxes when it comes to smelling good and having hot hair. Our new fave? Ruka's 'Hair Perfume'. Its vegan formula is infused with traditional African ingredients, including vitamin E and omega-6 rich Zambian Mongongo, as well as aloe vera and pro-vitamin B5 to hydrate, protect, and strengthen locks. Not to mention its sublime, tropical scent of coconut, musk, and vanilla. Cue the slow-motion head flick.
words by Frankie Rozwadowska