I've always been utterly intrigued to visit the Mayr clinic in Austria and attempt a week of what is renowned as one of the most hardcore detoxes on the market. When my eldest sister innocently mentioned she was thinking of going, I pounced on the opportunity, with the added bonus of having someone to cry on when the going got tough.
Luckily, this decision coincided with the F.X. Mayr re-opening following recent renovations. I have been unable to shift a cold for nearly six months and also hoped to combat a monotonous lack of energy. And I am not going to deny that the thought of shifting a few pounds for summer would also be nice.
DAY 1:
My sister had been following The Organic Pharmacy's diet in the fortnight leading up to our trip, as recommended from the Mayr. I had not. She boarded the plane with a Pret salad and a bottle of water, I had my last indulgence of Skips and white wine. This resulted in somewhat valid declarations from her that my initial test results might not be so positive.
We flew from Stansted to Ljubljana in Slovenia, just over the border and about an hour's drive from the stunning Lake Worthersee, which is the setting for the clinic. Outside the airport we met another couple on their way for a fortnight's visit, return guests which is a common story for those who have been there.
Upon arrival we were given a tour and then shown to our beautifully re-decorated rooms, complete with the enormous and very comfortable dressing gowns that would form the main part of our wardrobe for the next week. Dinner is served from 6-7, and we were given a delicious carrot soup with the three sticks of spelt bread that is present at every meal. These sticks were probably the size of my ring finger, and I'm a girl with small hands. Before our food we were given an introduction to the dining room, including a lesson in chewing properly and the rule of silence. Eating meals in silence and concentrating on your food is one of the big tests of Dr. Domenig, the new medical director, and I did try but this was certainly the hardest part of mealtimes for a chatterbox like me.
One of the main parts of the renovations has been to the spa and swimming pool – 2 steam rooms and 3 saunas, which was a heavenly way to spend an hour or so in the evenings, and this became a nightly visit for my sister and I. But I went to bed hungry. So hungry that I ate the remains of a packet of Extra mints I located in my handbag. I have recently 'come up' with the word 'hanger' as an explanation for when people, mainly boys, get grizzly because they're hungry. At about midnight I decided to create the word 'insunger' to explain my inability to sleep through hunger. At some point, I finally succumbed but far later in the night than usual.
DAY 2:
Today it really began. Breakfast was the 3 pieces of spelt, and a small goat's milk yoghurt. I am very bad and normally don't eat breakfast, a bad habit that runs in our family, but the sight of food couldn't have been more welcome. My morning was filled with analysis, starting with a trip to see one of the sports therapists to assess my fitness and training. Luckily this is one area of my health I haven't let slip too badly, and I passed with flying colours with only a couple of weak muscles identified. However, I was advised not to undertake my usual run for at least the first 3 days, as the cure advocates only gentle exercise and really letting the body de-stress – something high intensity exercise impedes. The depletion of my normal food intake meant I was feeling fairly weak already, so I took this on board.
Next was my appointment with my assigned doctor, Dr. Karim, whom I liked immediately. We went through my reasons for being there in detail, assessed my lifestyle and whether I had any pressing or relevant emotional baggage, as well as measuring my weight, blood pressure, and my digestive system through the physical appearance, size and feeling of my waist and stomach. Apparently the latter was all working like clockwork, which is one of the main problems addressed by the cure, and she warned me that she didn't think I would change much in terms of lost inches or weight.
Apart from being incredibly thorough, knowledgeable and kind, similar to the experience I had with all the staff, the doctors really listen to your concerns. I consume most of my intake in the evenings, so was keen to break this cycle. Although I didn't need to lose much weight, we decided that I would stick to having only broth in the evenings (with no spelt) for the first 3 days. I was given mineral pills to support any lack of nutrients given the low-calorie diet, as well as my assigned basepowder to be taken morning and night. I'd recently had a gum infection so also, slightly reluctantly, I agreed to undertake 'oil pulling' (where you literally swish cold pressed oil around your mouth before spitting it out) every morning. The appointment finished up with a blood test to assess my acid-alkaline ratio.
One other notable part of the day was being introduced to 'kneipping'. This was to be done daily in the morning, and involves plunging your feet into hot water for 5 minutes, following by switching to cold for 10 seconds, and then repeating the process a second time. I don't think I'd quite mentally prepared myself for this, as I yelped audibly the first switchover. This made the lovely Sabine (who must be mentioned as she is utterly charming, and runs the kneipping centre in the most organised fashion) chuckle, and she suggested I try the version of kneipping in a small body bath the next day. I was on my guard but willing to give it a go…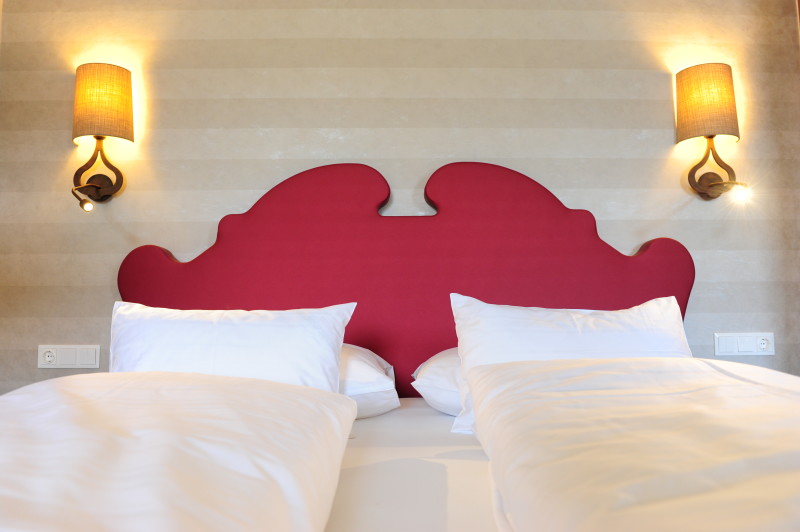 DAY 3:
This morning I managed to get myself up in good time to take all my necessary pills and powders and embark on the 7am hike. I say 'hike' with a certain amount of limitation, as due to the variation of the clientele it is paced to suit everybody. As a young and fairly active guest they certainly seemed to be more of a gentle walk to me…But given the emphasis on light exercise it felt good to get moving in the fresh air. They are directed by Julia, who is in charge of all the hiking year-round and clearly has a passion for the local outdoors. These sunrise hikes occur 3 times a week, and I made sure to do them all to savour the view of the mist floating on the lake as the sun rose and the absolutely breathtaking scenery of the woodlands.
This morning also came the first morning of taking either Epsom or mild salts, which is both a notorious and intrinsic part of the Mayr. It is easy to discern this given the number of bathrooms located throughout the hotel. I think the less said about this the better. Instead onto an equally uncomfortable experience – the kneipping in the waist bath. This was thoroughly odd. Following the stereotype of Austrian lack of embarrassment towards nudity, I was told to disrobe by Sabine and plonk myself in essentially a small adult paddling pool in which I sat almost doubled up, but with the water on covering up to just above my naval and halfway up my thighs. I quickly decided that I didn't really like this and would be sticking to doing my feet for the rest of the week.
DAY 4:
The other guests had warned that day 3 is often the hardest for most people, but somehow I felt that I was really starting to enjoy the experience. Whilst yes, it was a difficult moment at around 2pm when I realised I wouldn't eat anything solid for about 18 hours…I was finding I wasn't actually unbearably hungry. As a result of taking time to eat my meals, I found I was full after the small amounts given. Another key aspect of mealtimes is that you are not allowed to drink any liquids – this follows the belief that it not only impedes the digestion of your food as chew less due to the moisture enabling easier swallowing, but also that it expands your stomach so that it is harder to feel full. It makes perfect sense, and whilst it still felt odd after only a few days (I kept forgetting to make sure I drank plenty about half an hour before mealtimes!), it was fulfilling it's purpose.
On my timetable this morning was a hayflower detox wrap, of which 5 are included in the basic package. This is where you retire to your room and a hot compress in a bag is delivered and is pressed onto your liver area. You then wrap yourself up in your dressing gown and lie quietly for about 20 minutes. Liver wraps are a notable part of the detox process, and you are encouraged to also do them using a lukewarm hot water bottle in the evening before you go to bed as a way of furthering toxins out of the liver. Not for the first time, I was very glad that I had my laptop with me and a solid supply of boxsets to keep me entertained (this key to your stay!).
DAY 5:
Today I checked in with Dr. Karim on my progress – following her predictions I had only lost a pound despite 3 days of near starvation. This surprised me, and I will admit I felt a little deflated not to have lost more given such the depletion in my usual calorie intake. However, as I reported to her, I felt better. My energy levels were starting to pick up, and I had easily managed a short visit to the gym first thing in the morning with my sister for a run on the treadmill. She was pleased I was positive and being aware of my body's response to the routine, and we decided that I would stick to the broth-only dinner option to help with getting my food intake more regular. What was most exciting was that she wanted me to start having a portion of protein at lunchtime! So today I chose and was given a quite sizeable portion of smoked char. I had really been starting to crave meat or fish and I could have wept with joy – it tasted heavenly.
DAY 6:
Following her review with her doctor yesterday, I discovered my sister had been granted a portion of protein at breakfast. This was the gift of a boiled egg – pure jealously. However, it did make me ponder how much I anticipated going back to eating certain foods, and how much more succinct simple ingredients had become within my thoughts in terms of taste, size and nourishment. I used this to keep the green-eyed monster bay…
The main event of today, however, was my kinesiology test. So far little had been uncovered by the doctor's to explain my enduring cold and tired, and having had a similar test a few years ago I was intrigued by how the results would compare. There was no repeat of an indication towards an intolerance to all sugars including glucose (to my surprise but also delight), however I have apparently developed a serious intolerance to lactose beyond the adult human normal. Given dairy is known to create mucus this was a relieving and simple explanation behind my cold. I appreciate that a lot of people are reluctant to believe in the powers of kinesiology, but they might be interested that I then asked for Dr. Karim (at some point during the next batch of foods tested, as you aren't supposed to be aware in advance) to text me for mushrooms and truffles. These are foods I know I am allergic too given my inevitable reaction of being sick. And they came up as strongly negative too.
We went through all the various dairy options, and it was a relief to discover I could still have butter, hard cheese and dark chocolate – though of course in moderation. I had witnessed my old flatmate having a similar diagnosis and going through a year's abstinence, before slowly re-introducing dairy into her diet. Not only did I recently join her in a large ice-cream indulgence, but during that year I saw first-hand the difference it made to her health and energy. I was given a very informative and helpful information sheet on lactose intolerance, and left feeling excited as I realised tomorrow's breakfast would bring a boiled egg instead of yoghurt!
DAY 7:
Today the weather brought glorious sunshine, and despite being the first week of May it was warm enough to make use of the hotel's delightful pontoon next to the lake. It was sheer bliss spending a few free afternoon hours sunbathing soaking up the rays, and I would certainly recommend coming to stay in the warmer months when this option is more readily available.
Whilst reflecting during my tanning time, I realised that I was fully immersed in the routine of the Mayr and the utterly restful environment they create during your stay. I try to take a 'me' holiday for a few days at least once a year, and despite the fact you're not alone it held the same benefits for me and was providing a total break from my usual 'headless chicken' routine. I must admit I felt a small pang at the thought of going home tomorrow.
DAY 8:
My last treatment of my stay was a massage by Carmen – who I must confess is my top recommendation and should be requested (you receive 3 massages as part of the basic package). During the week I also had an osteopathy session with Wolfgang, who is renowned amongst the regulars and really does get booked out well in advance – a little tip. I also discovered today the results of my acid-alkaline ratio from my blood tests on the first day, which if too acidic would have pointed to a too-high level of alcohol; sadly for my sister's predictions I was in the very healthy alkaline range, which was a lovely note to end on!
You are recommended on leaving to try and follow a similar diet and schedule for a further week, and my sister and I were kindly given a very generous portion of the spelt rolls to take home on top of our supplements. Whilst I did indulge in a much anticipated alcoholic tipple upon my return home that night, I am firmly back in the 3-meals-a-day camp. I managed to keep strictly to diet for a good 4 days, and whilst I only lost a kilo during my stay in Austria I somehow managed to shed another 2 during this extended period, which was an added bonus.
I have been raving to all and sundry about my visit, and whilst I appreciate that it is an expensive option, I firmly believe that you can't put a price on health and this is a fantastic place to follow that principles. I have learnt invaluable lessons in terms of my diet and correcting how I nourish my body, and also met some wonderful people with regard to both the staff and fellow guests during my stay. All I can say to end is go if you possibly can, I feel I shall certainly be joining the numerous ranks of repeat visitors.
A seven-day stay is €1,359 per person. Visit http://original-mayr.com/en/ 
Words by Alicia Meinertzhagen