Max Whitlock is the man of the moment in Team GB Gymnastics. Double Olympic & World Champion, 4 x Commonwealth Champion, 3 x European Champion, Adidas Ambassador, founder of the Max Whitlock Gymnastics Clubs AND now an author with his first book, The Whitlock Workout, (coming out 9th January) are we certain he's not some sort of superhuman species? As well as becoming a father for the first time this year to his daughter, Willow, he's also been training and preparing hard for the 2020 Summer Olympics in Tokyo later this year to defend his title. We managed to nab him for 5 minutes to talk about his goals, what motivates him and life outside training.
My non-negotiable health habit
"I think it would be exercising when I go away on holiday. I do a small workout a day when I'm away, wherever I am – something short that is easy to fit into the day, much like the exercises in my book. It helps me to get back into training when I get home and also keeps things ticking over."
My hobbies when I'm not training
"Going to the cinema, which is harder to do now we have a little one! Going out for meals with friends and family. Also, gymnastics is a real passion for Leah and I, especially our work with the Max Whitlock Gymnastics clubs, which give the younger generation the opportunity to get into the sport."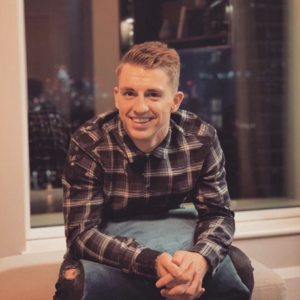 My de-stress tool
"I am very relaxed in training, I always try and enjoy it, mucking about with a football and with the boys. This ensures that going to the gym isn't a stressful part of my life, it's fun which I think it very important. Then when I come home from training, I play with Willow which always helps me to relax. In the same way when I come home from a competition and it maybe hasn't gone well, having a baby helps you forget about that as she always puts a smile on my face when I walk in the door."
My top 3 kitchen essentials
"Eggs, chicken and a blender for willow!"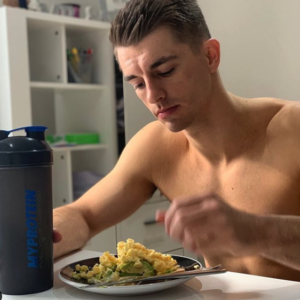 My guilty (or not so guilty!) pleasure
"I love treats – I treat myself quite often! I l eat pancakes, waffles, chocolate – I love chocolate. A lot of people would assume I'd stay clear of unhealthy food, but life is about balance. Being an athlete, you have to get into the zone pre-competition, which includes being strict with what you eat and that's hard to do if you are watching what you eat all year round. "
My inspiration
"My new inspiration is Willow. I've always looked up to other sportspeople, but now I've got a little girl she's the one that inspires me to do more and get better. Knowing that she is watching me really spurs me on."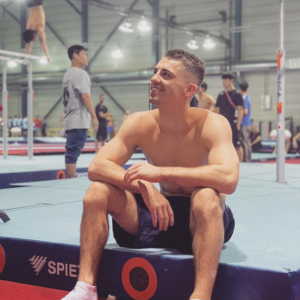 My biggest life lesson
"I would never be where I am today if I hadn't made the mistakes I did along the way. Learning from your mistakes is so important. If you do a successful competition that's great, but you don't learn much from a successful competition. But you do learn a lot when it's gone wrong and you find out why and it pushes you to be better in the future."
My goals for 2020
"I have my targets in gymnastics and obviously we have the Olympics, which seems to be coming around very quickly. I don't like to think about medals too much, but it gets harder and harder each year as the pressure and competition increases. A huge thing for me at this Olympics will be retaining my title which I haven't done on an Olympic stage yet. It's exciting but also important to keep busy until then."
THE WHITLOCK WORKOUT by Max Whitlock, Headline Home 2019.