The Christmas Season can be difficult to navigate especially if you're looking to avoid Christmas Day bloating. You will always have friends that encourage you to go out to dinner and to have at least just one bite of the sticky toffee pudding. Fear not! There is no reason your friends or family need to sabotage your nutrition for quality time's sake. Here, we list a few restaurants that have some of the healthiest Christmas menus in town!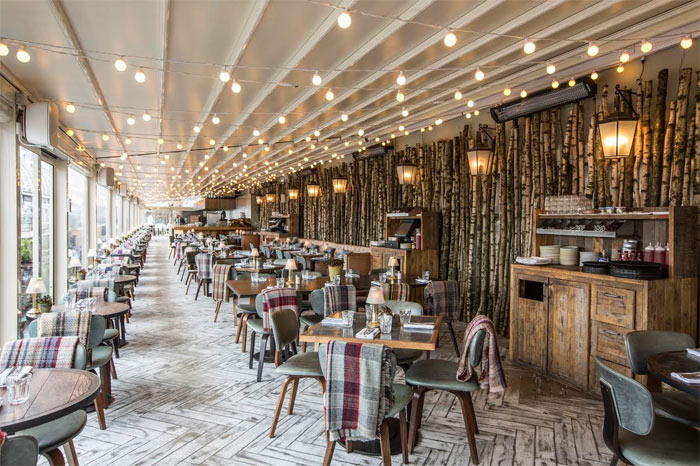 Forest on the Roof, Selfridges
If warm & wintery ambiance is what you're looking for, then Forest on the Roof at Selfridges will be your go to for Christmas inspired dining. With a menu ranging from breakfast to pre-dins cocktails, Forest on the Roof will warm your belly with delicious food and warm your heart with Christmas cheer. We love the avocado toast option with pumpkin seeds for breakfast! After all, you can never go wrong with avo toast!
Comptoir Libanais
Keen for a more exotic festive feast? Comptoir Libanais has your tastebuds in mind! The Lebanese restaurant is serving everything from hummous to Ginger & lemon chicken on their Christmas menu. You'll be sure to find something for vegetarians and gluten-free foodies with their array of options. For bookings, go to the Comptoir website here.
Mondrian London at Sea Containers
Mondrian Hotel is known for being uber stylish and the Christmas Menu at Sea Containers does not fall short. Bring a big group of friends to enjoy their Christmas menu set for sharing. For more information on the menu, visit the Morgans Hotel Group website.
Panchamama
This Peruvian restaurant in the heart of Marylebone has an ever-changing menu based on what is in season. Premium ingredients make sure that you're feeding your body with top nutrients in the most delicious way possible! The Christmas Menu features everything from brown crab to brussell sprouts with quinoa chaufa. Panchamama also have an allergy-friendly menu catered to those who need to watch what they're consuming. For more information on the menu, visit the Panchamama website.
Mae Deli Festive Pop Up
Lastly, we couldn't not mention The Mae Deli and their festive pop up in The Seven Dials neighborhood! If the sound of healthy mince pies, spiced mulled apple juice, orange Mae cake, hot stews and healthy brownies tickles your festive fancy, then head down there before it closes!
If you are strictly vegan and/or gluten free restaurants will happily cater to your needs. Always be sure to mention it before!
words by Nadia Liu