Waking up to a warming, hot drink is a ritual many of us embrace on a daily basis. Whether that's a mug full of herbal tea or your favourite home-brewed coffee, there's just no better way start the day! If you're looking to shake up your morning routine and you want to add an extra health kick to your morning brew, you need to try superfood lattes! Below we've highlighted the latest ways to enjoy a morning latte and where to find the best ones in London, plus a delicious Blueberry Latte (yes, that's right!) recipe that you can make in the comfort of your kitchen!

Turmeric Latte
As well as being striking in colour, this creamy concoction is a healthy way to start the day. Turmeric contains a compound called curcumin which is known for its anti-inflammatory benefits and its anti-oxidants. Turmeric can also improve brain function, increasing efficiency and making it the perfect hot beverage to set you up for the day! Head to Farm Girl in Notting Hill for their honey-sweet Liquid Gold Latte.
Charcoal Latte
For an energy boost that's a bit different, try Farm Girl's Latte Black. The double shot, mixed with activated charcoal and date syrup will satisfy any sweet tooth and give you a strong caffeine kick. Activated charcoal has millions of pores to trap toxins and eliminate them. As a result, the charcoal latte balances your mood and improves the way your body filters water. It also contains teeth whitening qualities!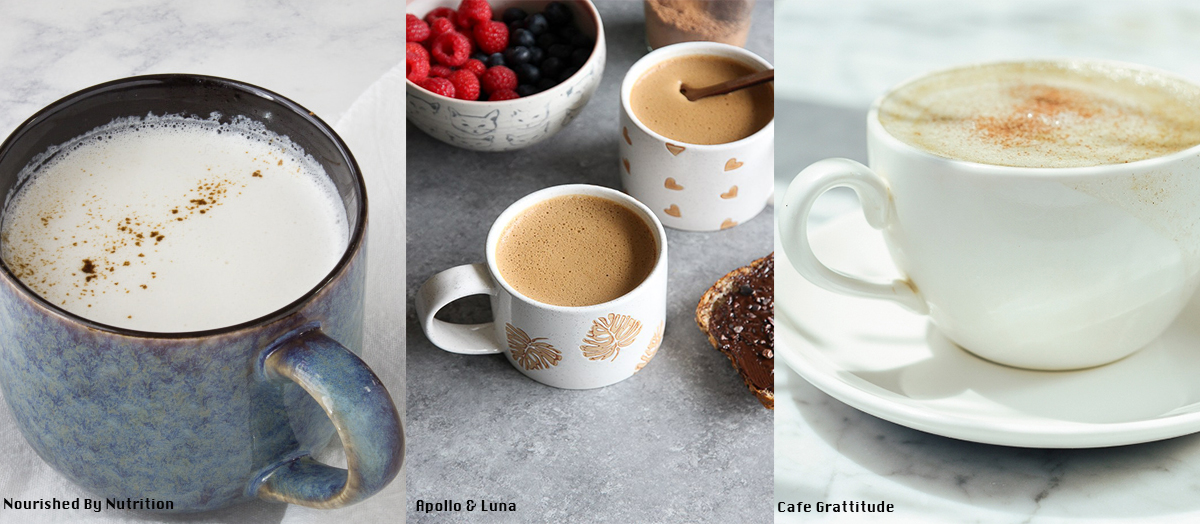 Mushroom Latte
Thought you'd never drink a mushroom? Think again. Mushrooms are the superfood of 2017 and are perfect for a post-workout brew. Mushrooms contain certain fibres that improve cardiovascular health and boost your immune system being rich in vitamin C, protein and iron. Ethos, in Spitalfields, offer a delicious mushroom latte with reishi mushrooms, cloves and maple syrup – a tasty way to boost your vitamin D intake! After your sweaty yoga session, check out their café which overlooks the market.

Pitaya Latte
Also known as a dragon fruit latte, this hot pink drink can be enjoyed at Planet Organic in their Rainbow Latte range – full of goodness with no added sugar. Pitaya is full of anti-oxidants and vitamin C, but also serval B vitamins which are good for your digestive system. The fruit also contains phosphorus for healthy blood and tissue development – a great combination for an active lifestyle!

Matcha Latte
This Japenese concoction will give you a caffeinated kick, but its light flavour is also bursting with good stuff. It's great in the morning to help with digestion and brain function. The green tea in matcha is anti-bacterial, which means it is good for dental health, too. We recommend heading to The Good Life Eatery to sip alongside a plant-based bowl!
Beetroot Latte
While it may look pretty, the beetroot latte has bountiful health benefits: it is a great source of iron, naturally occurring folic acid and is packed with anti-oxidants. Beetroot is also high in potassium, so can help regulate fluids and stabilise electrolytes. The latte is even caffeine free! We suggest heading to Palm Vaults in Hackney or Hally's in Fulham to taste this candy-floss dream of a latte!
Don't fancy leaving the house for your morning brew? Make your own Blueberry Latte with this recipe from Cashew Kitchen!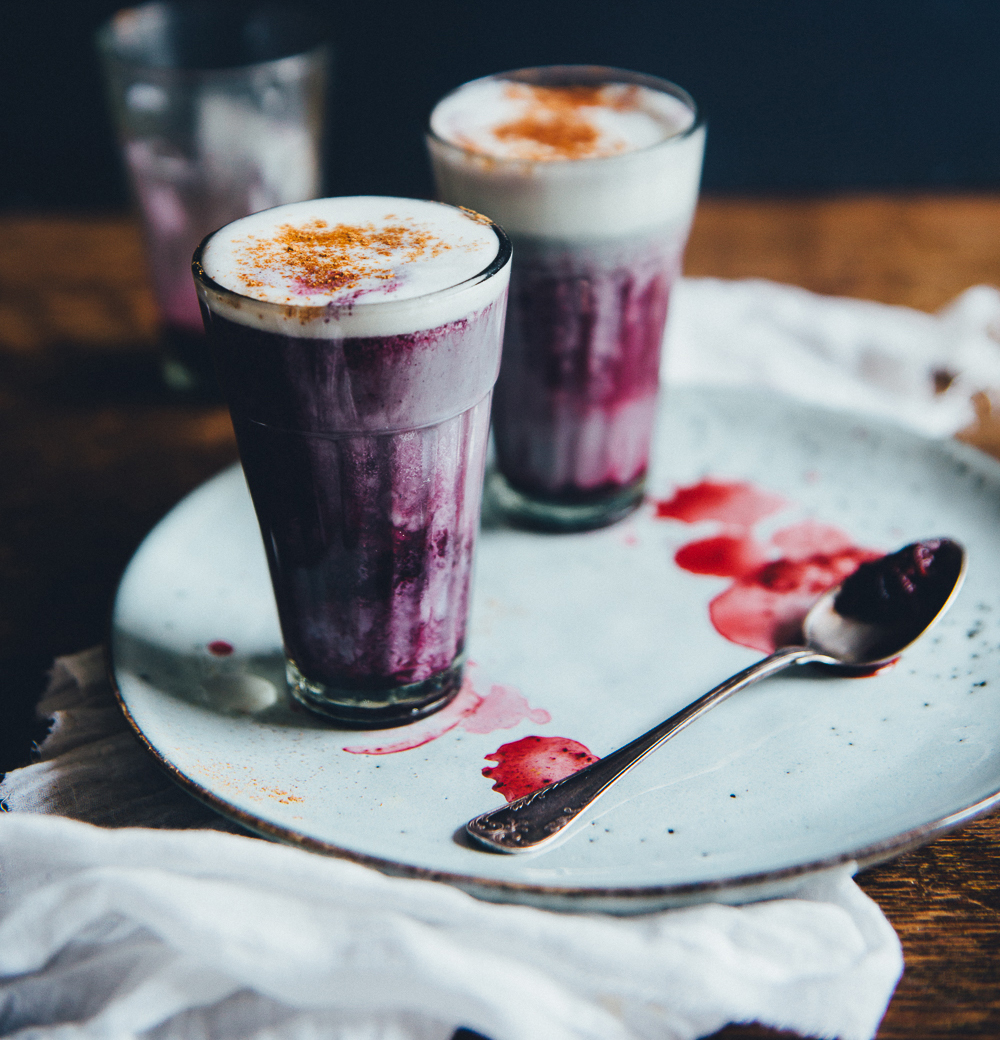 The health benefits for blueberries are endless, but you might find it useful to know that they contain lots of phytonutrients which help protect against bacteria and germs. Blueberries are rich in fibre, which helps lower cholesterol levels and decrease the risk of heart disease.
Serves 1
6 1/2 tbsp water
3 heaped tbsp frozen blueberries
1 blueberry rooibos teabag
3/4 tbsp maple syrup
1/2 tsp ground, dried ginger
1/3-1/2 tsp freshly ground cardamom
pinch of pure vanilla powder
6 1/2 tbsp oat milk
2-3 tbsp coconut milk (optional)
cinnamon to dust
Directions
Heat all the ingredients except for the milk in a sauce pan. Bring to boil then turn off the heat and leave to rest for 5-10 min.
Squeeze the water from the teabag and discard it. Sieve the liquid.
Heat oat milk in a sauce pan until steaming. Remove from heat and froth. Pour over the tea, dizzle the coconut milk on the top and finish by dusting some cinnamon on top.
words by Katie Hafner