She might be best known as Elsa from Frozen, the voice of Gossip Girl, and her countless comedy movie roles, but Kristen Bell has proved herself to be so much more than just another actor. The working mum of two has also gone and launched her own baby brand, alongside husband Dax Shephard, that provides quality products without the hefty price tag. Meet Hello Bello, the award-winning, purse-friendly brand that's already won over the hearts of babies and mums across America, now available exclusively to ASDA stores here in the UK.
"We are so happy to bring our high-quality, affordable products to the UK", shared Bell. "Parenting is hard enough, which is why Hello Bello is here to help give moms and dads one (or two or three) fewer things to worry about. We're thrilled to be able to offer that support to British families now, too." Talking to Hip & Healthy about all things motherhood, the importance of me-time, and how Hello Bello is shaking up the baby brands scene, Bell talks mum-life in this interview and how dirty nappies are gear change from the glamour of Hollywood.
What drove you to launch Hello Bello?
After having kids, we realised there were no premium baby products that were also affordable and accessible. I could buy anything I wanted at a fabulous LA boutique and not look at the prices, and that struck me as unfair. People needed great ingredients, at a store they could access, and to never have to choose between their baby and their budget.
Which 3 products can you not live without?
If anyone in my home was still in diapers, they would be my number one. They are incredibly soft and absorbent with the cutest patterns. I love the 'Everywhere Balm', I use it all over. I have dry skin and eczema, and it's really soothing. It's also great on cuticles and as a lip balm! I often take our kids' shampoo because it's mainly aloe and I've found it works great to shave my legs. But I definitely couldn't live without our gummy vitamins. It makes getting our nutrition feel like having dessert!
What makes Hello Bello different from other baby brands?
There are a lot of cool baby brands out there, but no one was hitting the target of being accessible and affordable with premium ingredients. We wanted to pay attention to all the things that great brands pay attention to like sustainability in the production line, using only ingredients I wanted on my baby's skin and gorgeous branding. Our goal was to even the playing field. Everyone deserves access to the best for their baby without struggling with their budget.
How do you carve out "me time" as a mum?
I learned how to communicate my needs to my family. When I'm feeling overwhelmed or like I need a break, I tell them. They support the time I might need to myself, in order to be a better mother, wife, and friend. I love escaping to read a book in the bathtub, or, if I'm caffeinated enough, get in a workout so I feel better the rest of the day. I have woven my self-care rituals into my day because I don't think that self-care should be a special event. I think we should be caring for ourselves each and every day.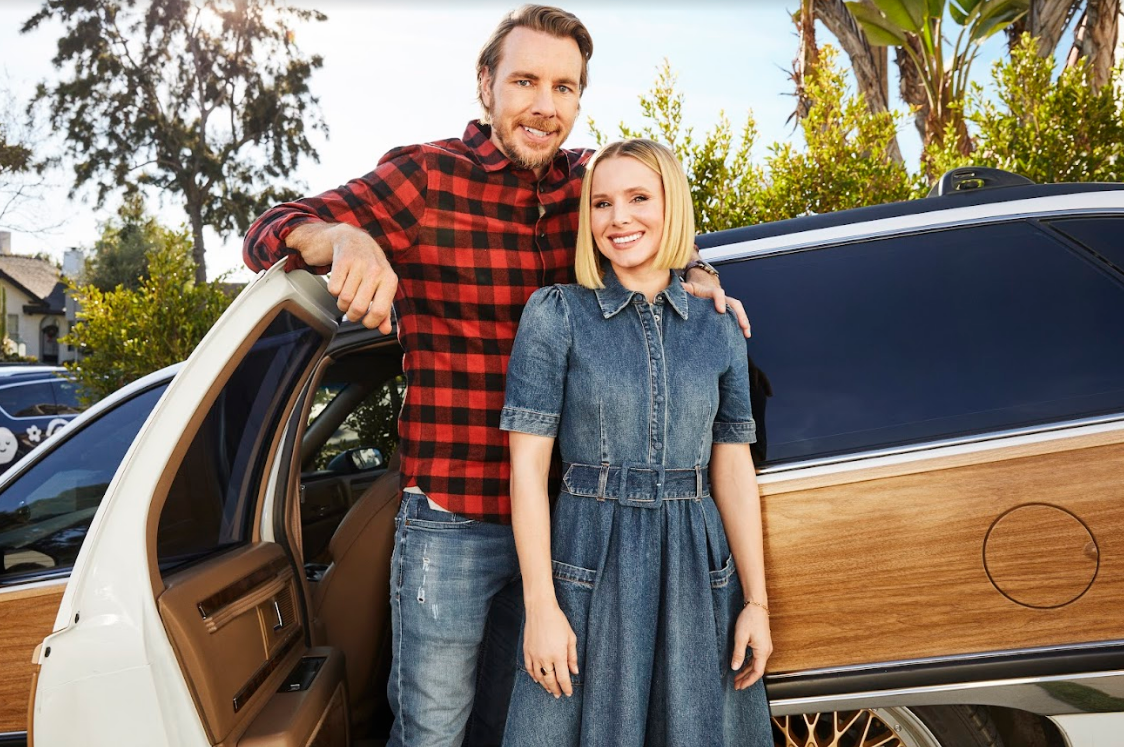 Being a working mum – and with you and Dax being super busy – what are your secrets to juggling everything?
I wish there was a secret. I often feel unbalanced. I try hard to love who I am, no matter where that is. When I'm at work, I try to be present there and stay grateful for the creative outlets I have with other adults. When I'm at home, I try to drop everything and sit on the floor with my kids, no phone, no worries, just them. That way I can try to maximise my time being a mum who loves her kids, and he works and doesn't wanna give up either.
As a parent, do you have any concerns about your daughters growing up around social media?
I haven't hit that point yet, but we are very honest with them about how social media, and phones in general, are designed to keep you coming back and wanting more. We tell them all the time how phones trick us. I want them to be aware of the challenges ahead of time.
What's the best piece of advice you received when you became a mum?
Find your instincts, then trust them.
What surprised you about becoming a parent?
I was shocked at how different my children are from each other. They are impossible to parent in the same way. They each need different tones of voice, different boundaries, and different levels of encouragement to thrive.
What's the secret to maintaining a happy marriage whilst navigating the crazy world of parenthood?
We try to make sure we listen to each other and make time for just the two of us.
Shop Hello Bello

Interview conducted by Frankie Rozwadowska