When it comes to our skincare routines, we invest time, money, and a lot of effort to make sure we're stocking up on the best products to keep us looking fresh and fabulous. But have you ever stopped to think about your scalp?
"My scalp!?" You're probably asking right about now. "What has that got to do with my face?". Well, think about it – your scalp and the skin on your head is no different to that on your face (it actually has the same structure and is composed of the same cell types) and our scalps are subject to exactly the same ageing and damaging factors as our faces (it is skin, after all). This can result in everything from dull, dry locks to lack of hair density and even hair loss. Bet we've got your attention now…
"Our scalp is an extension of our skin, yet it is often overlooked when it comes to haircare. Just because you can't see it, doesn't mean it should go untouched!" Explains Kiran Tudor, Creative Director for CENTRED. haircare. "The scalp is the base from which our hair grows. Imagine it as a flowerbed – without well-nourished soil, beautiful flowers will struggle to flourish. Ultimately, poor scalp health can affect the strength, quality, and rate of hair growth." Monpure resident dermatologist Dr. Sue Ann Chan agrees. "I advise my patients to care for their scalp in the same way as they care for the skin on their face. Too often the scalp gets neglected which can lead to a dull appearance in the hair in general. That's why regular cleansing, hydration and exfoliation of the scalp are so important."
It's therefore little surprise that the 'skinification of hair' trend is taking the beauty industry by storm, with everything from scalp scrubs and serums to treatments, oils, and CBD boosters launching left right and centre from just about every haircare (and even skincare) brand on the market. In fact, it's becoming so big that – with the help of the scalp-care category – the global haircare market is expected to grow at a rate of over 3% to reach a whopping $211 billion by 2025, according to Grand View Research.
So, if up until now you hadn't given your scalp a second thought, it's time to invest in some super scalp saviours that will nourish and protect. Particularly important now we're entering colder winter months. Not only will this haircare step help with everything from dandruff to blocked follicles, hair thinning and hair loss, but showing your scalp some TLC will promote healthier hair from the inside out. Happy shopping!
Clever Cleansers
It's time to stop washing your hair with the equivalent of dish soap and invest in sulfate, nasty-free formulas that will gently cleanse and remove build-up without stressing out your scalp. Not only can sodium lauryl sulfate (otherwise known as SLS) and harsh chemicals cause everything from dermatitis to dandruff, but they're also used in pesticides to kill insects and they produce cancerous fumes when manufactured. Not exactly what you want to be rubbing into your head… but do not fear, because these good-for-skin swaps are just the ticket.
Oribe 'Serene Scalp Balancing Shampoo' – £45.50
Earlier this year Oribe announced that all its shampoos would be made sans sulfates – hooray! Even better is that its 'Serene Scalp' range comprises a collection of scalp-soothing products formulated to treat dandruff and stressed-out skin. This luxurious shampoo uses salicylic acid, watermelon, lychee, and edelweiss flower extracts to gently cleanse hair while helping scalps maintain a healthy moisture balance. It also provides UV protection, helps prevent the deterioration of natural keratin, and rids you of pesky dry skin and flakes. 
CENTRED. 'Daily Calma Shampoo' – £22
Working to gently dissolve build-up and daily dirt and grime, this natural, vegan, toxic and cruelty-free shampoo will transform dry, damaged tresses in a flash. Its rich coconut base is blended with amino acid proteins, orange blossom water, calming chamomile and aloe to restore and protect the scalp's delicate balance while soothing irritation and strengthening each strand.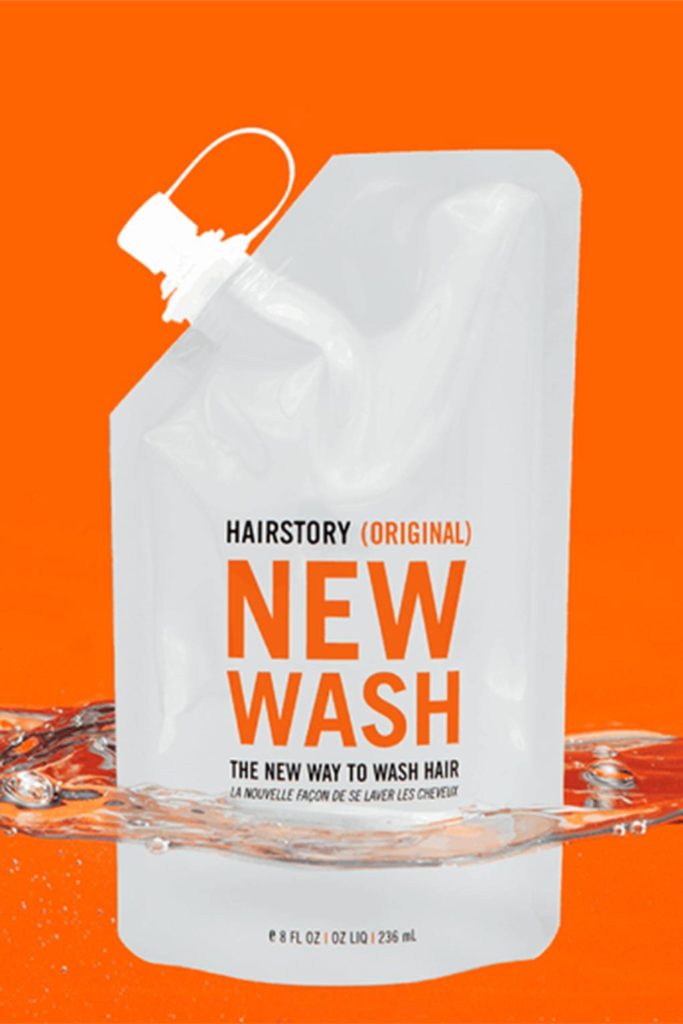 Hairstory 'New Wash' – £44
Revolutionising the way we wash our hair, Hairstory's 'New Wash' is one of the best clean hair cleansers we've ever tried. Shunning harsh detergents in favour of essential oils and natural ingredients, it gently cleanses without stripping the scalp of its protective barrier. It may take a little while to get used to if you've only ever used shampoos that bubble and foam (there's none of that here), and your hair may need to go through a "transition period" while it gets used to such a new way of washing it, but mark our words when we say it's worth it.
Super Scrubs
We exfoliate our faces and buff our bodies, but most of us are guilty of neglecting our scalps. Until now, that is. "A regular exfoliating scalp treatment will help remove any dead skin and product build up from the hair follicles, unclog pores, stimulate blood flow and nourish the skin for a healthier, more balanced scalp and fortified hair", Tudor advises.
Innersense True Enlightenment Scalp Scrub – £40
"It's so important we take care of our scalp in the same way do our face, and that's by using great, non-astringent ingredients", Innersense co-founder Greg tells us. "We didn't want to make an exfoliating shampoo in case people overused it – this is a treatment product. It helps rejuvenate cell growth of the scalp and promotes healthier follicles and hair growth. It's really invigorating, cleansing, purifying and revitalizing. We utilised some amazing ingredients. There's red Hawaiian sea salt, a very gentle exfoliant, red volcanic clay – which contains 80 minerals and nutrients – peppermint oil and green tea (great antioxidants and healing ingredients), and also strengthening bamboo". Use 1-3 times before shampooing for optimum results.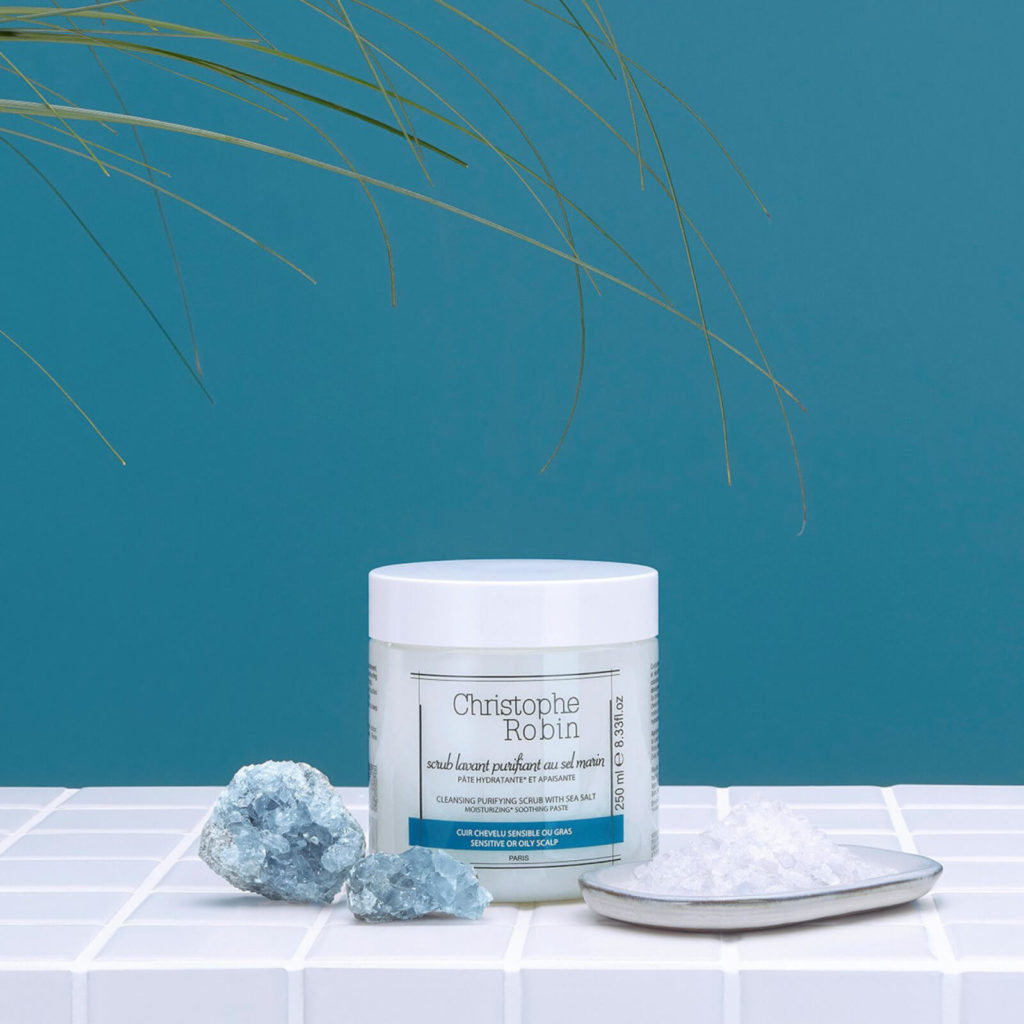 Christophe Robin 'Cleansing Purifying Scrub with Sea Salt' – £40
According to celebrity hair guru Christophe Robin, "The health and beauty of hair starts with a balanced and healthy scalp", which is why he swears by using salt to exfoliate the scalp. "Salt shampoos are cleansers that contain salt, such as my 'Cleansing Purifying Scrub with Sea Salt'. They are excellent for naturally detoxifying the scalp of grease, grime, and product build-up, removing chemical residues left on the scalp that can cause itchiness after a coloring treatment. More commonly, they also help to rebalance and soothe greasy, irritated scalps." This scrub does just that while encouraging healthy hair growth to give you shiny, luscious locks.
Frank Body 'Caffeinated Scalp Scrub' – £13.95
We couldn't quite contain our excitement when Frank Body revealed it was lauching one of its iconic scrubs for the scalp – and can you blame us? Packing a serious caffeinated punch, it's crammed full of fatty acid-rich green coffee to gently slough away dead skin and build up, while rosemary, eucalyptus and peppermint reduce inflammation and detoxify. Your head (and hair) will never feel so fresh and so clean.
Top Treatments
Serums for your scalp? Yes, they're a thing – as are oils, masks, and a whole array of treatments specifically formulated to care for the skin on your head. We've done the hard work for you and found three top offerings that will tend to all your scalp's needs, and then some.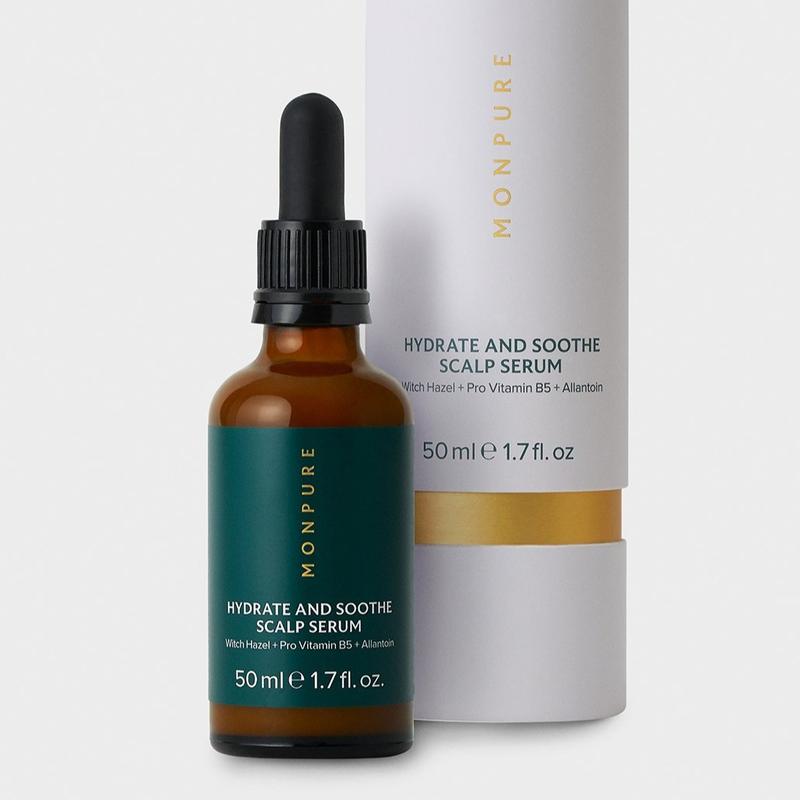 Monpure 'Hydrate and Soothe Scalp Serum' – £96
Monpure's ethos is that "the scalp should be at the heart of any haircare regime", which is why they're on a mission to bridge the gap between skin and haircare. This serum works miracles on dry, itchy, inflamed scalps in need of some love, so much so that 85% of testers agreed their scalp irritation was reduced and that the health and condition of their scalp drastically improved. This is all thanks to a calming cocktail of Pro Vitamin B5, redness-reducing witch hazel, and allantoin – a powerful humectant that draws in moisture and keeps it locked in, all day long. Massage into clean, dry hair as often as once a day to let it work its magic.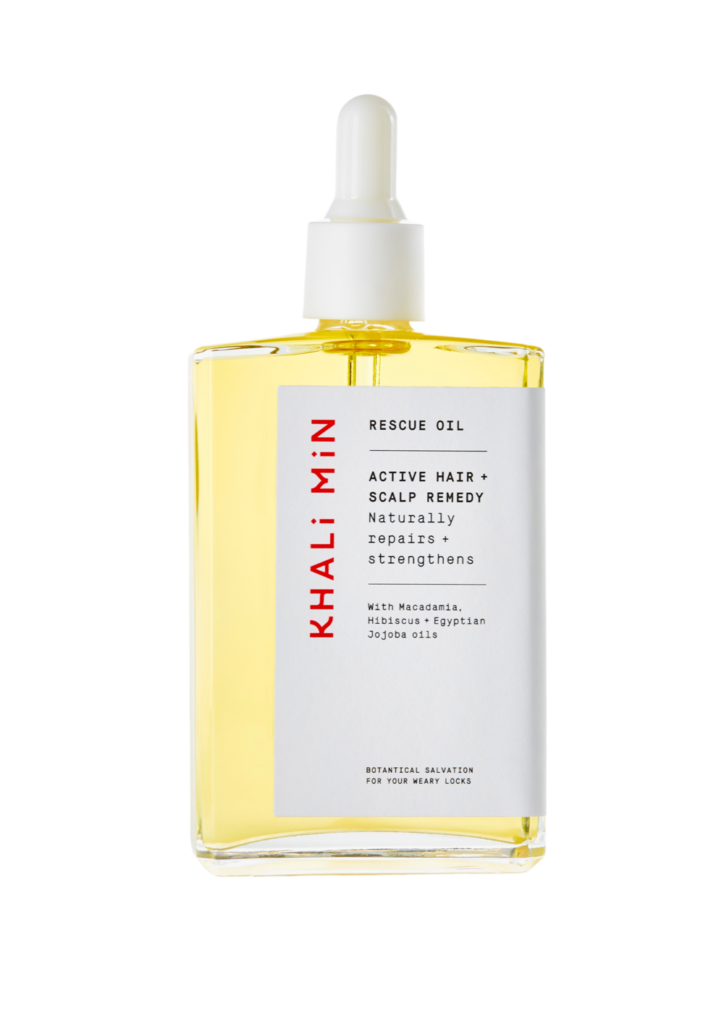 Khali Min Rescue Oil Active Hair + Scalp Remedy – £38
We love a good facial oil, which is why we're making sure we stock up on one for our scalp, too. This one from Khali Min does just what it says on the tin – rescuing hair and scalps by naturally repairing and strengthening both skin and strands. Lightweight and easily absorbed, its blissful blend of pure oils (macadamia, hibiscus and Egyptian jojoba included) can be massaged into the scalp and used as a treatment for your stresses to restore shine, lustre and moisture.
Dr. Hauschka 'Hair Tonic' – £18
If you're after an oil-free formula to balance and strengthen your scalp and hair, then this offering from Dr. Hauschka has your name written all over it. Helping to balance the scalp's oil production, it uses extracts of neem, nettle, birch bark, burdock root and arnica to prevent dryness, dandruff and irritation while activating and regulating the scalp. It even injects life into limp locks and can be used as a gentle alternative to a blow-dry setting spray.
words by Frankie Rozwadowska
---
READ MORE
---
Affordable, Results-Driven Eco Haircare? This Brand Has The Answer