We're thrilled to be stocking Track & Bliss activewear on the Hip & Healthy online store. Founder Luciana Scarabello brings her background in high fashion to the brands' high-performance collections which merge LA's laid-back attitude with NYC's urban edge. We chatted with Luciana to discuss how the brand came about, what makes it stand out and her favourite things about the wellness and activewear worlds.
Before Track and Bliss you had started other clothing lines, can you tell us a bit about your career and what lead you to design and produce activewear?
As far as I can remember I have always been passionate about clothes and fashion. As part of a family tradition, I learnt how to sew and construct garments from my mother at an early age. I continued my design education in college when I attended Parson's School of Design in New York.
Right after graduation, I launched SCARABELLO, a women's fashion forward ready to wear contemporary brand. During 2011 I participated in Fashion Star, a TV show that aired nationally in 2012 on NBC network. The objective of the show was to search for the next big name in fashion. Featuring host producer Elle Macpherson along with celebrity mentors Jessica Simpson, Nicole Richie and John Varvatos, the series gave 14 designers the chance to launch their collections in three of America's largest retailers: Saks Fifth Avenue, Macy's and H&M. Throughout the competition, I was able to successfully sell the garments I created to all three retailers!
After we finished shooting the show I began to feel a lot of stress and pressure as I was pushing myself to try to establish myself in the industry and eventually make all my dreams come true. I started developing an anxiety disorder which led me to experience constant panic attacks. Confused and scared, I decided to seek for alternative ways to try to get myself better. It was only through a complete change of lifestyle that I was able to get better. I started going to the gym, practising yoga, and eating healthier. I began to focus my attention more on my inner self rather that the constant worry of what was happening around me. This new lifestyle change brought some new ideas. Being a creative person I wanted to now merge my two passions in life: fashion and a healthy lifestyle.
What makes Track & Bliss unique from other brands which combine fashion and sportswear?
My background is in high fashion so I try to take inspiration and follow trends that are happening in this world and stay as far away as possible to the other activewear brands ideas and focus. The end result is a product that is different, special and stands out.
Our collections are very focused because I curate them before introducing them in the market and every piece has to be special and stand out in a sea of activewear. If it doesn't it then it doesn't make the cut.
I'm also obsessed over details and finding the right balance. Every piece of the collection has been well thought through and probably altered 10 times before reaching the final product.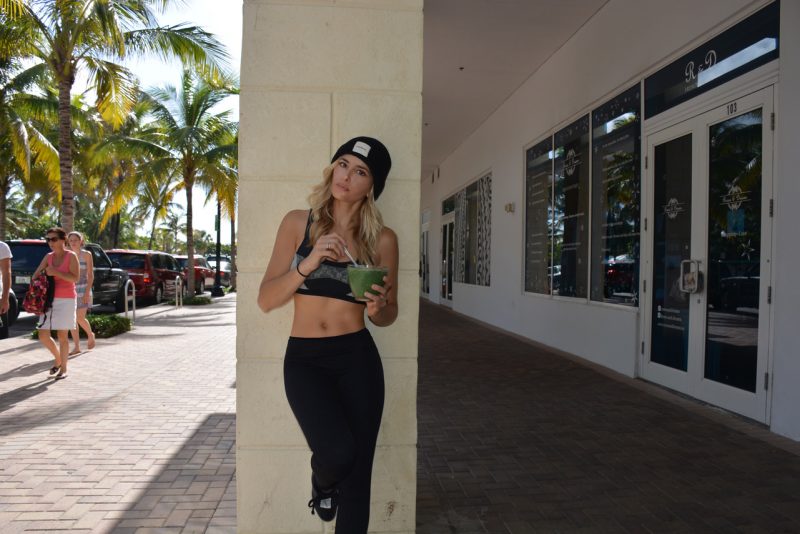 What kind of exercise is Track & Bliss designed for?
Track & Bliss is designed for women that have busy schedules. They do Yoga, Pilates, Spinning, Barre, weightlifting and personal training and carry on with their day to the next activity and want to look polished and stylish throughout the day.
For instance, when I go to my studio I'm wearing Track & Bliss from head-to-toe. It's so comfortable that it's my wardrobe of choice for my day-to-day life. At night I attend my Dance or my Barre and Pilates classes and I'm already dressed and ready to go!
How does an average day play out for you?
Most of the times my days are really hectic especially when we have deadlines to submit the collections. Track & Bliss is still a small company and I have to oversee everything that happens. My days vary based on what tasks need to be completed but there are usually constant deadlines which means that I work every day including Saturdays and Sundays because the weekdays are not enough to accomplish everything that needs to be accomplished and sometimes it has to be 18 hour work days!
My tasks include sourcing materials, making the first patterns and samples of the collections, production oversight, photography for social media and lookbooks, e-commerce platform. Thank goodness I don't have to do sales or shipping!
What keeps you motivated and going back to the gym?
I don't have a lot of free time so I really cherish the time that I get to work out. That is my time to focus on myself and feel grounded. I truly enjoy it and that is why its not hard for me to go to the gym. When I travel for work my schedule is so packed that I can rarely find time to workout. I used to be hard on myself about this but now I just accept it and I just wait till I'm back in Miami to keep my workout routine without any judgement. Life is hectic and we have to do the best that we can without beating ourselves about it.
What's the most exciting part about the wellness and activewear worlds right now?
I've been following fashion all my life and for me it's really exciting to see this shift in women's choice of lifestyle and how that has changed the fashion industry.
Comfort and practicality are right now very important and this translates to the clothes that women are starting to choose. I love that Track & Bliss can be mixed into this everyday attire and also perform to do exercise.
Regarding wellness, I love that there is so much information out there that didn't use to be that helps us and prepares us to make the best decisions for our bodies. Alongside this information, there are also now so many options that make it easier to stick to a healthy lifestyle routine.
What has been your proudest moment for Track and Bliss and what's next for the brand?
I really can't pick one particular moment since the brand has been growing organically and it has been filled with magical moments. The best feeling is when retailers that you have admired your whole life want you now to be a part of their brand family. I love when I see someone wearing Track & Bliss! It gives me the warmest feeling and it makes me feel connected to all these women that have their own stories and lives.
Shop Splits 59 on Hip & Healthy!