Lockdown ain't no picnic. While many of us have adapted to getting on with life behind closed doors and are cracking on with working from home, what we have to remember is that we aren't just "working from home" or "spending more time at home". We're living through a global pandemic whilst trying to work and accept social isolation as the norm. There's a difference. Not every day feels a challenge, it's ok to acknowledge there have been many moments of joy throughout the last few months; spending more time with your kids, not commuting to work, finding a new hobby you love. What's also ok is to admit that you have days where you find it hard to cope too. 
Anxiety ebbs and flows, sometimes with stark dips and peaks, sometimes like a gentle wave. It can often make you feel out of control, but ultimately, making sure your inner dialogue is kind is the first step to managing anxiety. 
Another instant anxiety remedy we swear by is CBD. It's a team player in our wellness routine and we've recently discovered Cannaray's "gold standard" CBD range, which we can't get enough of right now. Backed by doctors and scientists with interests in the medicinal use of cannabis, the people behind Cannaray are clearly experts in their field and have made it their mission to create a brand you can trust when it comes to producing high-quality CBD. 
How can CBD help anxiety?
Unlike THC, which is the psychoactive element of cannabis that makes you high, CBD is a non-psychoactive component of cannabis and actually has the complete opposite effect in that it can promote a sense of calm. 30 years ago, scientists discovered that  the human body has an endocannabinoid system, a complex signalling system of cannabis-like receptors within the body that are responsible for maintaining homeostasis, or balance, within the body. The endocannabinoid system is present and active in all humans — even if you don't use CBD or other cannabis products. There are at least two known cannabinoid receptors: CB1, which is largely present in the brain, and CB2, which is in the peripheral nervous system. Phytocannabinoids, like CBD, can bind to these receptors and send messages, which may have a therapeutic, anxiety-calming effect. And, because enzymes in the body can't easily metabolise these phytocannabinoids, it's believed molecules such as CBD could have a longer-lasting effect.
Psychiatrist Dr Balu P, Founder of the Emotional Wellness Clinic and Scientific Advisor to Cannaray says,
 "Taking CBD is a great natural supplement which has proven effects on lowering anxiety and stress levels. CBD is a natural ingredient that is being increasingly used and recommended to help calm symptoms of anxiety."
What's different about Cannaray?
What is vital to know is that not all CBD brands are created with the same passion, knowledge and expertise as Cannaray. There are many things to take into consideration when choosing a CBD product that's right for you. There are significant points of differentiation between a high-quality and low-quality CBD product; the toxicity of the extraction process (most brands use a mix of CO2 and Ethanol in the extraction process), the transparency about the amount of CBD in each product, the ingredients used within the products and whether they contain any THC – all of which are crucial to comply with UK regulations. Cannaray uses a proprietary, non-hazardous extraction method using a mix of high-pressure and low temperature to extract their CBD, so you can be assured that their CBD is always toxic-free and THC-free.
Cannaray is devoted to leading the industry in product research and development. Their partner farms offer full traceability from farm to product and the ingredients are triple lab tested to ensure the highest quality every single time. Most of their products are vegan friendly and guarantee free from GMOs, sulphates, dairy or any trace of THC in their formulas.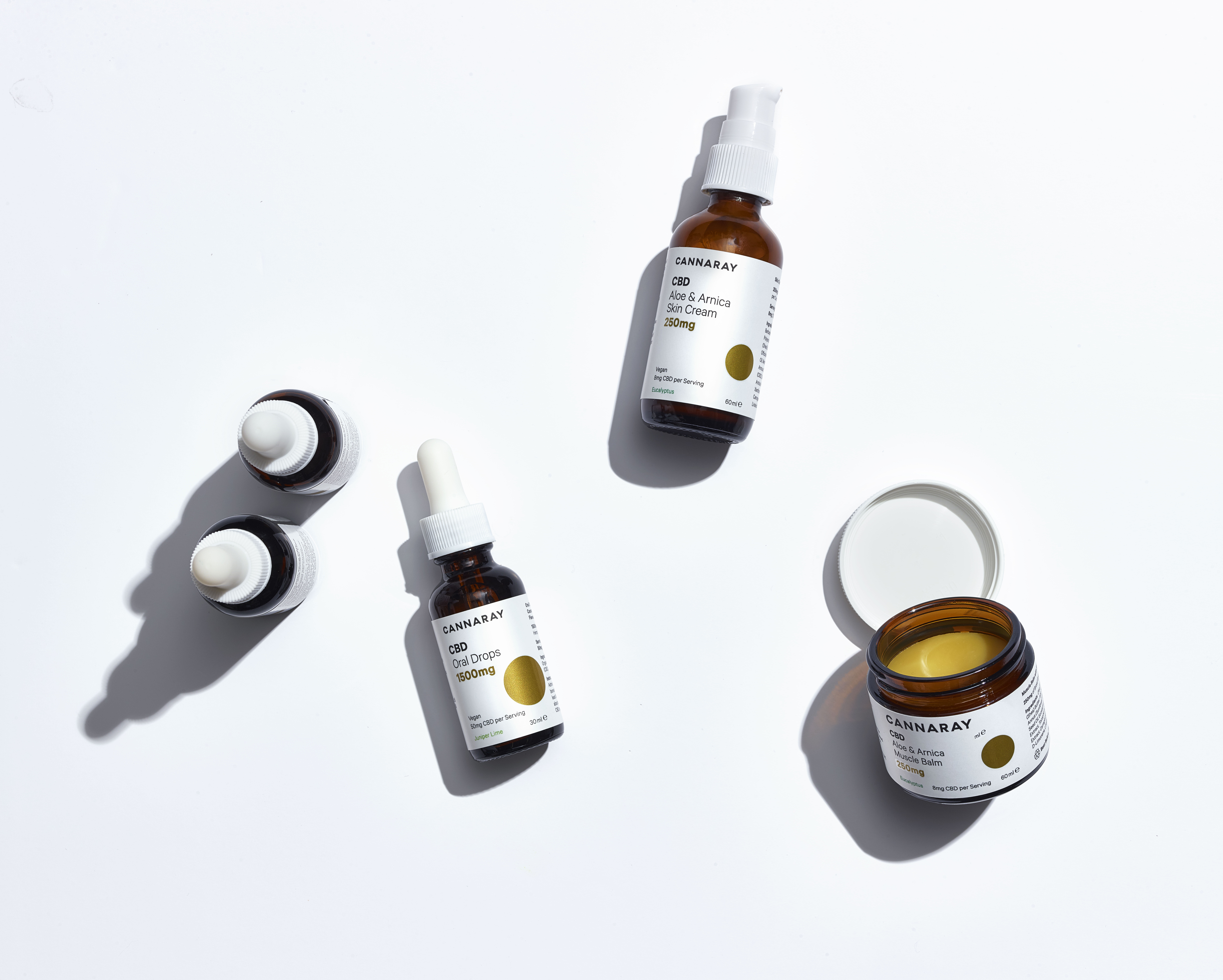 Sold. How can I incorporate CBD in my daily routine?
There are many ways you can start harnessing the possible benefits of CBD to reduce your anxiety…
Our top picks from Cannaray:
The most common method is CBD drops which you take orally under your tongue. Cannaray's 300mg CBD Oral Drops infused with coconut oil is a great product to start with.
 Their soothing CBD Muscle Balm is a particular favourite of ours and it's ideal for rubbing over points of tension. It also contains Aloe, Arnica, Shea Butter which makes it extremely hydrating and can be perfect for calming a busy mind.
 For increased absorption and longer-lasting effectiveness,  Cannaray's vegan CBD Capsules are the best choice. Harnessing 5x VESIsorb® patented technology, the Cannaray CBD Capsules increase the bioavailability of CBD to give you improved absorption.
Cannaray's brand mission is to help people lead healthier, happier lives and they really believe that CBD has the power to do that. For more information and helpful guidance on CBD, head to Cannaray.co.uk or follow them on Instagram @cannaraycbd
*Special Offer*
Use the code HIPANDHEALTHY25 for 25% off your first purchase! Shop here.