With the weather getting colder, the temptation to just throw on a pair of sweats and puffer coat is all too familiar. But in true active wear fashion, there is no reason to sacrifice style for comfort and performance! We're rounding up some of our favourite activewear trends this winter season in our no-nonsense guide to staying stylish in the snow!
Metallics
Stay golden with this winter's trend of metallics. We love adding a little bit of drama to our active wear with subtle hints of metallic! Snag a pair of Gold Happy Plugs or liven up your gym bag with a Rose Gold S'well Bottle! And while you're in transit, throw it all in an MZ Wallace Steel Metallic Backpack to keep you organised.
Quotes
We love attention-grabbing quotes! Hey! Holla helps get us to the gym in style with their totes or let us enjoy a lazy Sunday in our Sunday Savasana Sweat.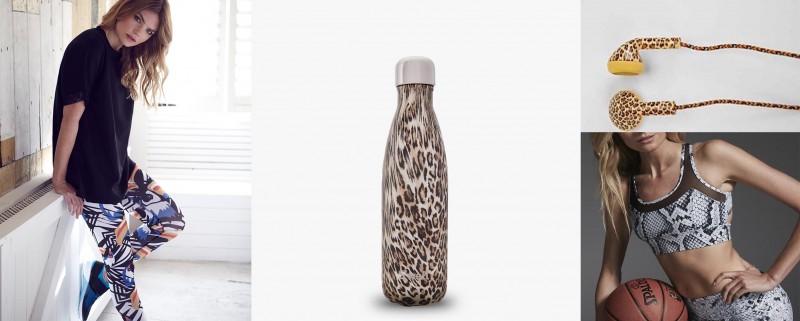 Channel your inner wild-thing and conquer your workouts as Queen of the jungle! We love Varley's new collection which keeps us stylish while we sweat. Not keen on leopard print leggings? For a more subtle approach to the animal print trend, go for the Leopard print Happy Plugs to add a little bit of pazazz to you their run! We also couldn't not mention the exotic Cheetah S'well Bottle! It's just so striking! A super cool way to rock the animal print look!
It may be cold outside but our workouts are HOT! Mesh detailing let's us keep cool while keeping it cool. Part of our basics for layering (more on that below!) we love Varley and Tully Lou's take on mesh detailing to add interesting edge to our activewear while keeping it functional!
We always say that our activewear takes us from barre to brunch and one of the best ways we brunch in style is with layers. Holding planks and water ski is no place for a long sleeve but once we leave the studio, that winter chill starts to bite! We love layering pieces like the Tully Lou Abbey Tank underneath our Lakers Active Jumper from Rivia Sports or underneath our Sunday Savasana Sweat from Hey! Holla (confession: we wear it even on Monday's). If you're a runner and you prefer to pound the pavement as opposed to the tread, then the LNDR Breeze Long Sleeve Top will keep you warm whilst you tackle your 10k!
Start shopping your perfect activewear wardrobe here!