Camping is definitely not for the faint-hearted, the organisation can be a bit of a mission and often the trip involves more stress than it's worth. That being said there is nothing more grounding than being surrounded by nature, fresh air and stripping it back to the essentials for a few days. Enter Home Farm Glamping, the picturesque site that gives you all the pros of camping and none of the cons. Forget attempting to remember to pack everything (which is basically impossible when it comes to camping), there's no faff of having to set up the tent and absolutely no sleeping on the floor! This is glamping at its finest, think alfresco dining with your own BBQ, hot showers, plush bedding, toasting marshmallows on the campfire and waking up surrounded by none other than mother nature.
Located on The Aldenham Estate in Elstree, it's hard to imagine Home Farm Glamping is inside the M25, making it one of London's most convenient spots for a wholesome trip away. A far cry from the commotion of the city, Home Farm Glamping is set within 150 acres of wild woodlands with sprawling views of greenery. Marked as a preserved Green Belt area, the space gives you an instant feeling of peace and tranquillity upon arrival, with very little man-made buildings in sight. With a private lake hidden in the woodlands, there are lots of places to discover and guests are encouraged to explore everything this little slice of heaven has to offer.
Check-in takes place in the communal barn where you'll find everything you need from charging points to cooking utensils, a fridge filled with condiments and a tea and coffee station. There is also table tennis as well as lots of board games you can take to your tent. The showers and toilets are a step up from your average campsite too. Set in huts, anyone can help themselves to fresh, fluffy towels and, of course, sustainable toilet paper is always at hand. You'll receive a welcome box once you've checked in which contains your crockery, natural fire starter kit and marshmallows! As well as individual fires at each camp, there is also a big communal pit where a roaring fire takes centre stage and gives you a chance to interact with other glampers.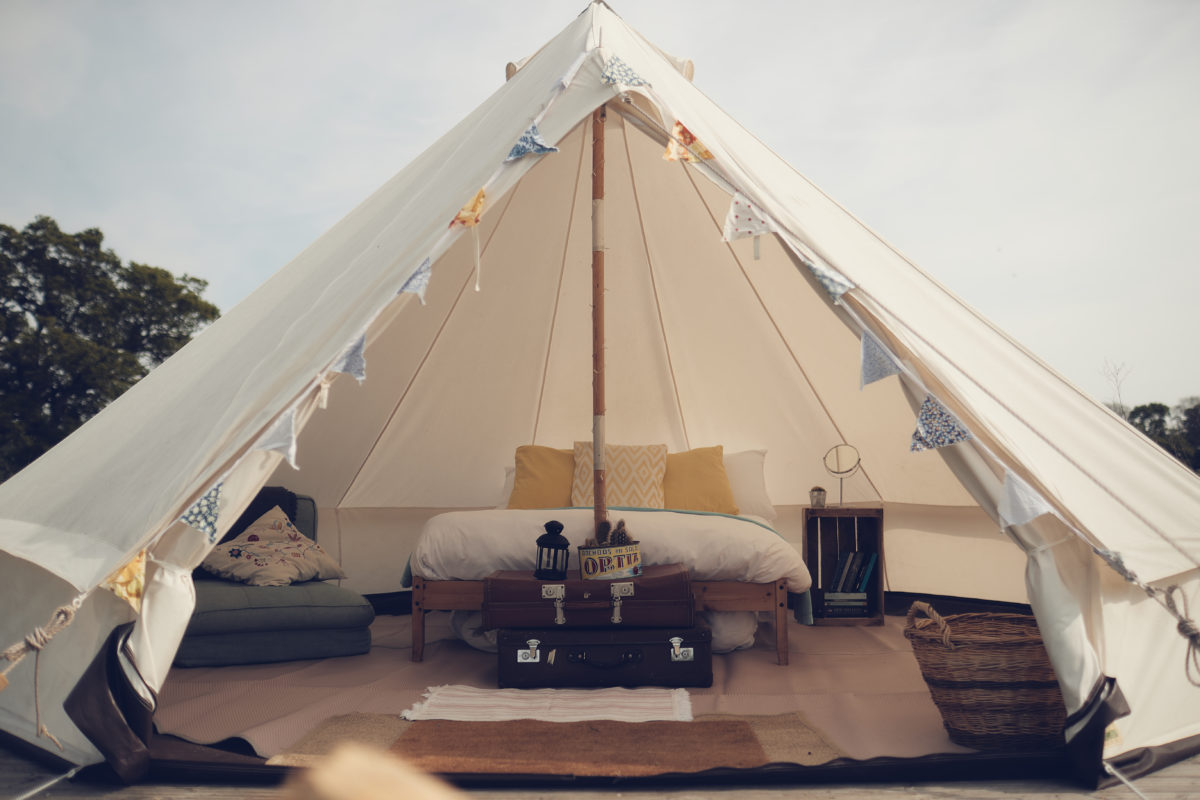 The beautiful bell tents and yurts are definitely the highlight of Home Farm Glamping. Fit with a proper double bed, cosy bedding, a chest of drawers, a mirror and just about everything you could think of to make your stay as comfortable as possible! Sleeping up to five 5 per yurt and a max of 4 in the bell tents, Home Farm is the ideal place for a family trip and it's safe to say the children will have a whale of a time! Set on a wooden dock, you have your own decking space with a barbecue, table and chairs plus your own personal fire pit to keep you snug when it gets a bit chilly.
The Meadows is Home Farm's on-site cafe serving up breakfast for glampers. They also offer lunch/afternoon tea hampers and BBQ meal boxes which you can take back and enjoy at your camp. It's the little things at Home Farm that make all the difference, their herb garden which you can pick to use in your meals being one of them! Once a month on a Saturday, The Social Dough Company visits to serve up their delicious Neapolitan pizzas to glampers so if you're lucky enough to stay over that weekend we definitely recommend checking this out.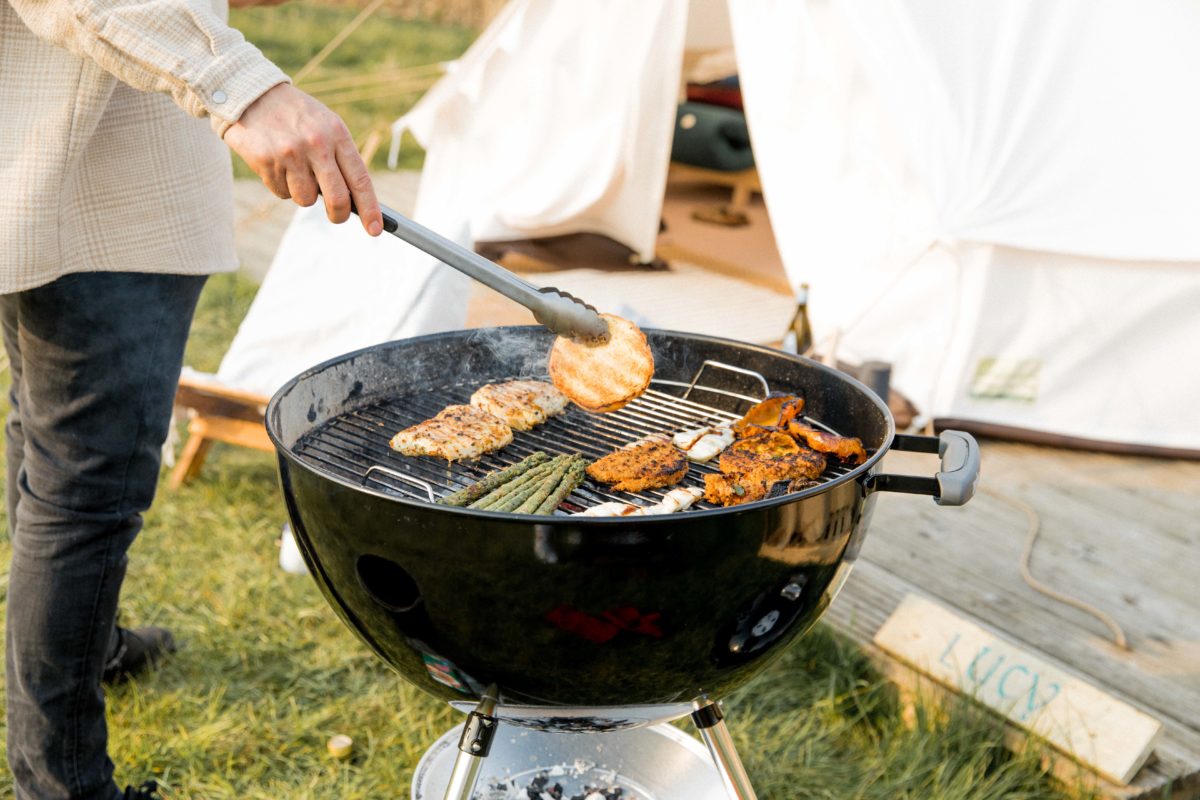 Home Farm Glamping is also home to the most incredible wellness haven, SouLand Yoga. Offering yoga classes, workshops and retreats in the new zen-filled Yoga Yurt, there's something quite magical about flowing amongst the sounds and energy of nature. Founder Zoe Walker and her yogi tribe invite both guests and offsite visitors to book sessions and have a variety of classes on offer from Yin, Vinyasa, pregnancy yoga plus guided meditation and sharing circles. We highly recommend the late evening classes which are the perfect way to unwind before bed, with a fire to keep you warm during the savasana and the smell of incense filling the yurt, you'll leave feeling utterly relaxed, ready to slip into a deep sleep.
Come nightfall, Home Glamping is at its most enchanting, lit up by solar fairy lights to guide the paths, the hum of crickets in the field, the smell of campfire filling the air and a blanket of stars in the sky. It's without a doubt one of life's simple pleasures that makes you realise that nothing is better than being amongst nature and stripping things back to basics (with a little home comfort thrown in for pleasure!).