Tucked behind Knightsbridge you'll find the fine dining vegan spot, Holy Carrot. Proving very popular amongst plant-based eaters (& non) with a creative menu, the chefs transform vegetables into exquisite works of culinary craftsmanship. Every single item on the menu is both vegan and gluten-free, not that you'd believe so with the skill that's gone into the meat replica dishes. Sourced from only natural ingredients, Holy Carrot has curated inventive options using mainly fresh vegetables…no meat substitutes or processed preservatives and additives. Health is at the core of Holy Carrot's ethos but isn't the only reason you'll want to book a table, the flavours are sublime which will keep you coming back for more!
Positioned inside wellness hub, Urban Retreat, the space was previously a grand townhouse, giving the designers a beautifully designed shell to start with. The ideal setting for a special occasion, Holy Carrot's decor features a magnificent installation made using dried gypsophila, allium, limonium and lunaria textures which sits perfectly within the pastel hues of the walls and furnishings in the dining room.
The Holy Bar is the restaurant's very own cocktail bar hidden within the dining room. Flaunting an exclusive sugar-free cocktail list inspired by Mother Nature, the majestic mixology is one of the reasons we love Holy Carrot so much as is what sets them apart from the rest! 'The Fool' which contains Waqar pisco, apricot liquor lime juice, aquafaba (chickpea water) and agave gives you an idea of the creative play on ingredients. 'The Devil' is another example of the spellbinding botanical cocktails on offer, mixed with tequila reposado, orange liqueur, Ancho Reyes Chile liqueur, lime juice and agave syrup served in a smoky haze! There's also an extensive selection of non-alcoholic cocktails too which harness natural ingredients, like The Empress, which contains everleaf Marine, lemon juice, Aquafaba and CBD oil. Holy Carrot's fresh juices and smoothies are both nutritious and refreshing with zingy favourites like the one and only 'Holy Carrot' packed with carrot, orange, ginger and turmeric. For a sweet treat try out the 'Holy Carrot Chocolate Bounty', blended with chocolate chips, vanilla ice ''cream'', raw cacao, maple syrup, coconut milk and banana.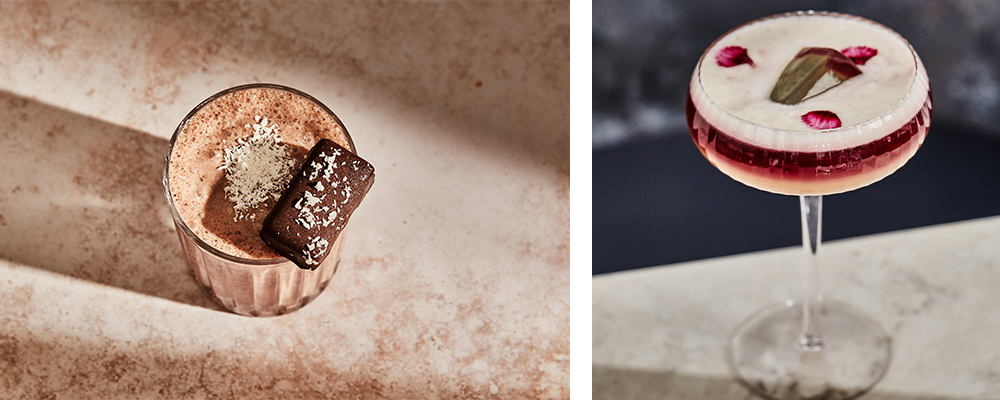 The small plates really steal the show at Holy Carrot, with twists on typical menu frequenters. The purple potato croquettes filled with avocado and topped with basil mayo and crispy maki filled with tricolor quinoa, heritage vegetables coated in light tempura dipped in spicy mayo both taste incredible and are presently so beautifully you'll want to share on your IG story!
Holy Carrot are the connoisseurs in creating plant-based 'seafood' platters which feature a selection of unique dishes that echo sushi and fish favourites. The creation of the 'tuna sashimi' is utterly impressive, made using watermelon and paired with crispy avocado! Equally the black rice tartar with tomato 'tuna' is mind-blowing. Definitely give the seafood platter a try if you're dining with friends, it's a great way to try a variety of Holy Carrot's food innovations.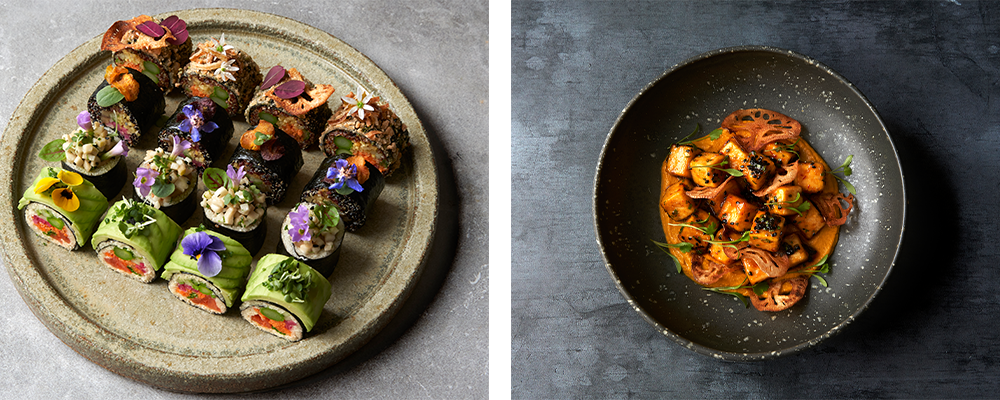 The menu splits between raw plates and plants & leaves, which both boast nutritionally dense options like the Vietnamese style green rolls with peanut sauce and the Caesar salad with romaine lettuce, crispy kale, homemade ''Parmesan' and the famous holy Caesar sauce, you can also add green falafel or teriyaki tofu for an extra bit of protein!
The large plates and classics represent the mains on the menu. The 'crab' burger is a thing of beauty…built with a dense gluten-free bun, hearts of palm and lobster mushroom crab cake, the holy Caesar sauce and watercress served with chunky chips and homemade BBQ sauce for a vegan spin on a deluxe burger! The 'sexy tofu' sure lives up to its name, glazed and grilled to perfection on a bed of aubergine, red pepper and peanut sauce, it's a real taste sensation.
Every single dessert on the menu is mouth-wateringly good but our top pick would have to be the miso caramel sponge case serves with oat and miso caramel ice cream. You will want to savour every mouthful of this rich, warming pudding!