Welcome to our second year of Sustainability Awards as part of our bid to showcase companies going the extra mile when it comes to looking after our planet. We've tried and tested some fantastic brands all geared towards making your carbon footprint a little less impactful, so, without further ado, here are this year's winners!
Our Favourite Sustainable Beauty Brand – Voya
Did you know, seaweed is a fully renewable natural resource and naturally absorbs carbon dioxide from the atmosphere? VOYA, an Irish organic beauty and spa brand harnesses the power of seaweed in everything they do. Sustainably sourcing the highest quality ingredients and hand-harvesting seaweed so as not to harm the delicate seabed or marine life, their inspiration stems deep from the Atlantic Ocean and is influenced by ancient Irish traditions of seaweed bathing. Merging sustainability and the luxury beauty market has been their mission since its inception in 2006 when they became the world's first certified organic seaweed-based skincare brand. VOYA has also partnered with Plastic Bank to support its mission to stop plastic before it enters the ocean. They have pledged to help stop the equivalent of over 2 million single-use plastic bottles from entering the ocean. This is equivalent to over 45,000 kg of plastic and means for every VOYA product sold, they will help to prevent 3 plastic bottles from entering the ocean. Being transparent about their manufacturing processes, protecting wildlife and biodiversity and putting a huge emphasis on using recycled and biodegradable materials in their packaging is why they get our vote.
Our favourite Sustainable Homeware Brand – Spruce
Sustainable heroes, Spruce have pretty much everything you need to keep your house clean while reducing your impact on the environment. Their refillable system ensures you stay topped up with all your cleaning essentials whilst minimising the amount of single-use packaging that ultimately ends up in landfill, or worse, our water systems. Their refills are packed in plastic-free, home-compostable packaging and will naturally decompose into biomass which can be used to improve soil fertility. All of their outer packaging is plastic-free, FSC-certified, printed with biodegradable ink and fully recyclable. Not only conscious about what's on the outside, the Founder, Mahira, was insistent from the outset that Spruce needed to have a zero-toxin policy in its formulations. Research shows that overexposure to toxic chemicals in everyday household products – such as bleach, ammonia, pesticides, artificial fragrances and colourants – leads to significant chronic health problems like infertility and long-term respiratory issues. If you've yet to make the switch to more sustainable, toxin-free cleaning products, Spruce has got you sorted.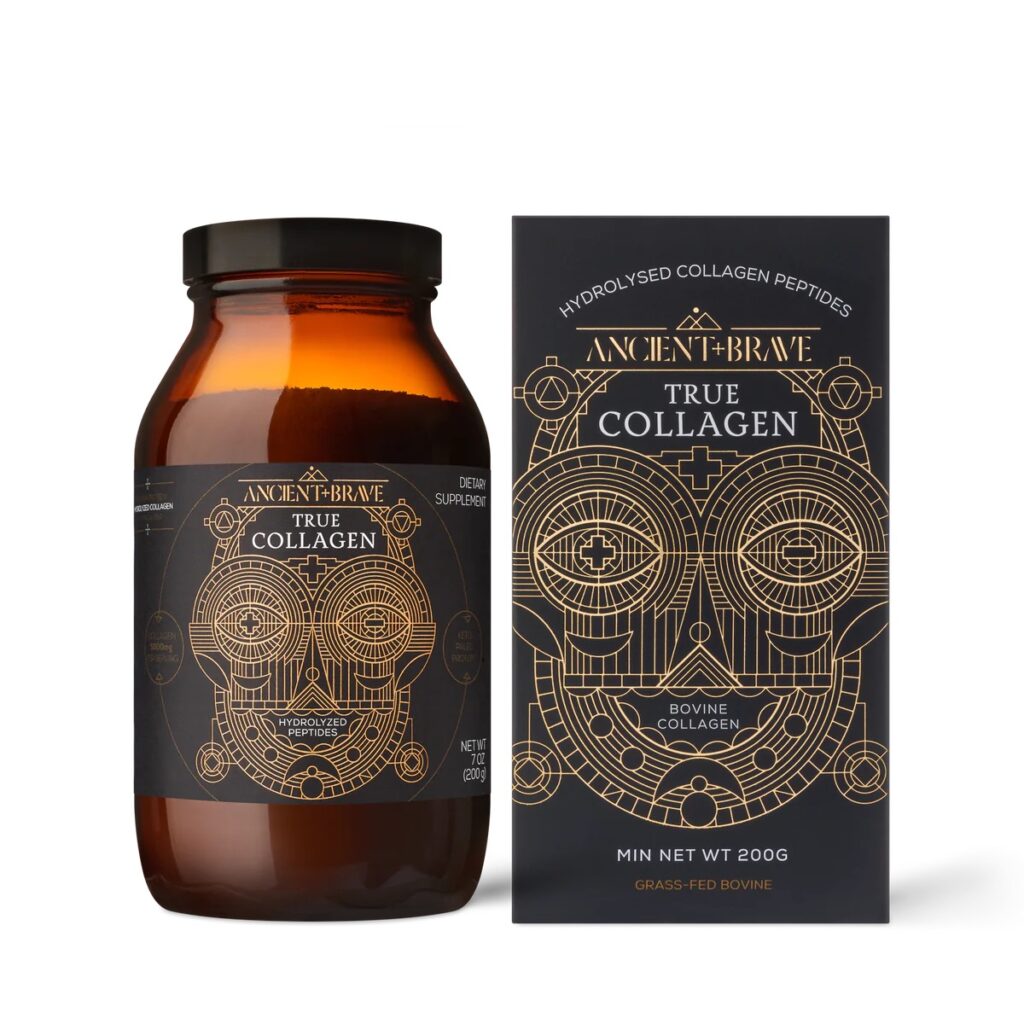 Our Favourite Sustainable Wellness Brand – Ancient + Brave
Collagen brand, Ancient + Brave is as cool on the inside as it is on the outside. Their sustainably-sourced collagen delivers daily nutrition designed to help you think, feel and look your best. Since its inception into the market, the brand has had people and the planet at its heart, with its Founder Kate Prince setting out to make sure that all the ingredients the company source have full traceability, are as sustainable as possible and ethical manufacturing methods are used as well as also maintaining the high quality of the collagen. They have a stellar team with Dr Jenna Macchochi, a renowned Immunologist, as their Head of Innovation and Nutritionist Jo Woodhurst as their Head of Nutrition, as well as the amazing wellness pioneer Renée Elliott (Founder of Planet Organic). Having recently gained status as a BCorp, Ancient + Brave adhere to the highest standards of social and environmental impact. When you purchase an Ancient + Brave product you know that you are investing in a truly sustainable product and a brand that you can trust. From the way that they make their products down to the way they run their workplace, they are close to becoming a zero-waste office with the team composting wither food waste, car sharing and even driving electric cars to work. It is also worth mentioning that their products are truly fantastic and will make a difference to how you feel on a daily basis!
Our Favourite Sustainable Kitchen Brand – If You Care
When it comes to making more sustainable choices in the kitchen, If You Care, have you covered. They offer top-quality products such as foil, baking parchment, sponges, cheese cloths, dishwasher tablets and more whilst being deliberately crafted to have the least environmental impact and the lightest carbon footprint possible. The brand makes sure that the entire life cycle of each product is considered from the sourcing of raw materials to the production process, packaging and even disposal of the products too. With a number of environmental awards under its belt, If You Care also backs its claims with third-party verification and certification by the leading national and international certifying bodies.
Editors' Choice Sustainable Newcomer – Stella McCartney
Queen of sustainability, Stella McCartney, was preaching about the importance of thinking environmentally when it comes to business long before it became cool only to still be pioneering those sustainable and environmental processes today. Because although the world has certainly improved when it comes to our social and environmental expectations from companies today, Stella is always one step ahead. The same can be said of her newly launched beauty brand, STELLA, which has had rave reviews from customers and celebrities alike. STELLA goes that extra mile when formulating products that are both responsible and yet also deliver real results. Their uniquely high threshold for ingredients has seen around 2000 ingredients banned, exceeding those set by EU regulations excluding potentially harmful (to planet and people) ingredients such as BHT, mineral oils, sulfate surfactants. Their products are approved by the Vegan Society and committed to minimising the impact on the planet, with no single-use packaging and making everything refillable and with a unique airless pump, that allows you to use every last drop. Once your product's packaging has reached the end of its life, you can recycle it rather than adding it to landfill. In the words of Stella McCartney herself; "The truth is that everything we create has an impact, the choice we have is how much. It's our responsibility to minimise this, and, as an industry to be honest and transparent about it." We couldn't agree more.
Our Favourite Sustainable Feminine Healthcare Brand- Better Company
Transitioning to reusable period care products isn't only better for the planet, but better for your body, not to mention to money it will save you in the long run. Better Company is a brand we can rely on when it comes to good quality, trusted reusable cups and pads. Clearly categorised to find your fit, the BetterCup is designed to make the application as seamless as possible and sit comfortably once in place! Likewise, the retrieval of the menstrual cup is uncomplicated due to the flexible silicone material. The newest edition to their range are reusable pads, made with breathable organic cotton in a range of sizes to suit your flow. The name is fitting, their products truly are better in every way, designed for convenience and sustainability.
Favourite B Corp Brand- Comfort Zone
The B Corp stamp of approval makes our life as the consumer simple. No trolling through ingredients list or 'about us' pages attempting to determine whether or not the brand is up to scratch when it comes to sustainability. Putting up a mirror to the 'green washers', the B Corp certificate meets the highest standards of verified social and environmental performance. Our favourite for 2023 is Comfort Zone, leading the way in conscious skin science. Tackling sustainable efforts from a 360 perspective, comfort zone has rightly achieved their B Corp status through investing in regenerative agriculture, biodegradable ingredients made from natural origins, the use of bio-based plastics for packaging, carbon-neutral offices and a stream of projects such as carbon offsetting, ethical animal welfare and the 1% for the Planet partnership. While sustainability efforts are important, the products have to deliver, and Comfort Zone's roster of skincare is a level up from most. I first came across Comfort Zone when the products were used by a therapist at a luxury spa, since I have been smitten with one product in particular, the Sublime Skin Cream without quenches dry skin miraculously! From dermatologist-recommended face skincare targeting various solutions from anti-ageing, sensitivity, dryness and everything in between, to nourishing body care, in the form of creams, oils, cleansers, suncare, shower gels and more, comfort zone brings together the best of conscious skin science.
Our Favourite Sustainable Makeup Brand – Dr Hauschka
Since 1967, sustainability has been an indispensable part of the company philosophy. All of their formulas are made from unpolluted raw, natural ingredients and don't contain any chemicals, microplastics, or synthetic preservatives and their packaging is made from recycled and recyclable packaging. Dr. Hauschka also has sustainable partnerships all over the world from their shea butter which is produced from an organically certified collection area in Burkina Faso and their Damask rose oil comes from countries such as Afghanistan, where they are working with the World Hunger Organisation to offer around 700 farmers who now use organic methods an alternative to opium cultivation. Furthermore, Dr Hauschka's biodynamic farm in southern Germany protects the plants, earth, and local wildlife.
Our Favourite Sustainable Sustainable Kids Brand – Green People
Green People create gorgeous natural and truly organic skincare for your little ones which you can trust to be gentle for their sensitive skin. Founded 25 years ago as part of a quest to help families embrace a truly organic lifestyle and use planet-friendly packaging, Green People are the pioneers of organic skincare and create gorgeous products you can trust to care for sensitive skin. With a combination of chamomile, calendula and lavender their products are the best way to soothe and calm your baby's skin and is perfect as part of your daily nighttime routine. Free from chemicals, and containing no nasties. Green People are natural and certified organic and tick all of our parent checklist boxes for the best kids' skincare.