Hip And Healthy contributor, Eva Ramirez, shares her fun-filled guide to Washington, D.C.
Come Spring, Washington DC is awash with blooming cherry blossom trees. The crisp mornings and warm afternoons make for the perfect climate to explore the city by foot or bike, (although public transport is easy to navigate and efficient too). Known for politics, scandal, monuments and museums, it's not all suits and seriousness in DC – from the picturesque streets of Georgetown to its vibrant food and fitness scene – there's more fun to be had than you may expect from the US capital. I visited in late March to enjoy cherry blossom season in full swing…
The Darcy
There's no better location to base yourself than slap bang in the heart of DC. The Darcy reflects DC's cosmopolitan community in both design and feel. Full of contemporary art, fun but functional rooms and daily complimentary cocktail tastings, it's a stylish nest that makes you feel right at home in the city. There are 226 rooms and 37 suites with plenty of natural light, floor-to-ceiling windows and 300-count bed sheets atop glorious, king size beds. If you're in a rush to get out exploring in the morning, skip the restaurant's breakfast and grab a takeaway coffee and bite from The Darcy's in-house coffee shop, which is open to the public too. The hotel offers a special collection of curated accessories for both men and women which are available to loan throughout your stay. It's like sustainable clothes borrowing, and the collection of jewellery, sunglasses and handbags are brought up to your room so you can select pieces in private. Perfect if you've forgotten to pack your sunnies or an evening clutch!
Visit:
Georgetown
With its quaint streets and cobblestone lanes, Georgetown was founded in 1751 (that's pretty old by American standards!) and actually predates Washington DC itself by 40 years. With independent boutiques, vintage and antique shops, cafes, restaurants and bookshops, it's a lovely little place to while away an afternoon. For natural beauty, head to Take Care and for a second-hand designer bargain, visit Ella-Rue. Be sure to also check out Martin's Tavern, famously one of John F. Kennedy and Jackie's favourite spots, and where he famously proposed in 1953.
Museums, Monuments and Memorials
In terms of culture, there's a lot to digest in DC. Take the Smithsonian Institution, which consists of 20 museums and galleries – 17 of these are located in Washington DC. While cramming all of them into your trip might be a bit too laborious, it's worth grouping a few visits into one morning or afternoon. Must sees are the National Museum of African American History and Culture, The National Portrait Gallery, The American Art Museum and the Hirshhorn Museum. Also, head to the National Museum of Women in the Arts which has an inspiring permanent collection. Stroll around Tidal Basin admiring the cherry blossoms and memorials, hopefully, the sun will be shining!
Shop Made in DC
Celebrating the creative side of DC, these store stock fun and one-of-a-kind gifts, apothecary, clothing, art, jewelry, stationary, homewares and even snacks from DC natives. The aim is to support small businesses and in the Dupont Circle location there's also a cafe which serves up local pastries, coffees, teas, kombucha, beer, cider, and wine. It's worth checking out their events calendar too as they often host 'Meet the Maker' evenings, demos, talks and other fun gatherings where you can get crafty yourself.
Eat: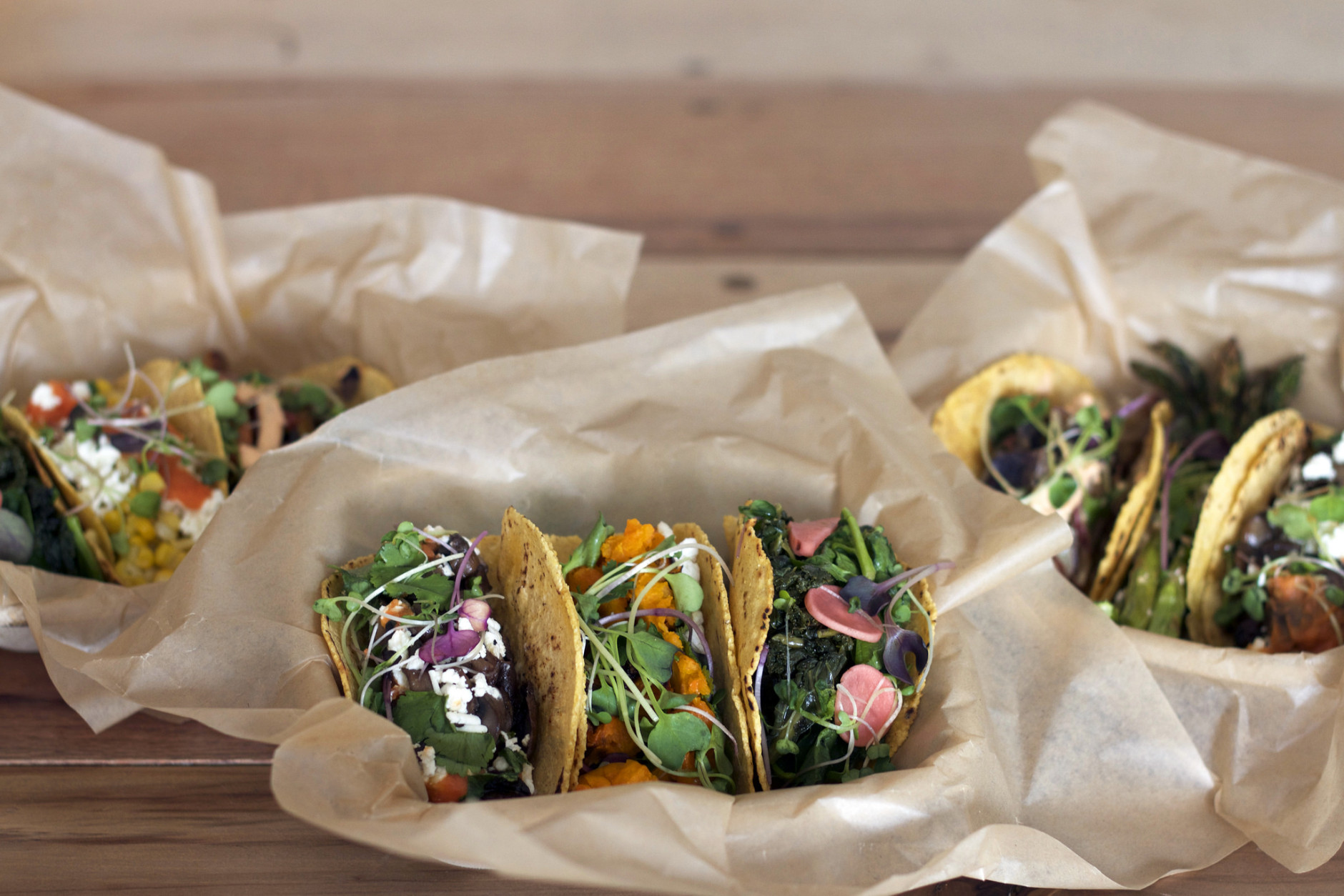 Chaia Tacos
This unconventional taco shop serves a totally plant-based menu that's still flavourful and packs a punch. It's fast, casual and perfect for a quick lunch. Focusing on quality over quantity, you'll only ever find five different taco options, plus some sides, soup and kombucha, beer, tea and rosé – all of which are on tap!
Elizabeth's Gone Raw
For something truly unique, plan your trip to DC to coincide with a weekend so you can visit this Friday and Saturday night-only 100% raw vegan restaurant. Set in a nineteenth-century restored townhouse, the concept was inspired by founder Elizabeth's breast cancer diagnosis 6 years ago. Elizabeth and chef Francisco Hernandez serve a beautifully curated and delicious seven-course tasting menu in the classy, intimate setting which is also paired with wines chosen by ex-Gordon Ramsay sommelier Dora Lobo.
Eaton Workshop
Eaton Workshop is just like the millennial hybrids it attracts – multi-faceted and well-versed in good food and wellness. Essentially it's a hotel, but it's also a great place for co-working, socialising and connecting with people. They also host daily yoga classes and have meeting rooms to hire, a restaurant and a gorgeous rooftop bar. My favourite spot at Eaton is the ground floor coffee shop, Kintsugi, for a perfectly poured oat milk flat white. I loved perching at a window seat, watching the city wake up while I caught up on a bit of work at my laptop.
Workout:
SoulCycle
This spin studio needs no introduction, it's well-known and well-loved by many. If you're yet to try it, it's definitely worth giving a go. And if you're not quite ready to book your flights to Washington DC just yet, don't worry because SoulCycle is opening their first London studio in Soho this June.
Solidcore
For Michelle Obama's favourite workout, head to Solidcore. It's similar to London's Studio Lagree but their machines are custom built and are therefore a little different to your average megaformer. The instructors are very encouraging and talk constantly throughout the class, so if it's more of a slow and flow kind of pilates workout you're after, this isn't for you. It's a serious workout that really focuses on specific muscle groups, always starts with a killer core set and will really test your strength.
305 Fitness
For a workout that doesn't feel like a workout, try 305 Fitness. It's a 55-minute high-intensity, rhythmic cardio class that's as fun as a night out. You don't have to be a dance professional by any means and the steps are surprisingly easy to follow. Definitely go for the 'Cardio Basics' class if you're a beginner as it's a great introduction to this style of workout. Everyone is super friendly and supportive and the lighthearted atmosphere means you shouldn't feel any pressure. The best bit is that there's a live DJ, so it's basically just like being with a bunch of friends, busting your best moves in a nightclub.
Barre3
Not all barre classes are created equal, and Barre3 is proof of that. There's the all-important strength-conditioning with isometric holds and micro movements that are synonymous with barre exercises, but these are also fused with large, dynamic cardio bursts and a real sense of mindfulness, which helps to tune into how each movement feels within your body. The class leaves you feeling strong and aware of your posture. Barre3 also have over 500 online workouts at their digital platform, so you can feed your addiction when you leave DC to return home.
words by Eva Ramirez @evieramirez
---
Subscribe to our Newsletter + receive our Sugar & Dairy Free E-Recipe Book, In The Hip & Healthy Kitchen.