This gem of the Golden State effortlessly combines big city living with California cool. With a majority of San Franciscans being active at any given hour during the day, it is hard not to be inspired by the health scene the city has to offer. Easy access to major national parks and beaches gives you the perfect excuse to transition your activewear from day to night. Here, we highlight some top tips for living like a (hip & healthy) local in The Bay with our Hip & Healthy Guide To San Francisco!
SNOOZE
The Fairmont
If you're looking to splurge on a San Francisco Classic, The Fairmont offers some of the best views, service and sleeps of the entire city. You would be hard pressed to find anything more luxurious. Sweet dreams!
The Mystic Hotel
You'll find yourself able to cozy down in this minimalist hotel. Contrary to larger hotels in the area (think The Four Seasons and Ritz Carlton), you'll still have that luxe feeling of leisure in the heart of the busiest shopping area in San Francisco.
AirB&B
Because the tech company is based in San Francisco, naturally they have some of the best options for places to stay all throughout the city. If you're looking to go the AirB&B route, we suggest staying in the Marina, Nob Hill, or Russian Hill. All are amazing areas a little further away from the downtown hustle and will certainly make you feel like a local!
SWEAT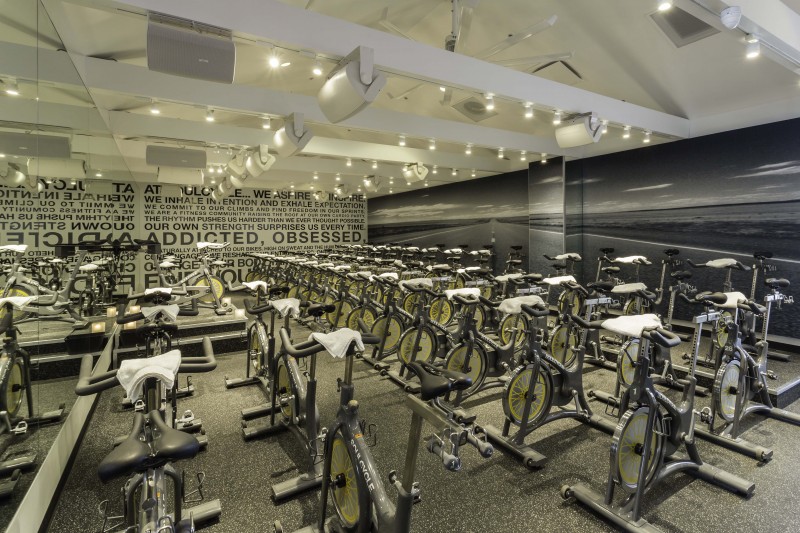 Soulcycle
We wouldn't be able to do an American city guide without mentioning this cult classic. With loud music and even louder personalities, the instructors at Soulcycle know how and exactly what moment to push you to your fullest potential. Be sure to bring a change of clothing afterwards because you are guaranteed to sweat!
TIP: We suggest signing up with Molli at the SoMa location or with Heather on Union Street.
The Dailey Method
Meet us at the barre! If you love holding your planks and building a perkier bum, you will go crazy for The Dailey Method. With four studios located in the city you won't have trouble finding a location near your hotel or AirB&B. You will certainly feel the burn during this hour long toning and lengthening class but the inspirational tunes the instructors play will help ease the pain and we can guarantee you'll ask them for their Spotify playlist afterwards!
TIP: Don't forget your barre socks to avoid having to buy a pair at the studio and think happy thoughts during those 90 second planks!
DO
Cycle from the City to Sausilito!
We know it sounds crazy to bike in a city made primarily of hills, but we promise it's not that bad (Only 8 miles, minimal hillage). Starting from Crissy fields, you can bike along the water with a panoramic view of the Golden Gate Bridge. Head up to the Golden Gate following signs to Sausalito. Then reward yourself with a coffee and lunch once you make it! Catching the ferry on the way back to San Francisco will cost around £7 and you'll get to relax with a view of the city from the water.
TIP: Start a bit earlier to avoid the crowds on the bridge. There is a side marked for pedestrians and one for cyclists so no need to worry about crossing paths with runners. If you're up for a longer ride (22 miles), Tiburon is a little town worth checking out! You can have lunch on the water, over looking the city and Golden Gate.
Muir Woods Hike
A short 35 minute drive from the city, Muir woods is an enchanting plethora of red woods that immediately engulf you once you get on the trail. This is the perfect place to find your zen and get in touch with nature.
TIP: Bring a light jacket and shoes you won't mind getting muddy.
EAT
Soulva on Haye's
Soulva's has plenty of healthy, greek-inspired options for dinner, but to be honest, it's worth saving room for dessert. Known for their fresh, homemade Greek Frozen yogurt, their flavour combos are sure to make your taste buds sing! Not only is the food to die for, the ambiance and setting of the café are just the right complement to your meal. Definitely Instagram worthy!
Basik Café
If acai bowls are your weakness, look no further. Basik Café on Polk Street has brought their Hawaiian Island based smoothies and bowls to the mainland! You won't find better in the city and on a foggy San Francisco morning, it's the perfect brekky to transport you somewhere tropical!
The Plant
With three locations in San Francisco, the Pier 3 location has to be our favourite especially if you're looking to catch some superb views. The Plant has amazing and insanely healthy offerings ranging from Avocado Grapefruit salads to Roasted Chicken Sandwiches. Our go-to is the Dino Kale salad. This location tends to get crowded, so make reservations especially if you're looking to go there for brunch.
TIP: To avoid the crowds, we suggest making your way to The Plant in the Marina – a good spot for refueling after The Dailey Method!
Jane's
Jane's on Fillmore is worth checking out especially if you love a place that serves breakfast all day! With gluten free and vegan friendly options, Jane's caters to all tastes. If you aren't gluten free, pick up some freshly baked bread, and enjoy while you explore!
RETAIL THERAPY
San Francisco is prime real estate to get in your fix for Cali style. The city has some of the best boutiques but some of our favorites are located in the Marina. Check out Y&I or Two Skirts – both located on Chestnut Street. If you're in need of some new active wear to show off, you can find Lululemon all over the city, but another brand worth checking out is Lucy. You can find both on the corner of Union and Buchanan. Both of which are down the street from SoulCycle. So no excuses to not get in your cardio fix. Unless shopping is your cardio, then we are on board with that too!
Caffeine and Cocktails
Blue Bottle Co
We would be remiss if we didn't mention this bay area classic. Guaranteed to be one of the best cups of joe you will ever have, Blue Bottle coffee is served all throughout the city in different locations but we suggest going to the Blue Bottle Co. in the Ferry Building. Grab a flat white, explore the local shops, and enjoy that sea breeze!
Dirty Habit
If you find yourself pining for a classic London rooftop bar, Dirty Habit certainly rivals some of the best! Located in SoMa (short for 'South of Market'), this rooftop bar certainly facilitates meeting some local, friendly faces with its open patio concept. And don't worry about getting chilly at night – the patio is fully heated! Nothing like a little indulgence whilst on holiday! #treatyoself.
TIP: Make a reservation for dinner if you're feeling indulgent for a slightly heavier fare.
words by Nadia Liu