Sandy beaches, clear waters and parrots singing outside your window: there is a reason why Queensland is Australia's sunshine state. A mecca for surfers and Aussies looking for a holiday, Queensland is your adventure-packed guarantee for a true Australian experience. Add giant fresh tropical fruit boards and tropical animals to the mix and you have a destination you will keep coming back to. Solo traveller Carolina Are from Couchsurfer Reviews gives you the lowdown on two unmissable Queensland locations.
EAT
You haven't experienced Queensland without feasting on the State's fresh seasonal fruit. With beach-front views and some of the best flat whites in the area, Elston is a safe bet for a guilt-free breakfast that will fill you up. $18 buys you a giant fruit board that provides all the sweetness you need, without refined sugar.
Historical Gold Coast vegan and vegetarian restaurant Govindas is your best option for the tastiest and healthiest food in town. With just $14.95 you can try all the salads on the menu, made of crispy quinoa, cous cous and seasonal vegetables in a bazaar style eatery complete with relaxing music and tantalising smell. Looking for a treat? Just like everything else on the menu, their date and caramel slice is 100 per cent vegan and totally yummy.
Bohemian Raw Café Abell Point Marina
Hippie decor, raw cakes and doughnuts and the blissful Boho Bowls made with fruit, muesli and coconut yoghurt: waterfront café Bohemian Raw in Abell Point Marina is what every health café addict has been dreaming of – and it gives you interiors envy. We recommend the Mango Dream bowl ($16) with a Nut Breaker raw cake ($6.30) on the side.
SLEEP
QT Gold Coast in Surfers Paradise

You won't know what a boutique hotel truly looks like until you've stepped foot into QT Gold Coast. Strategically set in the quiet North end of the ultimate party destination, Surfers Paradise, QT takes every aspect of your stay to heart to give you the ultimate pampering experience. Think art deco nautical style decor, classy pin up girl prints on the walls and branded silk robes that'll make you feel part of the bliss even just for a night. With a breakfast buffet provided by Bazaar, one of the area's most renowned restaurants, and a spa treatment worth of a queen, QT is the perfect retreat to recharge in after a long day walking down the miles-long Surfers Paradise beach.
OZ Sail – Mandrake Whitsundays
Release the adventurer inside you and spend two nights on a 30-year-old racing boat. The Mandrake sails along the breath-taking Whitsundays islands, helping you take in the one-of-a-kind Queensland dawn and sunset in a back-to-basics, technology-free retreat. With snorkeling trips across the Great Barrier Reef and walks around the Insta-worthy set of Pirates of The Caribbean, the Mandrake matches the love for nature with a fun-loving crew. Top tip: the 98% silica Whitehaven Beach sand is a free, natural scrub that works better than a spa treatment – incredible views are a bonus. The Whitsundays airport can be reached through flights via Brisbane and Sydney and is only a 30 minute drive to the Mandrake's dock. Trips start at $474.
DRINK

House of Brews Gold Coast
An unseen collection of Australian craft beers on tap, well-presented cocktails and a hip crowd: what more can you ask? The House of Brews takes hospitality to the next level with the most female-friendly atmosphere you will ever find in a brewery. A message in the ladies' bathroom encourages women to ask management for help if they are: "Feeling uncomfortable? Over-the-top attention you don't need or want? Tinder date doesn't look anything like the pictures?" Plus, no-carb craft lagers for just $7.50 and candy floss cocktails are always a yes.

Fish D'Vine Rum Bar Airlie Beach

Fish D'Vine's Rum Bar is Australia's biggest rum bar, stocking over 450 varieties of the spirit.
With an impressive list of rums from all over the world, the Rum Bar in Airlie Beach is a nice break from the backpacker-filled venues or the average pubs in this holiday town.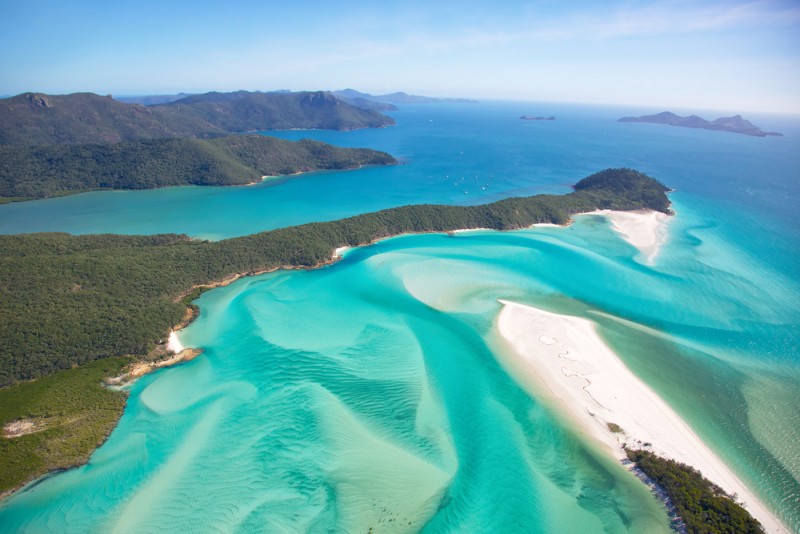 SWEAT
Snorkel in the Whitsundays
Swimming with sea turtles and baby sharks is even better when you find out that you can burn up to 300 calories in an hour of snorkeling. A whole body workout, it strengthens your muscles by exploiting the water's natural resistance to movement. It's also a soft workout as it reduces the impact of exercise on your legs and joints. Snorkeling trips across the Great Barrier Reef are included in most boat trips or start at $50 for single trips.
Surf at Cheyne Horan Surf School Broadbeach
If you're in Surfers Paradise you at least have to try to surf, right? The most well-respected surf school in the Gold Coast, Cheyne Horan guarantees to make you stand on a surfboard and catch a wave no matter your level of coordination. We tested it among a group of students of different levels and from different nationalities and we can confirm it's true. A two-hour lesson costs $49 and is guaranteed to make you feel like a God for at least five seconds after you catch that wave.
Dance at Dance Skool Gold Coast
Shaking your calories off is one of the most fun ways to keep fit, and Dance Skool Gold Coast match fun choreos with dance education. The school teaches you the meaning and concepts behind the dances you learn, so you can make the steps your own once you've learned them. Hosting workshops led by international dancers like Awa N'Gom and Nadiah Idris, you can sign up for a weekly pass for only $25.
Words by Carolina Are. Check out her travel and fitness snaps on her blog Couchsurfer Reviews and on her Insta at @thecarolinaare
Got that Aussie feeling? Shop our curated Aussie Activewear Edit here!