The Danish capital – oozing all things design, sustainability and innovation – is the perfect place for a city escape for the weekend. As Hip and Healthy contributor Gemma Bath discovered first hand, there is a buzzing health and wellbeing appetite in Copenhagen that appears to be on the rise.
SLEEP
Hotel SP34
Hotel SP34 is another marvel in Scandinavian design, full of clean, crisp finishes but with a relaxed bohemian vibe. This boutique find is smack bang in the middle of the Latin Quarter, and not far from all the main tourist hot spots. The buffet breakfast is a highlight, sporting all organic produce – and the perks continue at happy hour with free vino! There's a private cinema on site, bikes to hire and a fitness centre with everything you could need for a morning HIIT session. Rooms start at £120.
Manor Les Suites Guldsmeden.
If a luxurious escape, making the most of Scandinavian style is what you're after, look no further than Manor Les Suites Guldsmeden. Located in the heart of the city, this hotel is full of character and charm. The rooftop terrace sports stunning views over the canals, and it, along with the pool area which can only be described as a plant oasis not too dissimilar to greenhouse; provide the perfect places to relax and unwind. The lovely thing about this hotel is they are pioneers for all things sustainable and eco-friendly. You can get rooms from approx. £230 a night.
SWEAT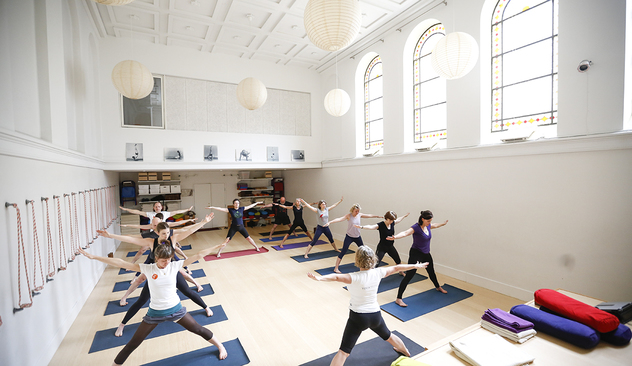 B.K.S iyengar Yoga Center Copenhagen
For the yogis reading, B.K.S iyengar Yoga Center Copenhagen offers classes with the most beautiful of views – one room looks out over Nørrebro lakes, while the other is in an old church with six metre high ceilings. The most relaxing and lovely of places to get your stretch and downward dog on. Classes run Monday to Saturday and come at a cost of about £20 for a one off.
Nova Fairy Tales
Last year the Danish capital saw more bikes enter the city than cars. In fact – almost half of residents cycle to work or school. The amount of bikes lining the streets in Copenhagen is seriously crazy, they're about three deep on most roads…so what better way to get to know the city, than on a bike…tour! Nova Fairy Tales offer group and private tours, and the three hour activity takes you past not just the landmarks, but the hidden undiscovered nooks and crannies of the city. The perfect way to explore like a local, while also getting your body moving.
EAT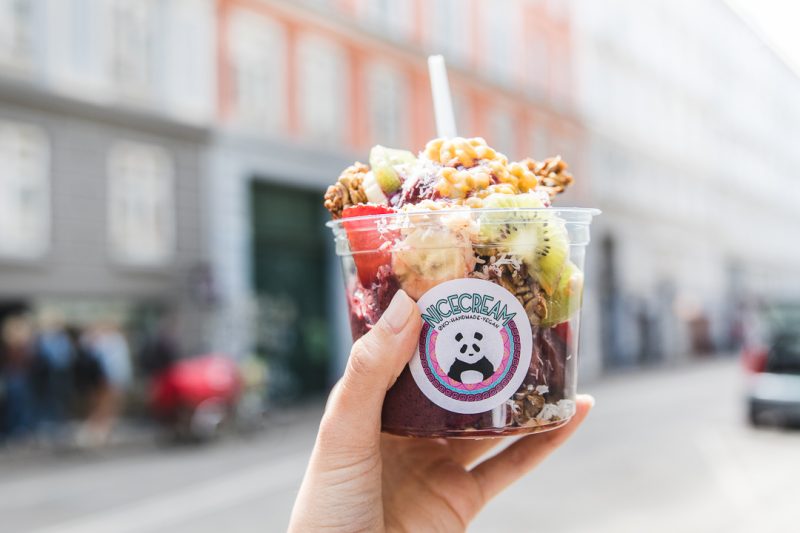 NiceCream Copenhagen
Organic, homemade and 100% vegan ice cream with heavenly flavours like: 'activated charcoal, liquorice & our homemade mylk chocolate' and 'pineapple, lime & coconuts with roasted coconut white chocolate flakes'… how can you resist?
Torvehallerne Markets
Are a foodie heaven, and more importantly a health foodie heaven. Here you will find over 60 stands selling everything from fresh fish and meat to gourmet chocolate and exotic spices. It's the very definition of gourmet! The highlights: A pulled pork, pesto and coleslaw 'Grisewrap' from Paleo (the wrap is made of egg!) and a chia porridge from the 'porridge bar' Grod, which is actually a small chain – they have four stores dotted across the city.
42Raw
In a word? Yum. Set off in a side street just off the main hustle and bustle, amongst a sea of fashion stores – this cafe is small but beautifully decorated. The whole menu is to die for with everything from protein patty burgers, raw noodles and organic pizza, to delicate homemade raw desserts and (our favourite!) pretty as a picture matcha, acai and chia bowls. You can also get your cappuccino or latte made on any type of milk you like – the cashew milk one was particularly creamy.
Words by Gemma Bath @gembath www.sunliteyes.com
More travel articles we think you'll love…